Good morning, readers! Day 3 of Spring Week with The Digit-al Dozen is upon us and my mani today is a simple camo design in "spring" green colors and not the typical army greens and browns. These were inspired by a pair of my LuLaRoe leggings and you may have seen these last week on my IG feed. Remember my LuLaRoe Brand Logo nails post from less than 3 weeks ago? I was totally right about falling quickly down that rabbit hole! I have gone a little crazy and have since purchased 6 pairs of leggings, 2 shirts, 2 dresses, and a pair of leggings for my daughter from LuLaRoe. Whoops, that escalated quickly. So anticipate lots of "inspired by LuLaRoe" posts coming soon to AIA. They have such funky patterns and colors so they are like nail art inspiration gold!
Aside from the awesome color tone of this mani, I also loved that there were little speckles to break up the camo shapes!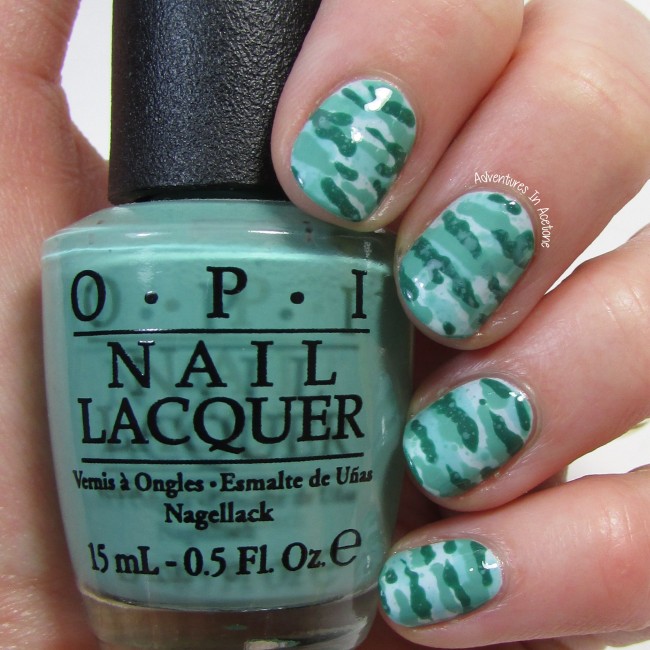 I began with 2 coats of Elevation Polish Kawagebo.
Next, I used a small dotting tool to apply wiggly lines horizontally across the nails, overlapping in: Elevation Polish Jengish Chokusu, OPI My Dogsled is a Hybrid, and OPI Jade is the New Black.
Then, I dabbed some OPI My Dogsled is a Hybrid onto my ÜberMat, mixed it with a drop of acetone to thin it out, dipped an old toothbrush into it, and used my other thumb to rub down the bristles causing speckles to fly onto the nails.
I topped each nail with a coat of KBShimmer Clearly on Top.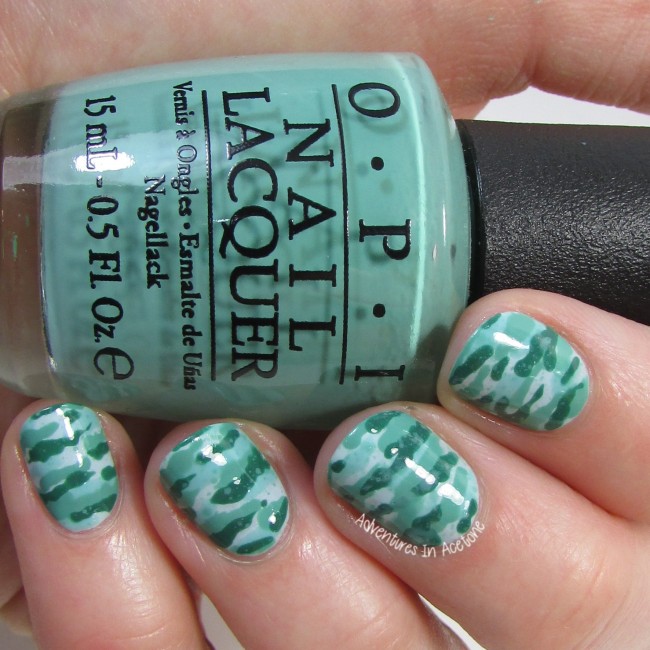 Bonus shot with the leggings and deep teal t-shirt!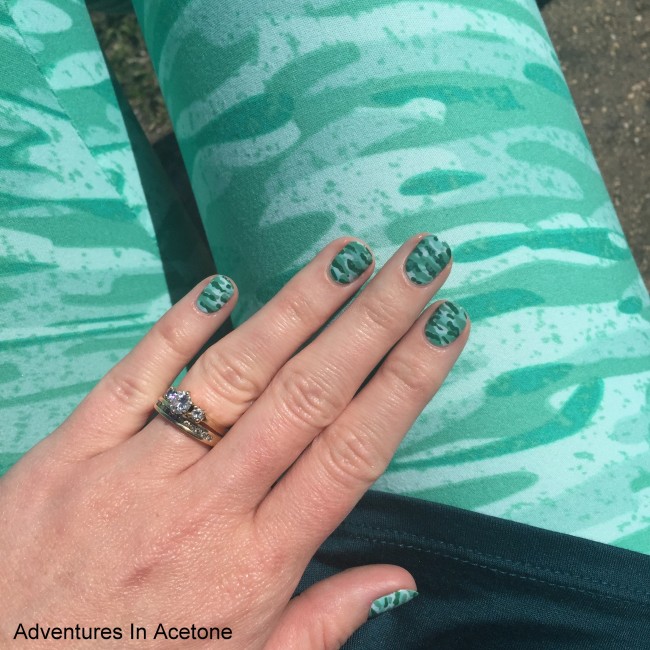 What do you think of these monochrome camo nails? Are you a fan of LuLaRoe? Check out what the other Digit-al Dozen ladies did for Day 3 of Spring Week below!

Loading InLinkz ...
If you enjoyed this post, please Sign Up for email updates and you will have the latest news, reviews, nail art, and tutorials delivered right to your inbox! Never miss a post from Adventures In Acetone again. Thank you so much for reading.
– Let's paint something amazing! –