Good afternoon, readers! Long time no see! I had a couple of collections show up this week to review so any "blog time" has been spent swatching them for you–hence the lack of posting this week.  I did, however, finish a good amount of swatches and had time for this week's 40 Great Nail Art Ideas: Fashion post!
Fashion… I'm not a very fashionable person. At all. I'm a stay at home mom and when I leave the house, it's typically to Target or the school car loop, so a lot of my days are spent in t-shirts and jeans. Or even pjs (it's not like my 3 year old minds if I wear pjs when we play legos or watch Wild Kratts). So this week's prompt was a bit difficult at first. However, fashion can be an awesome place to find nail art inspiration! I started thinking about fun patterns and realized that one of the most fun and patterned brands I keep seeing these days is LuLaRoe! I'm sure a lot of you have heard of them, I can't be the only one who keeps being added to the tons of online Facebook sale groups, right? So, originally I was googling around for a legging pattern and couldn't decide on one. However, it turns out that the LuLaRoe brand logo is quite pretty and colorful. So that's exactly what I recreated for my fashion mani.
I'm slowly falling down the LuLaRoe rabbit hole and I just have to get my hands on some of those leggings and tops, so expect more LuLaRoe inspired manis in the future to match.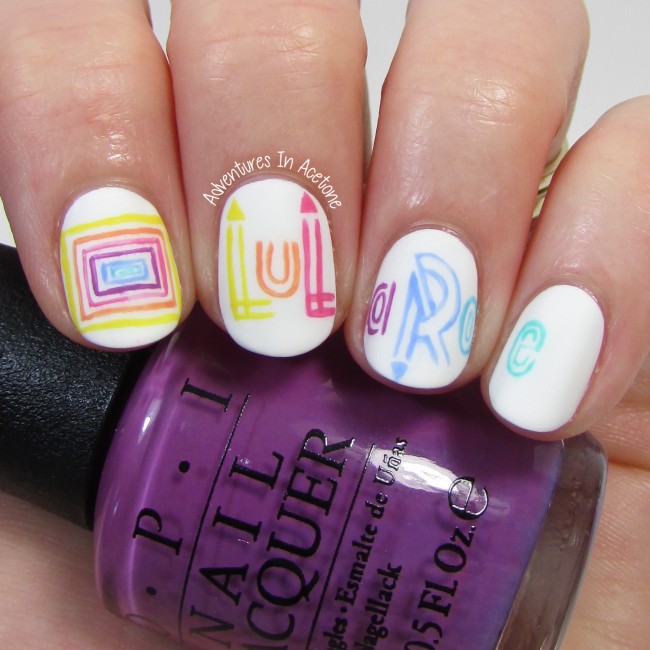 I started out with a base of OPI Alpine Snow.
Next, I used my ÜberChic Liner Brush to paint on the logo with the following polishes: OPI My Twin Mimmy, OPI Is Mai Tai Crooked?, OPI Suzi Has a Swede Tooth, OPI I Manicure for Beads, Barry M BlueBerry, China Glaze UV Meant to Be, and Barry M Greenberry.
I topped everything with a coat of KBShimmer Clearly on Top and followed it with a coat of the new KBShimmer Oh Matte! matte top coat to remove the shine.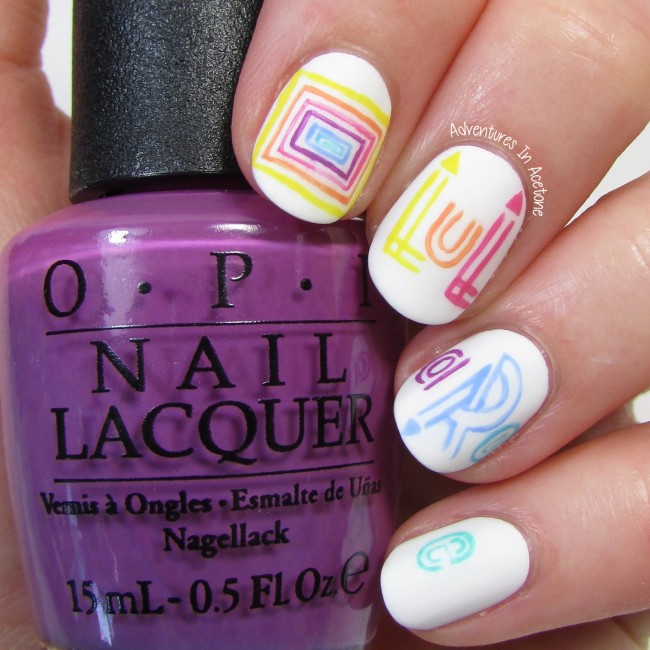 What do you think? I love how colorful this mani is! Do you have any LuLaRoe clothing items? Check out what the rest of the Crumpet's Nail Tarts did below for their Fashion mani!

Loading InLinkz ...
If you enjoyed this post, please Sign Up for email updates and you will have the latest news, reviews, nail art, and tutorials delivered right to your inbox! Never miss a post from Adventures In Acetone again. Thank you so much for reading.
– Let's paint something amazing! –