Good morning, readers! If you follow me on Instagram, you may have seen my picture last week of my new OtterBox Symmetry iPhone6 case that I am super in love with. The colored snake skin pattern was screaming to be recreated into nail art, so how could I resist? Thanks to my oldest stamping plates, the 2nd Bundle Monster Set that I have had longer than I've had this blog, I had a snakeskin pattern stamping print to make this recreation a lot easier than if I had to freehand it! The image from BM-215 was too perfect for my phone case, so I had to get creative to better represent the case. Keep reading to see how!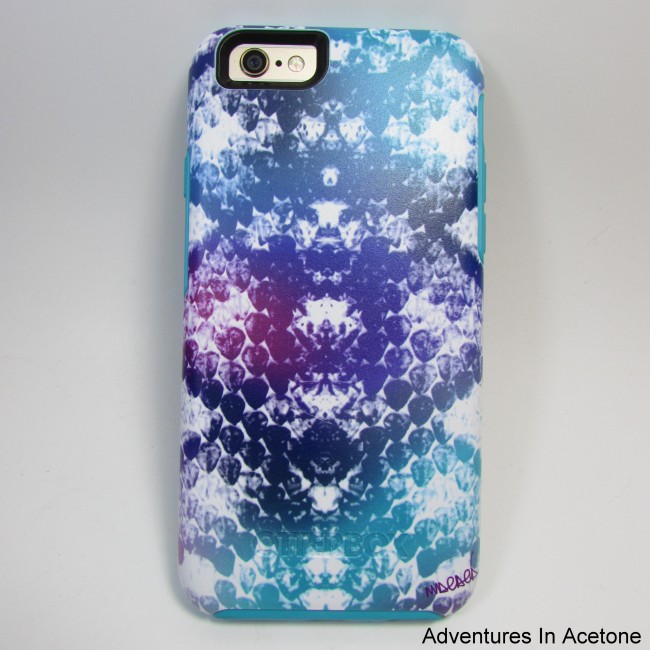 (The case design is called Under My Skin and I purchased mine at Best Buy. This is not a sponsored post, I just love the pattern on the case and am always looking for nail art inspiration!)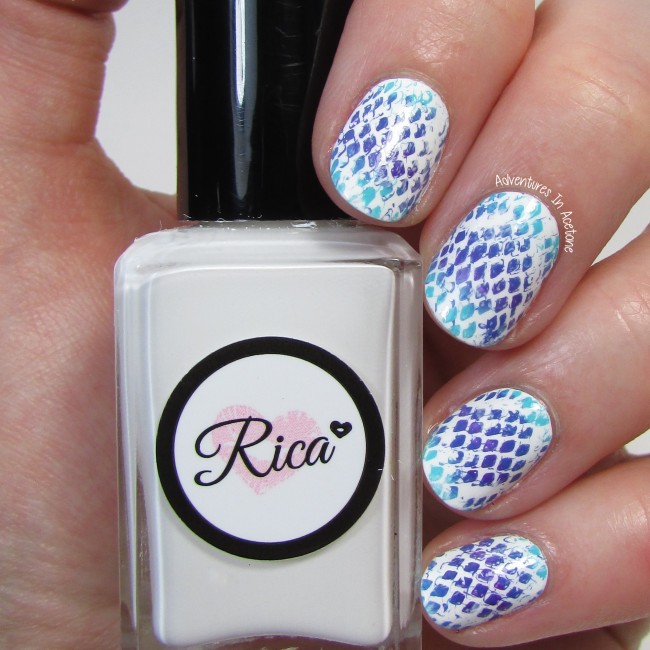 I started out with two coats of Rica Whiteout for my white base and let dry.
My Girly Bits Transparent Stamper really came in handy with this look. I first needed a partial snakeskin image stamped onto the white base for the distressed look, then I stamped again with the perfect image on top but slightly shifted as to not cover the first stamping completely. The see-through stamp head made that possible!
I used Mundo de Uñas stamping polishes in Aqua, Lavender, Fantasy, and Purple on the snake skin stamp image from Bundle Monster BM-215 stamping plate. I just applied them over the image in different places similar to the case design and scraped over a few times to blend before picking up the image with my transparent stamper.
For the first nail, I picked up the image and then stamped it onto my lint roller to discard it. Then, I picked up the image again from the stamping plate (with the leftover polish still on the plate) for the distressed, partial image and then applied that to my nail.
Next, I cleaned the plate, applied the polish again, and picked up the complete image and applied that to my nail–slightly offset from the original distressed image (this is why the clear stamper head was so helpful!). I then picked up the image again from the not-cleaned off plate and stamped the distressed image onto the second nail, and repeated the process. Thankfully, I only had to discard the first initial image and from then on, I could use the leftover from the previous nail to get the double image. I hope this makes sense!
After all of my nails were complete with the double stamping, I dry brushed a tiny bit of Rica Whiteout over a few places if it looked too perfect to better imitate the case.
Lastly, each nail was topped with a coat of KBShimmer Clearly on Top.
What do you think? Close enough to the case? I'm really happy with how these turned out and wore them all weekend! Isn't it fun to find nail art inspiration from every day things?
If you enjoyed this post, please Sign Up for email updates and you will have the latest news, reviews, nail art, and tutorials delivered right to your inbox! Never miss a post from Adventures In Acetone again. Thank you so much for reading.
– Let's paint something amazing! –