Good afternoon, readers! It's the final day of Nail Heroes Week with The Digit-al Dozen and it's 40 Great Nail Art Ideas: Red Week, so of course I found a way to combine both prompts into one mani! My hero today is Very Emily! I've admired her nail art for a long time and now that she has a youtube channel with tutorials, I can't help but try out some of her designs! This design was inspired by her Asa no Ha Nail Art Tutorial, she made this intricate Japanese geometric design SO easy to recreate by hand. Instead of full nail designs, I paired this look in a half and half with solid red and it seems so feminine and chic this way!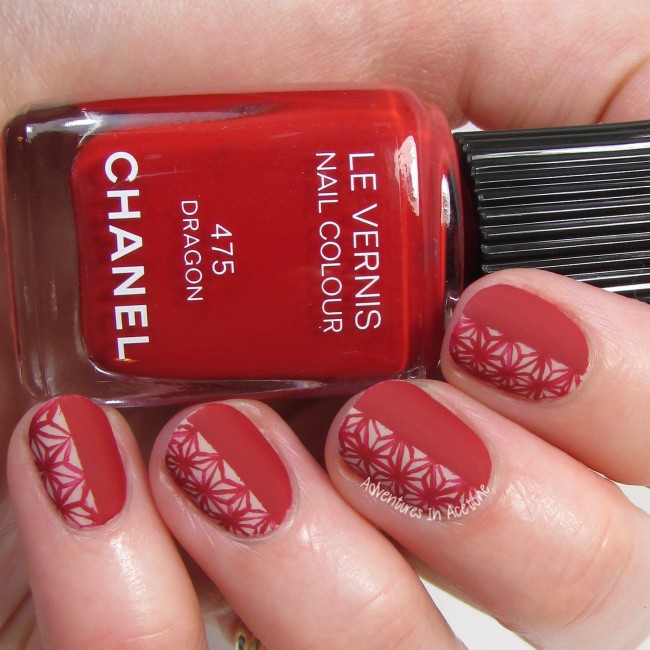 I began with two coats of OPI Do You Take Lei Away? and let that dry for a while.
Once it was dry, I applied some thick stripe vinyls down the middle of each nail (for a clean divided line) and painted a coat of Chanel Dragon on one side.
While it was still wet, I carefully peeled the vinyl stripe back up to reveal a half red and half nude nail.
Then, using my ÜberChic Liner Nail Art Brush, I followed Emily's tutorial linked above to paint the Asa no Ha design over the nude base.
Once I was done, I painted a coat of KBShimmer Clearly on Top to seal in the design, and added a matte top coat to remove the shine and allow the details to show better for the camera.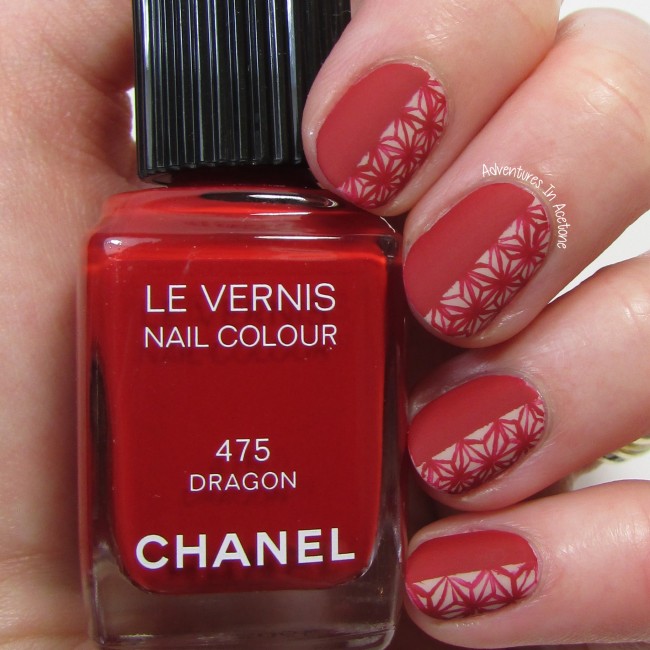 What do you think of this design? I am so so so in love with how these turned out! A big THANK YOU to Emily for an awesome tutorial on this design and for being such an inspiration in the nail world.
Check out what the other Digit-al Dozen ladies did for their final Nail Heroes Week mani below:

Loading InLinkz ...
Check out what the other Crumpet's Nail Tarts ladies did for their Red mani below:

Loading InLinkz ...
If you enjoyed this post, please Sign Up for email updates and you will have the latest news, reviews, nail art, and tutorials delivered right to your inbox! Never miss a post from Adventures In Acetone again. Thank you so much for reading.
– Let's paint something amazing! –