Good afternoon, readers! It's Day 4 of Nail Heroes Week with The Digit-al Dozen and today's nail hero is Paulina from Paulina's Passions! I admire and follow tons of fellow nail artists, but Paulina's designs grab my attention and I always find myself inspired to recreate her work. Today, I've recreated her Mint Chevron Nails  from last summer. The combination of mint, white, and gold go so well together!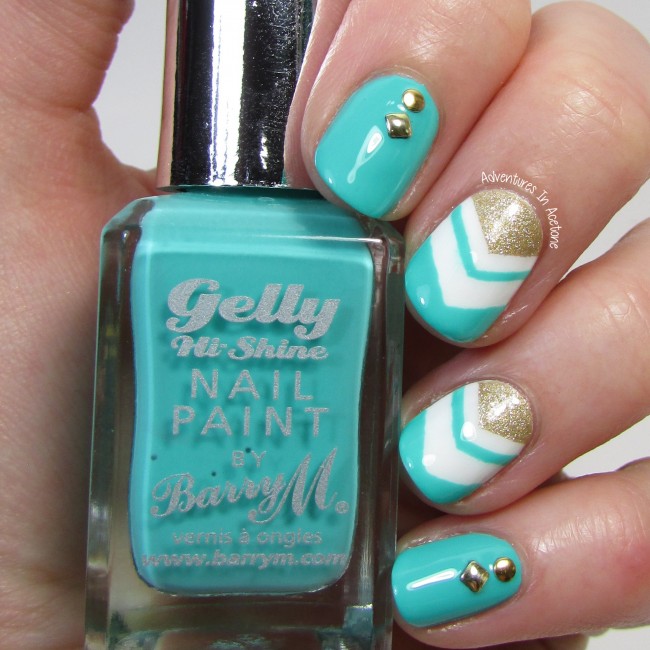 My thumbs, index fingers, and pinkies each were painted with three thin coats of Barry M Gelly Greenberry. I didn't have Picture Polish Tiffany like Paulina but this was close.
Once they were dry, I painted a thick coat of top coat onto those nails and pressed the gold studs into the wet layer.
My middle and ring fingers started out with two coats of Rica Whiteout and topped with a coat of KBShimmer Clearly on Top to speed up the drying process.
When completely dry, I applied a chevron nail vinyl and two thinner pieces of striping tape to make a skinnier chevron over the nail.
I filled in the cuticle half moon chevron with OPI Love.Angel.Music.Baby.
The two other sections were painted with a coat of Barry M Gelly Greenberry.
While still wet, I used tweezers to carefully remove the chevron vinyls and striping tape.
Lastly, I painted two coats of KBShimmer Clearly on Top to seal in the design.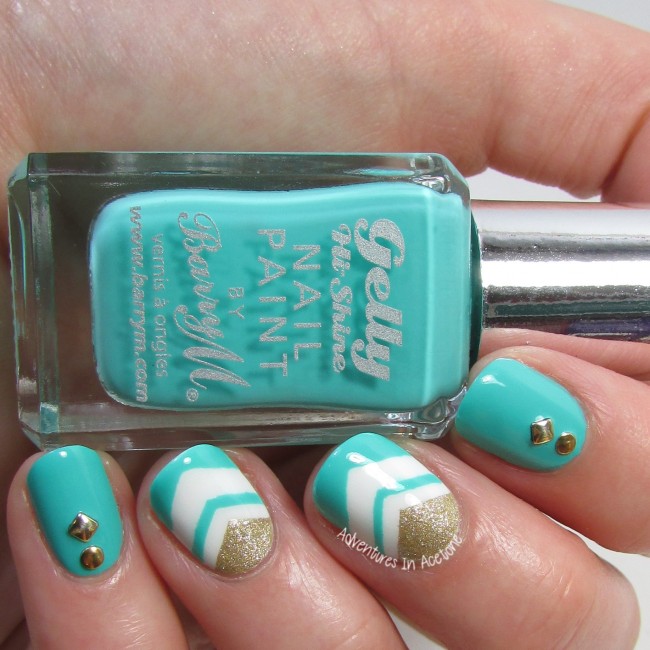 What do you think of this fun mani? I am really enjoying it as a full mani so thanks to Paulina for the fun idea! Check out what the other Digit-al Dozen ladies did for Day 4 below:

Loading InLinkz ...
If you enjoyed this post, please Sign Up for email updates and you will have the latest news, reviews, nail art, and tutorials delivered right to your inbox! Never miss a post from Adventures In Acetone again. Thank you so much for reading.
– Let's paint something amazing! –