Press Sample
Good morning, readers! I have three stamping plates from Creative Shop to share with you today. Each plate has 14 full nail designs and I've created three looks, each using one design from a different stamping plate. There are loads of good designs on each plate, and I can't wait to try more looks in the future. Let's take a look.
The first plate is Creative Shop 20. I chose to use the tribal print in the bottom right for my first manicure.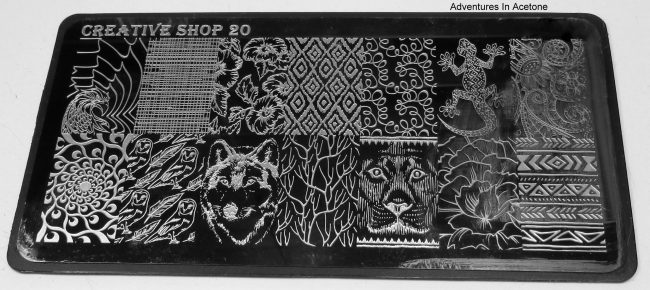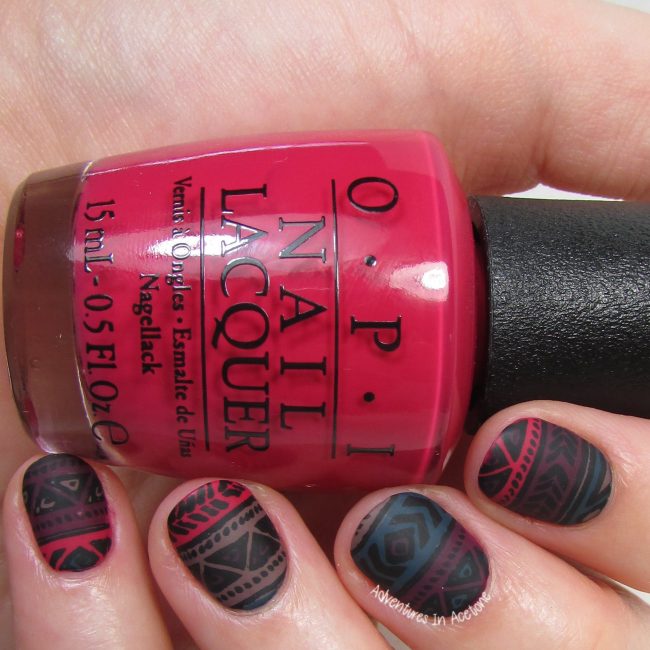 I used my ÜberChic ÜberMat to make stamping decals with the tribal image.
I used a clear polish onto the mat and let it dry.
Once dry, I used Mundo de Uñas Black to stamp the tribal image onto the clear polish.
I filled in the image with OPI Madam President, OPI Squeaker of the House, OPI CIA=Color is Awesome, and OPI Kerry Blossom.
Once the decals were dry, I applied them to my nails and topped them with a coat of Essie Matte About You.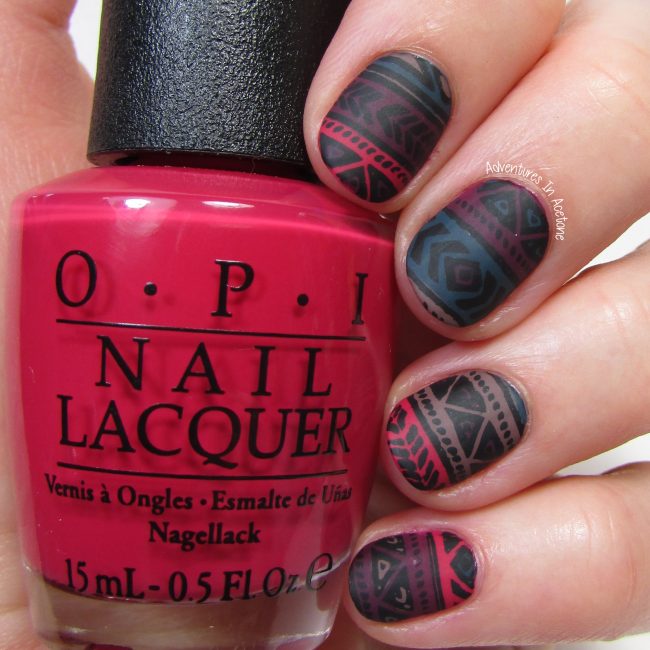 The next plate is Creative Shop 31. I chose to use the square image on the top right for my next manicure.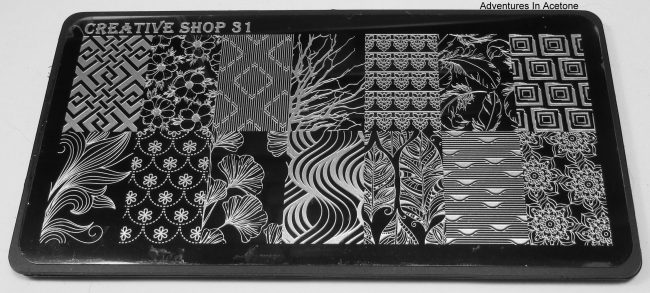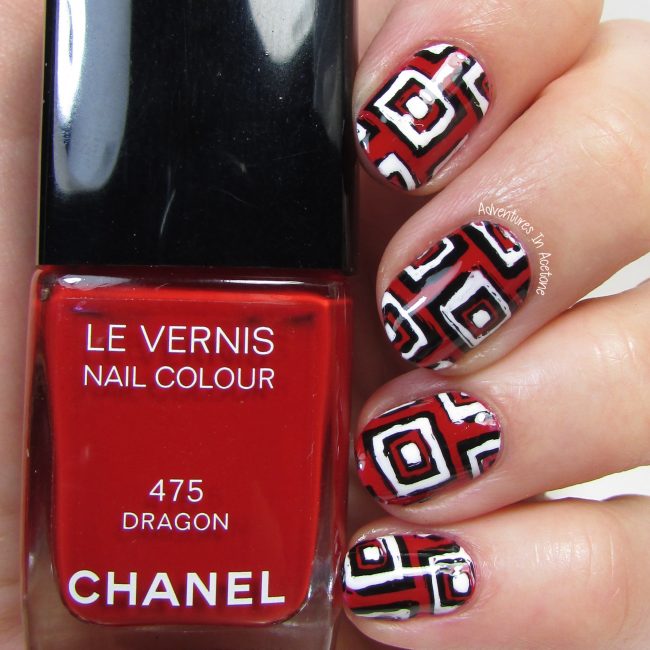 I began with a coat of Chanel Dragon on my nails.
While they were drying, I made stamping decals with Mundo de Uñas Black and filled in the decals with Salon Perfect Sugar Cube.
When the decals were dry, I applied them to my nails and topped them with a coat of KBShimmer Clearly on Top.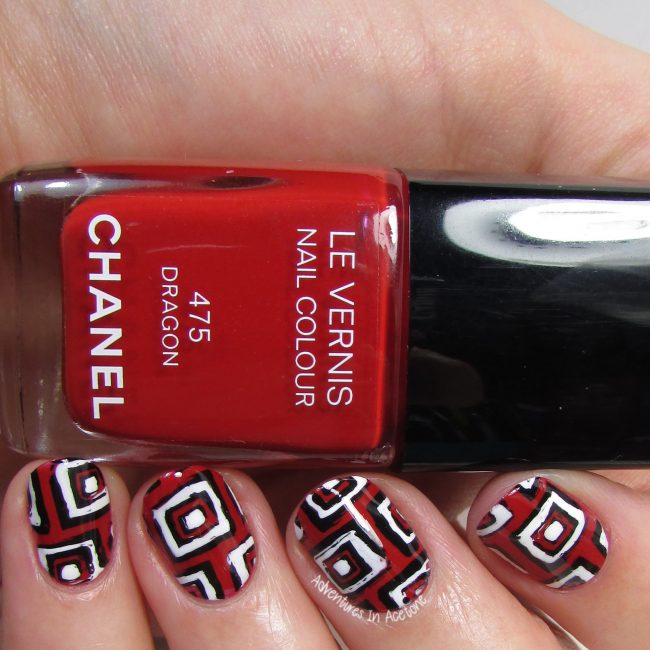 The final plate is Creative Shop 33. I chose the middle top chevron design for my last mani.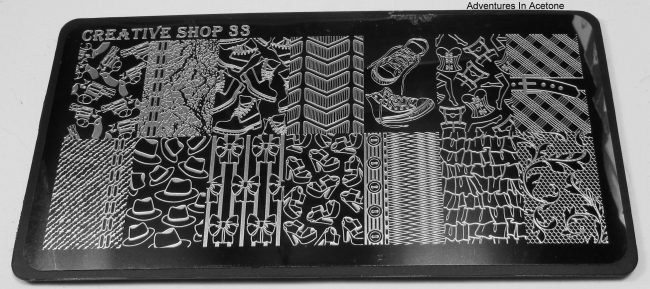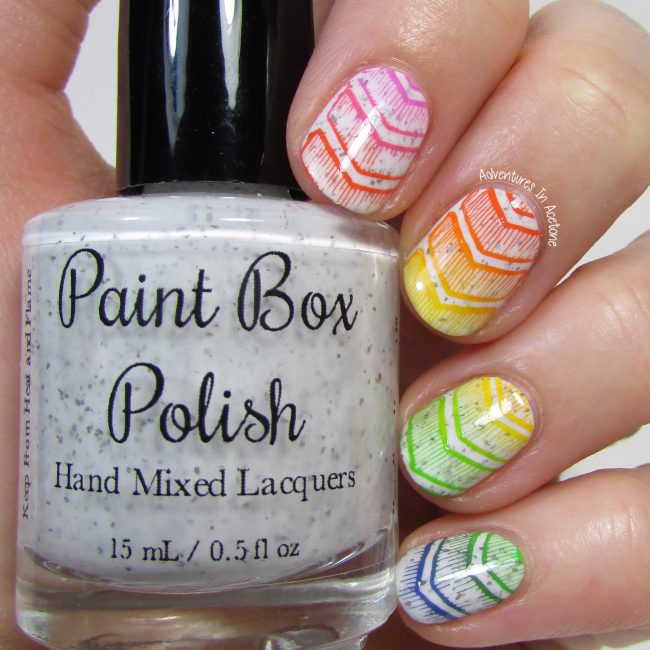 I began with a base of Paint Box Polish Stracciatella.
When my nails were dry, I did gradient stamping with the chevron design onto the base. I used the following Mundo de Uñas polishes for the stamping: Mexican Pink, Geranium, Yellow, Avocado, and Lavander.
KBShimmer Clearly on Top was used to seal in the design.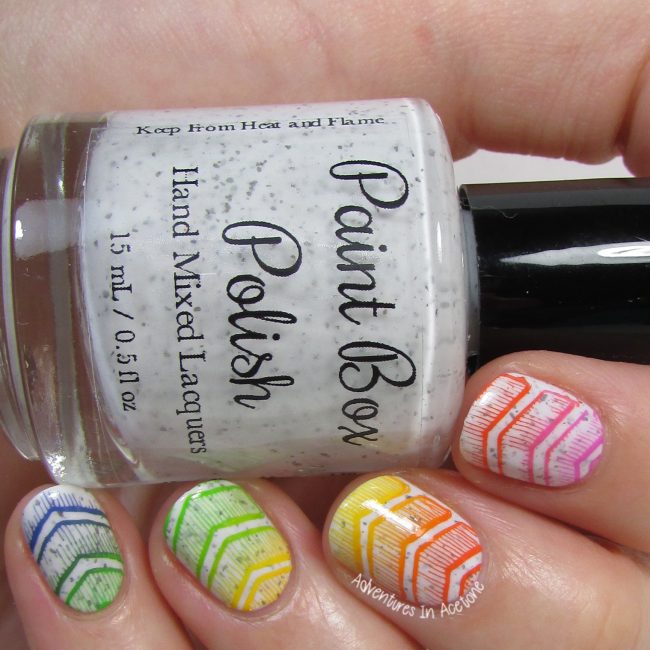 What are your thoughts on these manis and new Creative Shop Stamping Plates? Which look is your favorite?
You can purchase Creative Shop products in the shops below:
1. USA, Canada – http://www.beautometry.com
2. USA – http://store.whatsupnails.com
3. UK – http://rainbow-connection.co.uk
4. EU – http://www.hypnoticpolish.com
*The products in this post were sent for me to review with my honest opinion.
If you enjoyed this post, please Sign Up for email updates and you will have the latest news, reviews, nail art, and tutorials delivered right to your inbox! Never miss a post from Adventures In Acetone again. Thank you so much for reading.
– Let's paint something amazing! –