Good evening, readers! I am really enjoying this Nail Heroes Week with The Digit-al Dozen, are you? Today's nail hero for me is ÜberChic Beauty for their incredible ÜberMat! I know there are a ton of these nail station mats on the market now, but this was the first one I saw and I just had to have it. I am so glad I bought it and it has really changed the way I look at stamping and is also a really nice workstation while painting my nails.
The biggest use I get out of the ÜberMat is making stamping decals. I've shared tons of step-by-step pictures of my stamping decal manis because it really is as easy as coloring in a coloring book. Today's mani is a stained glass (or maybe kaleidoscope?) image from the ÜberChic UC 6-02 stamping plate. I used 9 of the new OPI New Orleans Collection polishes to fill in all of the shapes of the image so this is a very colorful and fun mani.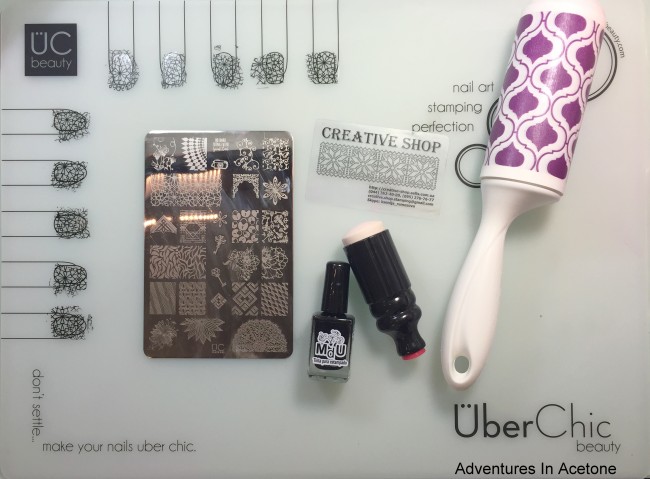 Above: the awesome ÜberMat with the stamped image on all 10 nail slots. (Yes! I did make this a full mani!)
Below: close up step by step of coloring in the shapes and the final picture shows what the decal looks like when you peel it from the mat and turn it over.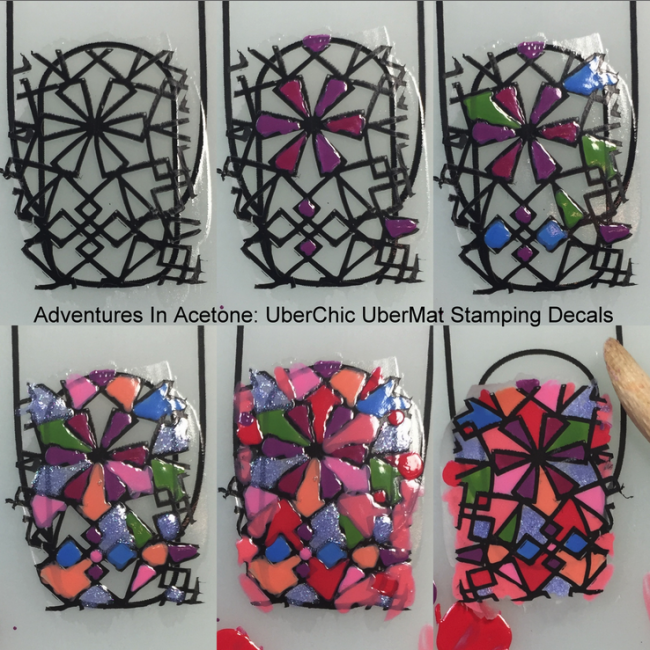 In addition to making decals on the mat, I also love that I can dab the polish I am using to fill in the decals right onto the mat!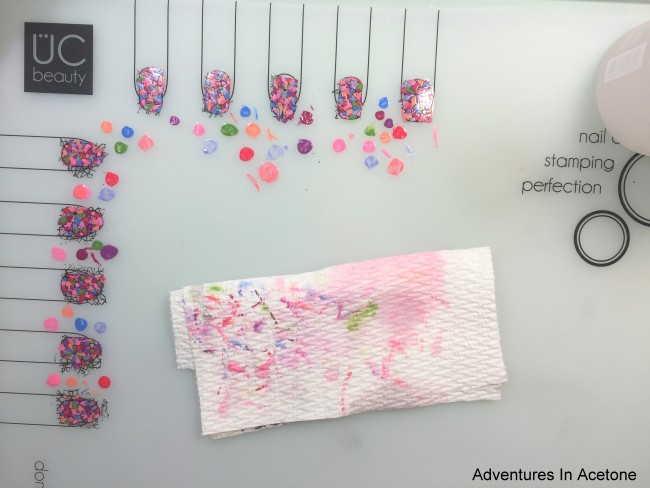 Here's the finished product!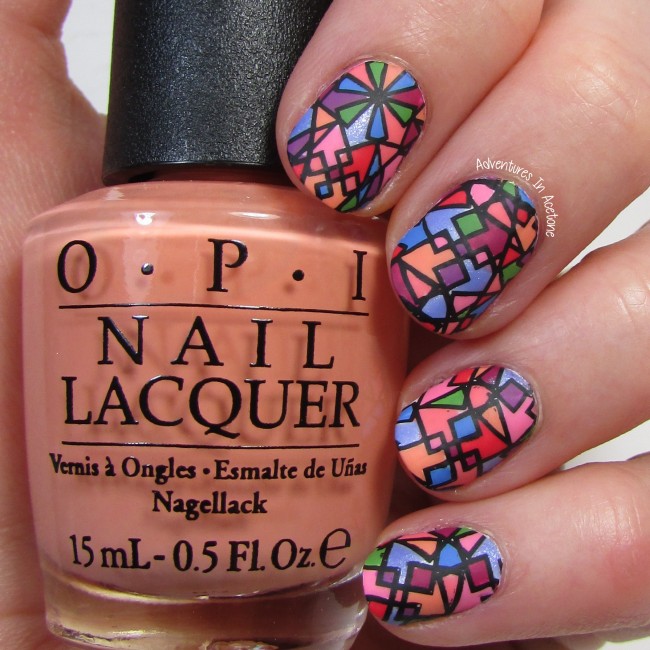 I began by making the stamping decals on the mat as shown above. I painted each "nail" spot on the mat with a thin coat of Qtica Extending Top Coat and let dry.
Then, I used Mundo de Uñas Black stamping polish to stamp the UC 6-02 plate image onto each nail spot.
I then grabbed my OPI New Orleans Collection polishes (I Manicure For Beads, Show Us Your Tips!, Got Myself into a Jam-balaya, Rich Girls & Po-Boys, Spare Me a French Quarter?, Crawfishin' for a Compliment, She's a Bad Muffuletta!, Suzi Nails New Orleans, and I'm Sooo Swamped!.) and used my ÜberChic Liner Brush to color in the different shapes of the stamped image.
Once they were all filled in, I painted a coat of Rica Whiteout onto my nails and a barrier of Girly Bits Border Patrol around my nails for easier cleanup.
One decal at a time, I gently pried the decal from the mat with an orange stick, flipped it over, and applied to a tacky nail.
I used acetone and a cleanup brush to separate the decal on the nail from the excess that was stuck to the Border Patrol and then peeled off the Border Patrol with the excess decal.
I topped the mani with a coat of Girly Bits Polish Matte'rs.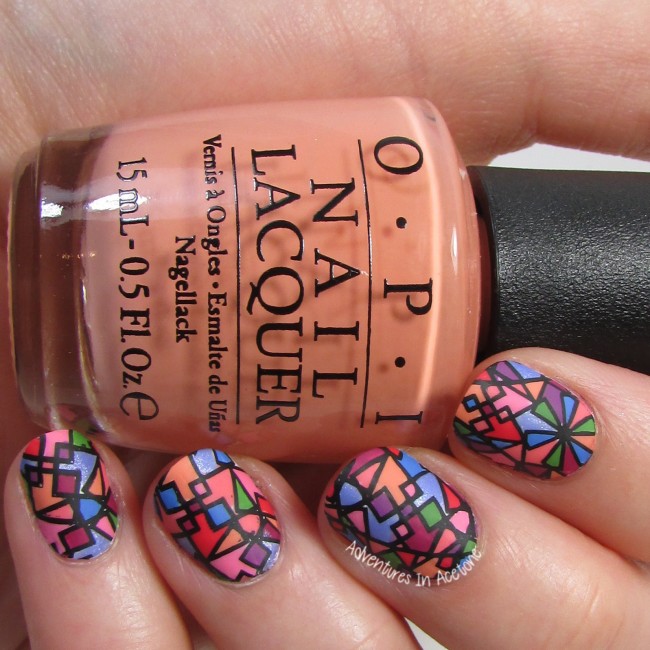 What do you think of this fun and colorful mani? I'm digging it, and am so glad I spent the extra time for a full mani. Do you have an ÜberMat? Check out what the other Digit-al Dozen ladies did for Day 3 below:

Loading InLinkz ...
If you enjoyed this post, please Sign Up for email updates and you will have the latest news, reviews, nail art, and tutorials delivered right to your inbox! Never miss a post from Adventures In Acetone again. Thank you so much for reading.
– Let's paint something amazing! –