Good morning, readers! Today's post is a two-in-one. I've been able to combine the final day of Gradient + Week  with The Digit-al Dozen AND this week's 40 Great Nail Art Ideas: Pink & Lilac nail art prompt. I've come up with a pink and lilac gradient mermaid scale pattern. To add some sparkle to the plain creme gradient (this IS a mermaid, after all), a coat of Elevation Polish Aguja St. Exupery was used. I free handed the mermaid scale pattern, you can see a step by step in my old Mermaid Scale Tutorial.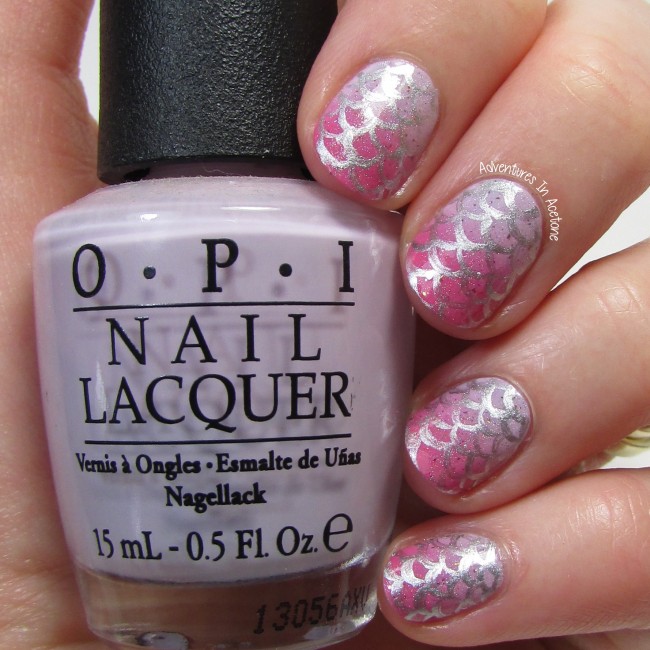 I began by painting a coat of Liquid Palisade around my nails to help with cleanup from the gradient.
Once that was dry, I painted thick stripes next to eachother on a makeup sponge with OPI Rumples Wiggin' and OPI Suzi Has a Swede Tooth.
I dabbed the wet sponge onto the nails and repeated the process until the colors were opaque enough and blended onto the nail.
I then painted a coat of Elevation Polish Aguja St. Exupery over the gradient.
I used tweezers to remove the Liquid Palisade and excess polish. A cleanup brush and acetone were used to wipe away anything the LP missed.
I then followed my Mermaid Scale tutorial linked above to paint on the mermaid scales with a nail art brush and OPI Silver Canvas.
NYC Grand Central Station quick drying top coat was used to seal in the design and add shine.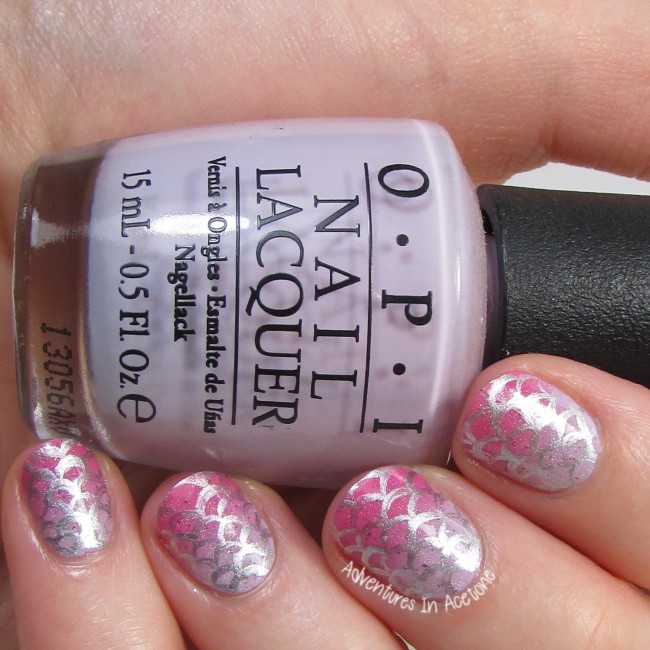 What do you think? Have you ever painted free hand mermaid scales? I would love a simple mermaid scale stamp to help cut down on the time it takes for these manis, must be on the lookout!
Check out what the other Digit-al Dozen ladies painted for their final Gradient + Week mani below:

Loading InLinkz ...
Also, the other Crumpet's Nail Tarts ladies are below with their Pink & Lilac manis:

Loading InLinkz ...
If you enjoyed this post, please Sign Up for email updates and you will have the latest news, reviews, nail art, and tutorials delivered right to your inbox! Never miss a post from Adventures In Acetone again. Thank you so much for reading.
– Let's paint something amazing! –