Good morning, readers! My LuLaRoe clothing addiction is still going strong, as is my love for LuLaRoe inspired nail art! I shared a sneak peek of these on Instagram a week and a half ago, but here is a blog post in case you didn't see it (or wanted closer pictures). This mani was inspired by one of my favorite pairs of LuLaRoe leggings. The floral design is gorgeous, from the colors scheme to the "coloring out of the lines" imperfection of the flowers. It just screamed stamping decals to me so that's what I did! I looked through my plates for any similar floral design and this stamp image on ÜberChic plate 8-03 was as close as I could get. While not a perfect match, these looked amazing together with the leggings and I wore this mani all weekend. Let's take a look.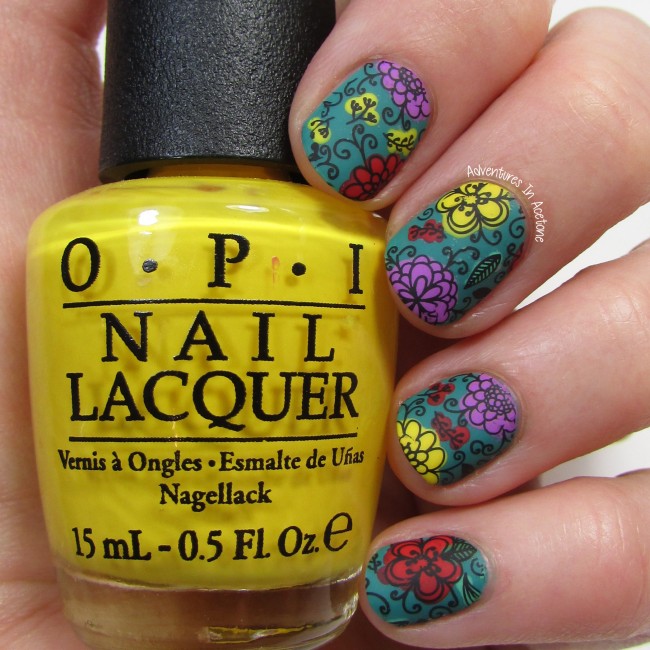 To begin, I painted two coats of Zoya Cecilia on all of my nails and let dry. (Note: be warned that even with base coat, this stained a ton of my nails and skin upon removal. However, I scrubbed with water and baking soda and they came clean.)
I painted a coat of Qtica Extending Top Coat on all 10 "finger nail" sections of the ÜberChic ÜberMat as a base for the stamping decals.
Once dry, I used Mundo de Uñas Black stamping polish and the floral image on ÜberChic plate ÜC 8-03 to stamp onto each top coated section on the mat.
Next, I used a dotting tool to fill in the flowers and leaves of the stamp image. I wasn't being super careful because the leggings have color outside of the lines and I was trying to mimic that look. Which was great, because it took less time! The colors used to color in were: China Glaze Starboard, China Glaze Treble Maker, Salon Perfect Purple POP!, OPI Coca-Cola Red, and OPI Good Grief! 
Once the decals were dry, I used an orange stick to carefully pry them up from the mat and flip them over to see the completed design.
I painted a coat of Qtica Extending Top Coat onto my teal nails and then applied the decals carefully to the tacky polish layer.
I wiped away the excess decal with acetone and a cleanup brush and added a coat of KBShimmer Oh Matte! to seal the decals in and keep the matte finish.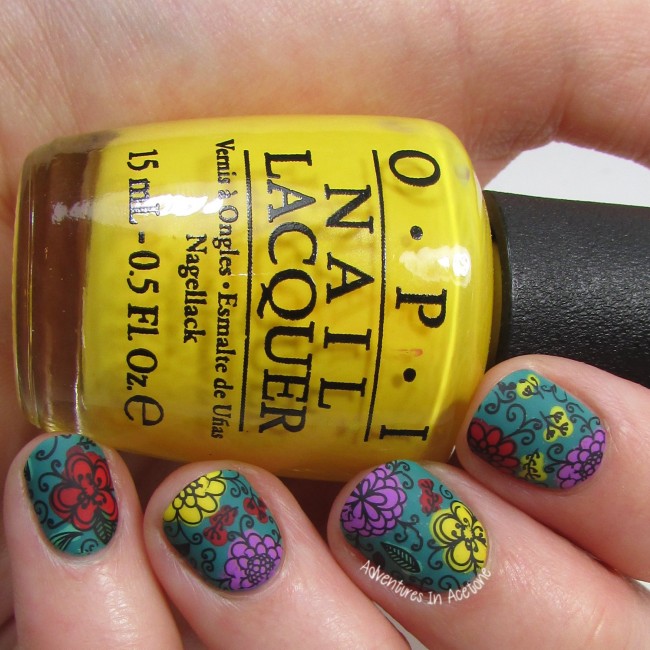 Here are some bonus shots with the leggings! Aren't they awesome?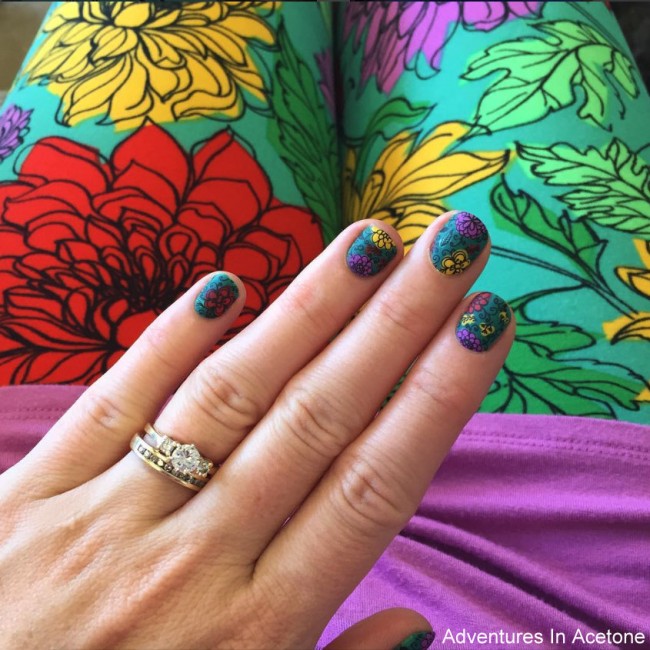 What do you think of this mani? I love finding nail art inspiration everywhere! I have another LuLaRoe mani to share with you this week, and I'm sure there will be many more to come in the near future!
If you enjoyed this post, please Sign Up for email updates and you will have the latest news, reviews, nail art, and tutorials delivered right to your inbox! Never miss a post from Adventures In Acetone again. Thank you so much for reading.
– Let's paint something amazing! –