Good morning, readers! I'm back today with another LuLaRoe Clothing inspired manicure! This time, I tried to recreate a sketchy floral design from my new Nicole style dress! These flowers are gorgeous for spring and I loved wearing this dress. (I loved this print so much that I also bought a Classic Tee in it, with a mint background instead of the coral!) OPI Live.Love.Carnaval was a perfect match for this dress and I was so happy to use it again–it's one of my favorite coral cremes!
I went out of my comfort zone with this mani a bit by making two accent nails paired with solid yellow nails. YELLOW. I'm not even sure the last time I've worn yellow without nail art over it. And you know what? I kinda loved it. Who are you and what have you done with Jacki?!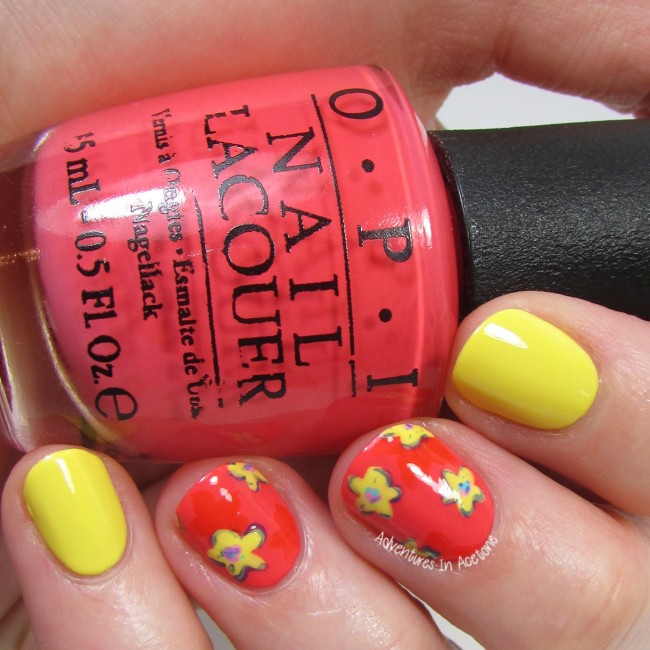 My thumbs, index fingers, and pinkies were painted with three thin coats of OPI I Just Can't Cope-acabana.
My middle and ring fingers started out with two coats of OPI Live.Love.Carnaval.
Once that was dry, I used a nail art brush to paint messy 5 petal flower shapes in OPI I STOP for Red. This didn't show up as well in the photos as they did in person, sadly.
Next, I painted messy 5 petal flower shapes with OPI I Just Can't Cope-acabana, randomly overlapping the red flowers here and there.
Then, I dabbed the center of each flower with OPI Look at my Bow! and Salon Perfect Mer-Made of Money.
Once they were dry, I used a thin nail art brush and OPI Dating a Royal to do messy outlines and details on the yellow flowers, mimicking the dress print.
I topped all of my nails with a coat of NYC Grand Central Station quick drying top coat.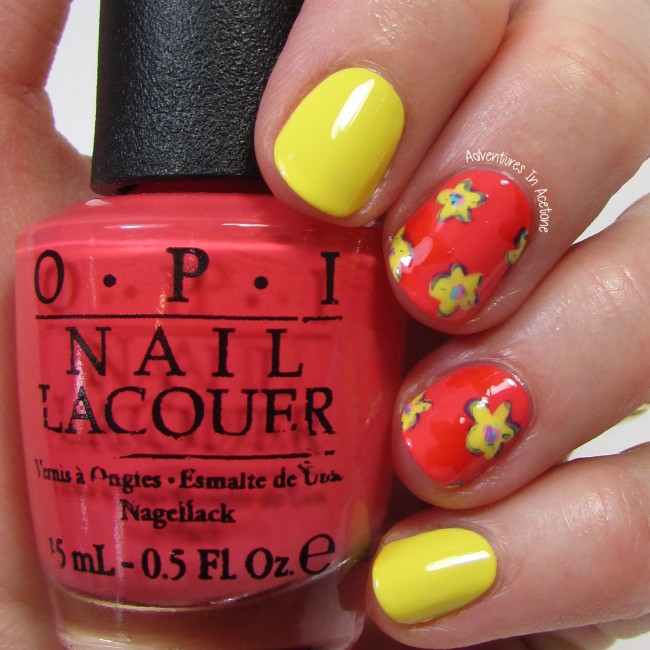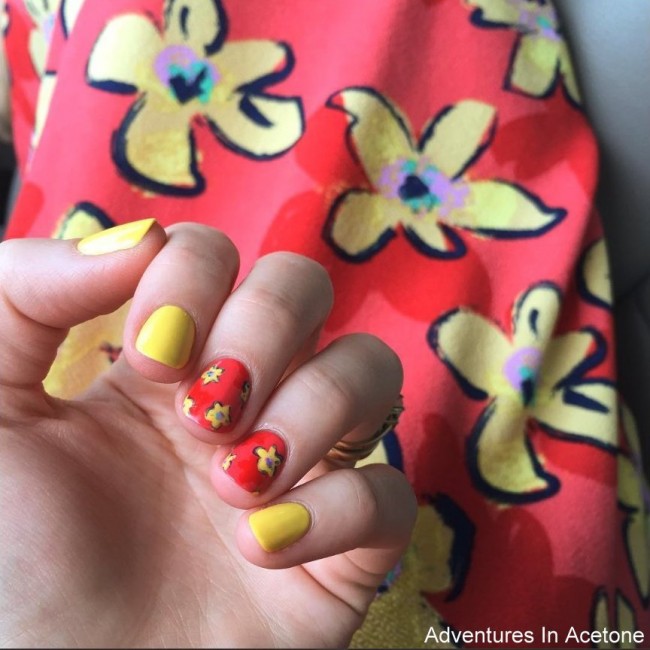 What do you think of this matching mani and dress? I think that the floral print on all of my nails would have been a bit much, and the added yellow solids were a fun contrast.
If you enjoyed this post, please Sign Up for email updates and you will have the latest news, reviews, nail art, and tutorials delivered right to your inbox! Never miss a post from Adventures In Acetone again. Thank you so much for reading.
– Let's paint something amazing! –