Good morning, readers! This week's 40 Great Nail Art Ideas prompt is Animals and I finally got to use my new Bundle Monster BM-S166 stamping plate! The plate is adorable and filled with cute sea animals, bubbles, and seaweed. I layered the bubbles on the base first and then the sea creatures on top for more depth. This was my first time coloring in stamps while they were still on the clear stamper head and it was so quick and easy–I was able to just press the stamper onto the nail and the whole image adhered to the nail without having to turn it into a decal with clear coat and peeling off. Mind blown.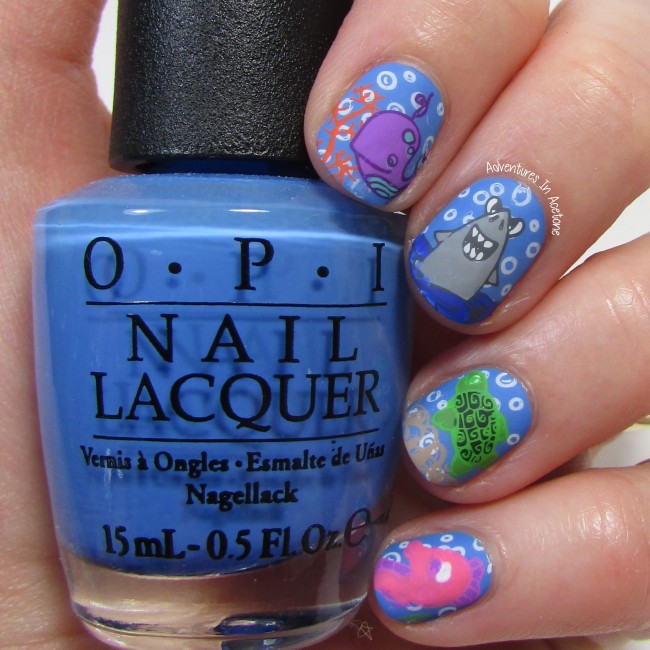 I began with a base of OPI Rich Girls & Po-Boys.
Next, I stamped the bubbles on with my ÜberChic XL Clear Stamper and Mundo de Uñas White stamping polish.
Then, I used various other Mundo de Uñas stamping polishes for the coral, whale, shark, turtle, and seahorse. I used various OPI cremes to fill in the stamp images before pressing them to the nails.
I painted each nail with a coat of NYC Grand Central Station quick drying top coat, and then a coat of KBShimmer Oh Matte! to remove the shine.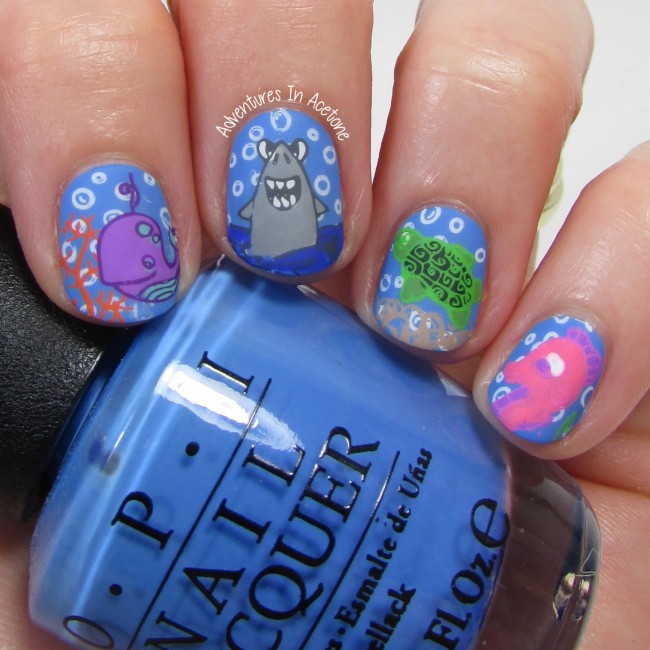 What do you think? I am super happy with how these turned out, even though the seahorse was too big. I can't decide whether I like the whale or the shark better! Adorable images!
Check out what the other Crumpet's Nail Tarts created for their Animals manis below:

Loading InLinkz ...
If you enjoyed this post, please Sign Up for email updates and you will have the latest news, reviews, nail art, and tutorials delivered right to your inbox! Never miss a post from Adventures In Acetone again. Thank you so much for reading.
– Let's paint something amazing! –