Good afternoon, readers! Long time no post! Well, a week to be precise! I've had hardly any nail time this week, so aside from today's post and swatches that will be up this weekend, I had no other manis to share with you. Life is busy these days as we wind down to the end of the school year. I've had…naked nails…all week! Eeeeeek! Thankfully, I had a slower morning today without anything planned so I was able to pamper my nails with a soak using a Paint Box Polish Lavender Mani Fizz, push back my cuticles, and all that jazz.
As for today's post, this week's 40 Great Nail Art Ideas prompt is 3 Shade of Red or Orange so I grabbed 3 red OPI cremes and created this mosaic mani with stamping decals. Honestly, it's hard to tell there aren't just two reds in this mani, but they looked more different in the bottle so we are just going to go with it.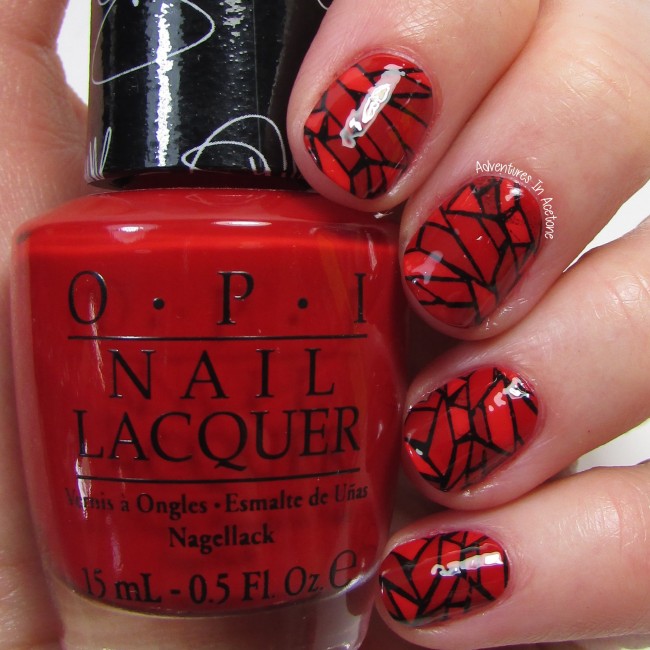 To begin, I painted the "nail" shapes on my ÜberChic ÜberMat with a thin coat of Milani top coat and let dry.
Once they were dry, I stamped the mosaic design from Bundle Monster BM-208 onto the "nail" shapes with Mundo de Uñas Black stamping polish.
I used a dotting tool to fill in the mosaic shapes with OPI Coca-Cola Red, OPI Over & Over A-Gwen, and OPI Romantically Involved.
Once the decals were dry, I used an orange stick to "pry" them up from the mat and applied them to my nails that were tacky with one coat of half-dried base coat.
I cleaned up the excess decals from around the nail with an orange stick, acetone, and a cleanup brush.
I topped the decals with two coats of NYC Grand Central Station quick drying top coat.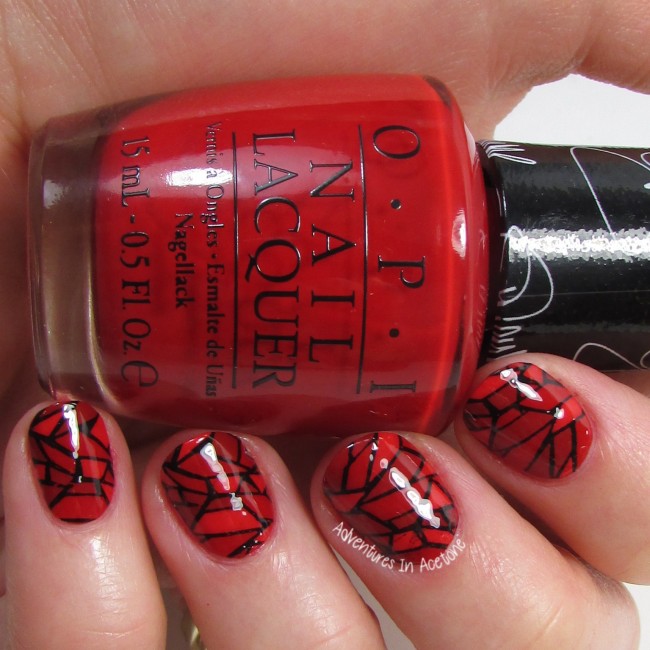 What do you think of this mosaic look? Check out what the other Crumpet's Nail Tarts did for their 3 Shades of Red or Orange mani below:

Loading InLinkz ...
If you enjoyed this post, please Sign Up for email updates and you will have the latest news, reviews, nail art, and tutorials delivered right to your inbox! Never miss a post from Adventures In Acetone again. Thank you so much for reading.
– Let's paint something amazing! –