Press Sample
Good morning, readers! I have a funky mani to share with you today that I'm currently wearing. A dry brush base of blurple, teal, pink, and off white with yellow quatrefoil stamping made for an interesting color combo but I love how different it is! This took no time at all and was perfect for my short amount of time I had available to paint my nails before this crazy Monday begins!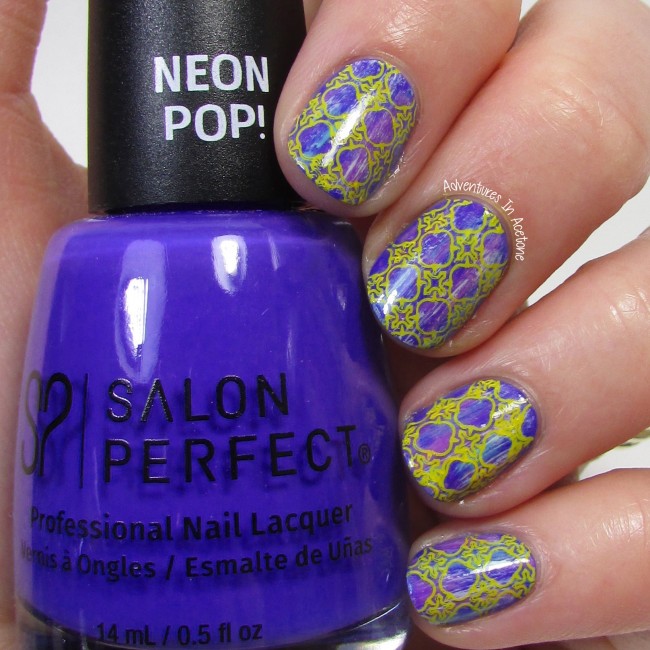 I began with two coats of Salon Perfect Violets are Blue.
Then, I wiped most of the polish off of the brush and "dry brushed" over the base with Salon Perfect Mer-Made of Money, Salon Perfect Wrapped Around my Pink-y, and Mundo de Uñas Bone.
I stamped the quatrefoil design from ÜberChic plate 8-02 using Mundo de Uñas Yellow stamping polish.
NYC Grand Central Station quick drying top coat was used to seal in the design and add shine.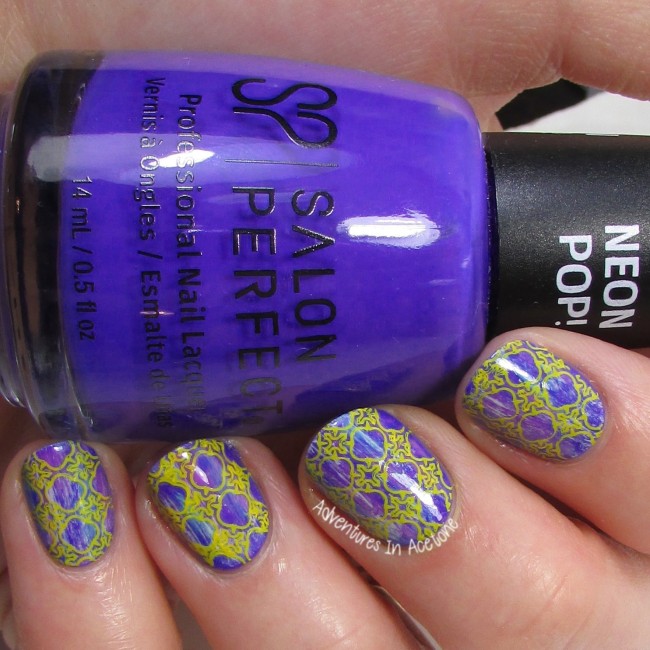 What do you think of this mani? The yellow is so striking over the blue toned base, I'm kinda digging it! These Salon Perfect polishes are available at Walmart stores for $3.98 each and the Neon POP! Collection will be in a promo display until August.
*The polishes in this post were sent for me to review with my honest opinion.
If you enjoyed this post, please Sign Up for email updates and you will have the latest news, reviews, nail art, and tutorials delivered right to your inbox! Never miss a post from Adventures In Acetone again. Thank you so much for reading.
– Let's paint something amazing! –