Press Sample
Good morning, readers! I have an exciting post for you this morning. If you are a fan of Elevation Polish, you probably know of the very LE polish known as Angels are the Yetis of the Clouds. I was one of a handful of giveaway winners to receive this polish over a year ago and it's a "prized polish" in my collection because of it. I've previously done a comparison post and tried to help you layer your own polishes for a similar effect in the past because everyone was hoping to get their hands on one and that was the best I could do. They were frankened polishes to begin with–meaning that Lulu was mixing already-made polishes to get the end result and she was planning to make a few more along the way for those that had been waiting to get it. However, I have great news! Lulu decided to try her best at mixing her pigments and ingredients instead of frankening and it resulted in what I'll show you today: Elevation Polish Angels are the Yeti of the Clouds 2. While close to the original, it's not the exact same shade and I keep hearing that people are happier with the 2nd version. I'll have a comparison at the end of this post with the original for you. The best part? This is a core polish and will be restocked each month on the 7th and the 22nd!
Elevation Polish Angels are the Yeti of the Clouds 2
Pinky purple jelly with shifting flake shimmer (red/gold), that dries down to a satin finish.
I'm showing three thin coats below with top coat.
The sheerness of the jelly base allows the shifting flakes to shine through with a lot of depth. I did thin coats but there is still slight visible nail line. You could paint thicker coats or add a fourth if you don't like VNL. I noticed that it didn't dry as matte as the original version, but I did still feel the need to add a shiny top coat for these pictures.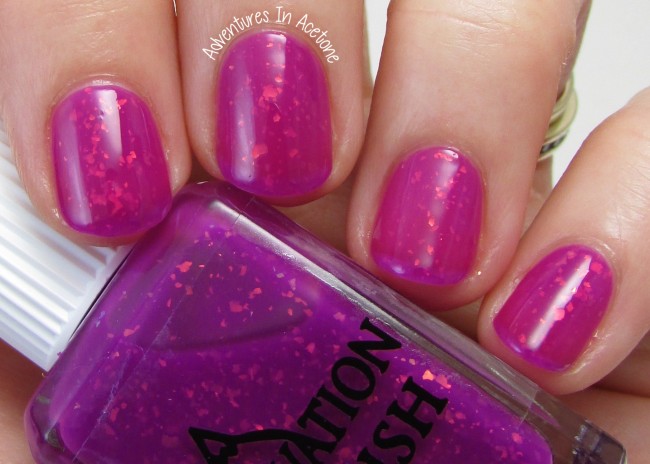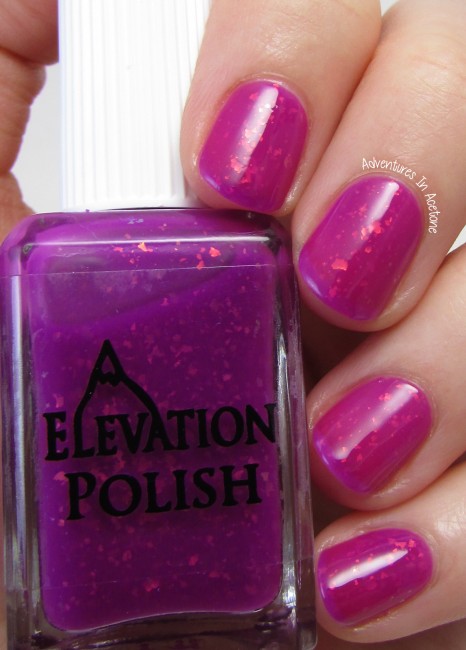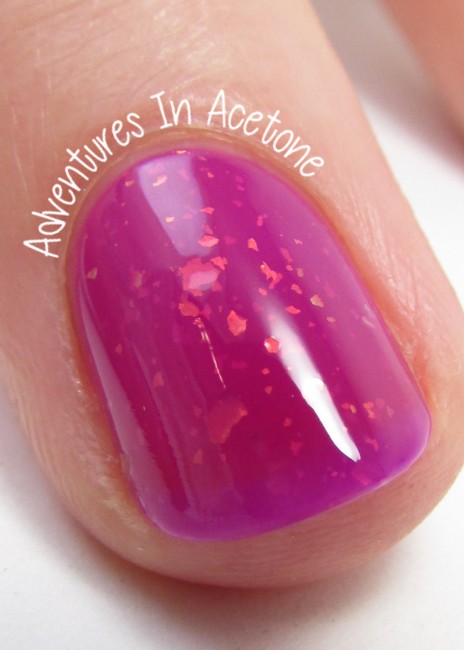 And now a comparison to the original Angels are the Yetis of the Clouds! The original was deeper and more opaque, while the new version is more squishy and pink-toned. Lulu also said that the new version has more flakes than the original. Neither were hard to apply, but the newer one was easier. I am quite happy they aren't exactly the same!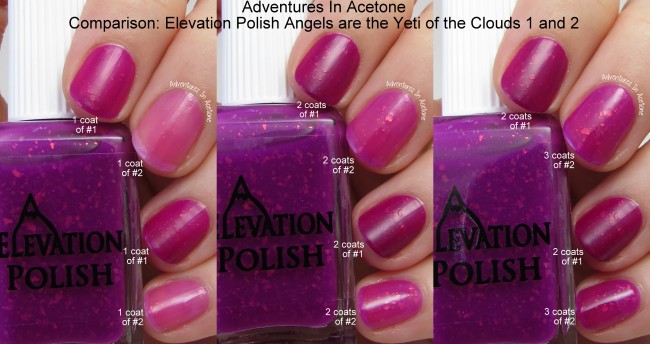 What are your thoughts? Not that I'm surprised, but Lulu did a beautiful job making this polish and I know a lot of fans are happy to have it available! Do you have an original? What do you think of the new one?
As I said above, this will be restocked on the 7th and 22nd of each month over at ElevationPolish.com.
*The polish in this post was sent for me to review with my honest opinion.
If you enjoyed this post, please Sign Up for email updates and you will have the latest news, reviews, nail art, and tutorials delivered right to your inbox! Never miss a post from Adventures In Acetone again. Thank you so much for reading.
– Let's paint something amazing! –