Press Sample
Good morning, readers! I have news from Alter Ego to share with you today. Cynthia has been changing things! New formula, new bottles, boxes, and new labels! Let's take a look below:
First, let's look at the new bottles! Below purple: left bottle is the old, right is the new design. You can see the new mini sized bottle changes as well, with the new larger red mini compared to the old on the right. Also in this photo, you can see the brand label changes–the old gold printed star is now a silver holo cutout of AE.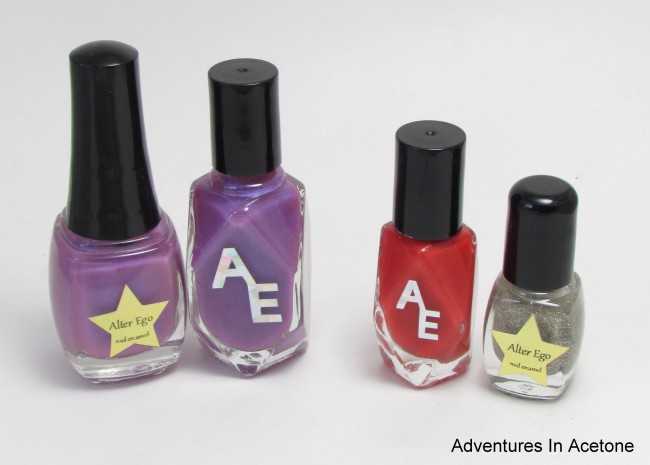 In addition to the beautiful new bottles, Cynthia is including boxes as well. They are labeled on the front and then the included color label is on the top of the box–making it easy to find the color you are looking for if you store them in your drawers inside of the boxes.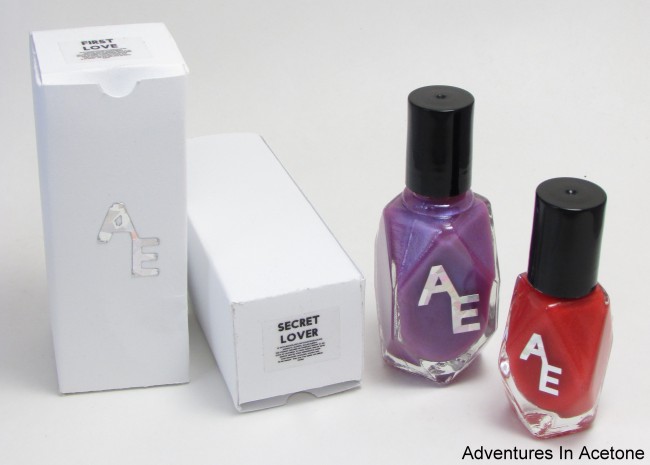 Another new change with the color name and ingredients label is shown below. The new bottles (left) have a clear label with the polish name and ingredients on the back. The older style (right) had them on the bottom.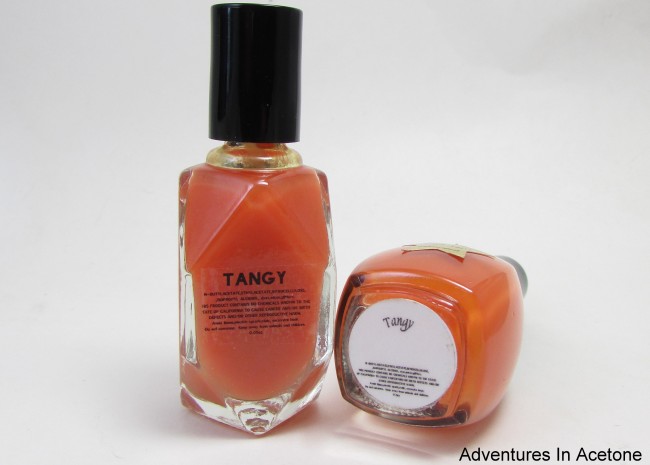 Onto what I think it's probably the most important change for Alter Ego: the new formula. I've mentioned it many times in my older posts–Cynthia's base is thicker and dries to a textured matte finish. The new formula still dries that way, but its thinner and easier to work with! I would thin down the polishes in the past with rubbing alcohol but I haven't had to do anything of the sort with the new polishes. Because they have less pigment than the older versions due to the new easier formula, I've done some comparisons for you of the last collection. Some of the new polishes are slightly different in color and require more coats–but with thin coats that are easier to work with, it's absolutely worth it. (Note: thinner formula does mean that the pigment can settle faster when not in use. They can be turned upside down for a few minutes and a good shake will get them right back to where you want them. Cynthia has included 5 mixing balls in each bottle to help with this.)
My photos below probably won't show much as far as difference in formula after they dry down to matte, but I will tell you that applying them side by side this week made a huge difference and I could tell the new formula was much smoother to use. So take my word on that and use the comparison photos below for the slight color differences.
Alter Ego Secret Lover
I'm showing three coats of each the old and new formula below without top coat.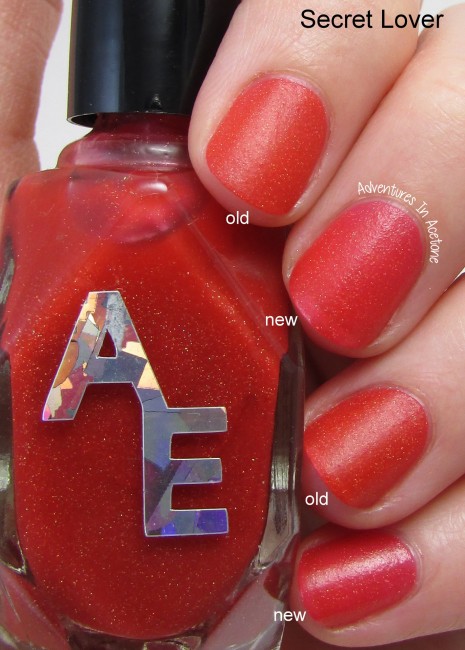 Alter Ego First Love
I'm showing two coats of the old version and four coats of the new version without top coat.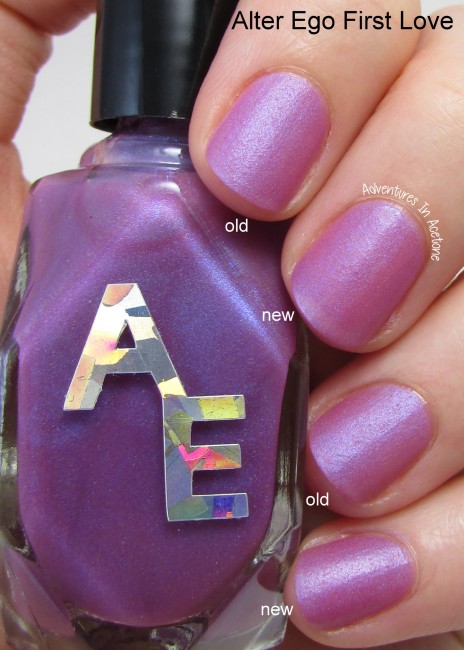 Alter Ego Tangy
Three coats of each the new and old below without top coat.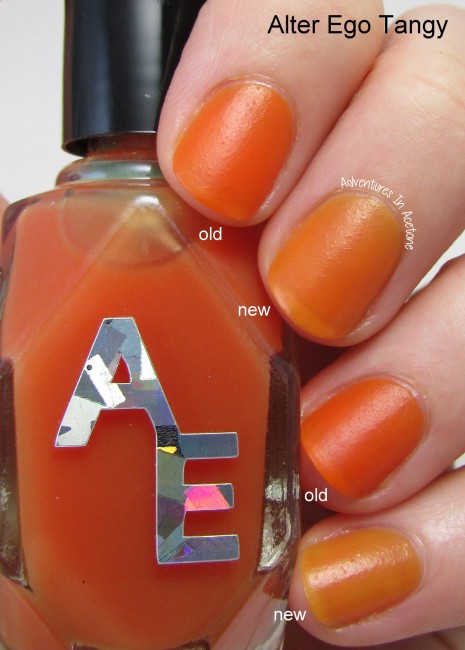 Alter Ego Night Owl
I'm showing two coats of the old version and four coats of the new version below without top coat.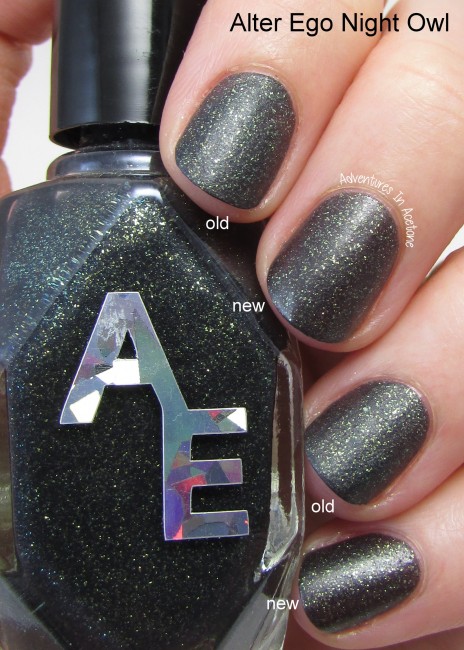 Alter Ego Bubbly
I'm showing two coats of the old version and three coats of the new version without top coat.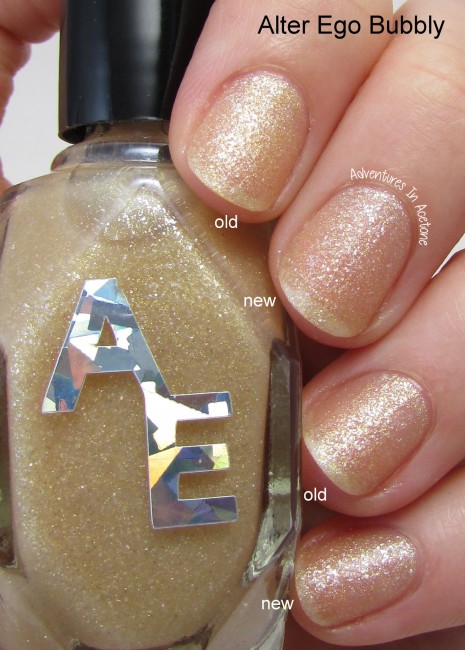 Alter Ego Well Read
This is an "enhanced ego." Cynthia changed to a new pigment for a color closer to her original idea. The formulas are both smooth but the older one had a strong smell and that isn't the case with the new one. I'm showing two coats for both below without top coat.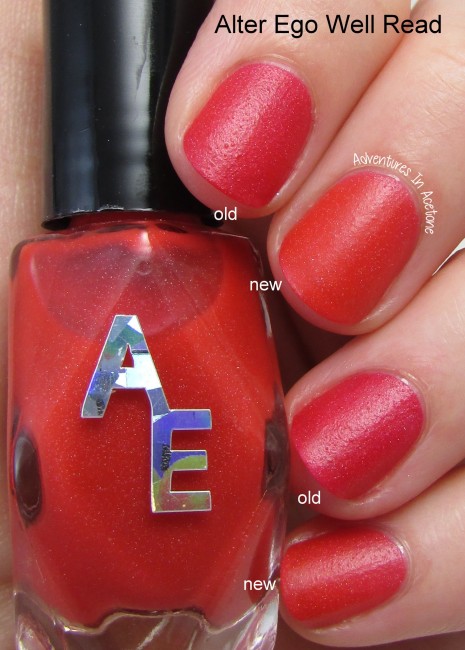 There you have it! Lots of new things from Alter Ego. The new bottles retail for $9.00 full size (0.5 oz) and $4.50 for mini size (0.25 oz) at the Alter Ego shop below! Don't forget about the ad on my right sidebar with a special discount code!
Alter Ego Links:
*The polishes in this post were sent for me to review with my honest opinion.
If you enjoyed this post, please Sign Up for email updates and you will have the latest news, reviews, nail art, and tutorials delivered right to your inbox! Never miss a post from Adventures In Acetone again. Thank you so much for reading.
– Let's paint something amazing! –