Good afternoon, readers! I have my final Fourth of July mani to share with you today. This is what I'm currently wearing on my nails and will be for the fireworks and festivities that begin tonight around here. After coming up with different patriotic looks this week, I decided to go with simple v-shaped half moon nail art for my holiday nails. To me, the v-shape is a lot easier to paint on freehanded than the typical rounded half moon mani. This made for a quick and easy mani today while my kiddos were busy playing outside. For some extra sparkle, I added a coat of the new Elevation Polish LE Yeti the Stone Warrior and I'm so glad I did! The silver flakes are gorgeous over the nail art and the holo comes out in the sun.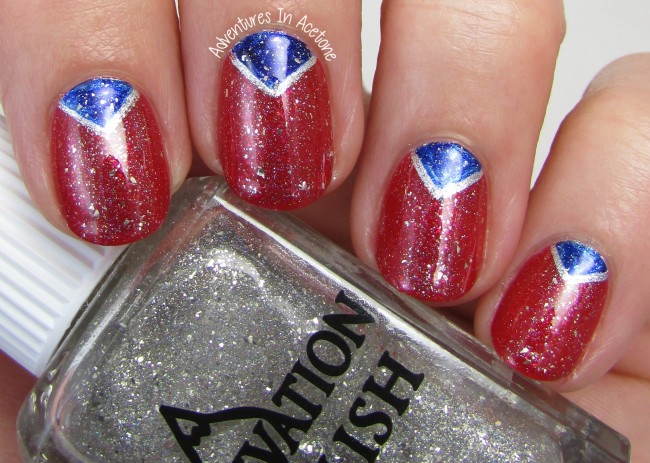 To begin, I painted two coats of Elevation Polish Fervent. This red is one of my favorites in my collection and it has gorgeous glowing flakes.
Once that was dry, I grabbed my new Salon Perfect Silver Plated striping nail art polish and painted simple v shapes at the cuticle. Then I used it to fill in the v completely.
When the silver was dry, I grabbed a detail brush and painted a smaller v shape with OPI Indigo Motif Color Paints polish and filled in the v.
At the last moment I decided to paint a coat of Elevation Polish LE Yeti the Stone Warrior over top and loved the result. I am also happy to report that it didn't smear my nail art!
KBShimmer Clearly on Top was used as a top coat to seal everything in and add shine.
What do you think of this simple patriotic nail art? What are you wearing on your nails this weekend? I hope you all have a safe holiday weekend, come back tomorrow for a Swatch Saturday post!  Don't forget the Elevation Polish Limited Edition Yeti the Stone Warrior is only available during the July restocks at ElevationPolish.com (July 7th at 9pm Central, July 22nd at 9am Central). Thanks so much for reading!
If you enjoyed this post, please Sign Up for email updates and you will have the latest news, reviews, nail art, and tutorials delivered right to your inbox! Never miss a post from Adventures In Acetone again. Thank you so much for reading.
– Let's paint something amazing! –