Good afternoon! I have another comparison post for you, maybe we can make this a Thursday thing? This time, it is with minty pastel greens. We have Zoya Tiana (from the Zoya Delight Collection), OPI That's Hula-rious! (from the OPI Hawaii Collection), and Nicole by OPI I Shop Mintage (from the Nicole by OPI 2014 Colors). I did a quick side by side on instagram a little while back of the Zoya and OPI, but I decided to add a third color for my full post. Let's take a look below at how they compare!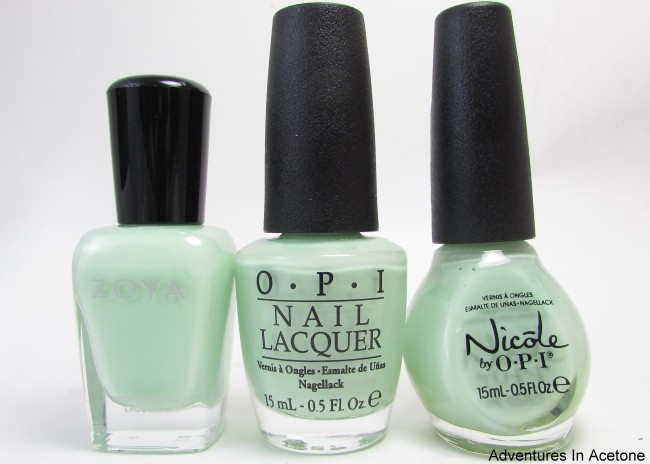 They look very similar in the bottles, don't they? However, there were some differences on the nail wheel. Zoya Tiana and OPI That's Hula-rious! were opaque in two coats.  Nicole by OPI I Shop Mintage needed a third to cover any lighter patches. (Note: in my original swatch posts, I said I needed a third coat on my regular nails for the Zoya and may have needed a third for the OPI. I was probably more generous with the coats on a nail wheel because I wouldn't have pooling around the cuticles on a nail wheel. That being said, I applied all three the same way and a third was needed for the Nicole with the generous coats used.)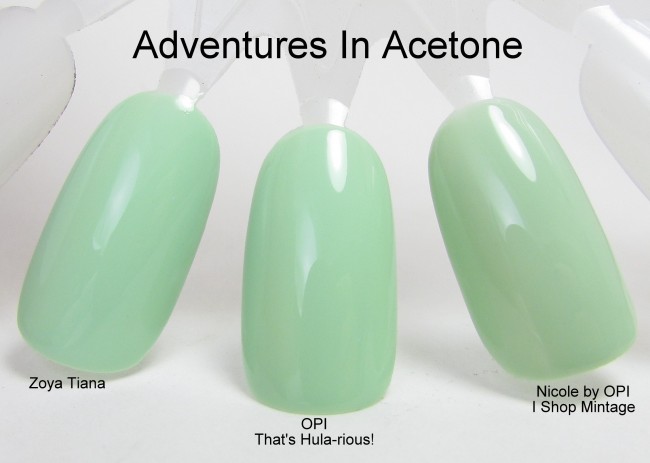 The Zoya is the brightest, with the OPI a close second. The Nicole by OPI is a darker, dustier mint.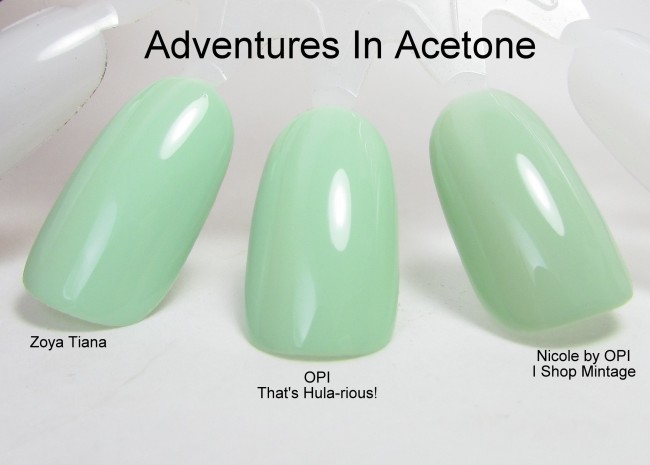 Which would you choose if you could only buy one? Or do you already have one or more of these? Do you have a favorite? Thanks so much for reading, I hope this was helpful! Do you have any other comparison requests? I will do my best to compare anything you need if I have the polishes still in my collection. Please comment below and let me know!
If you enjoyed this post, please Sign Up for email updates and you will have the latest news, reviews, nail art, and tutorials delivered right to your inbox! Never miss a post from Adventures In Acetone again. Thank you so much for reading.
– Let's paint something amazing! –