Press Sample
Calling all of my fellow Harry Potter fans!! July 31st is Harry's 36th Birthday and I'm celebrating with Firecracker Lacquer, Paint Box Polish, Northern Star Polish, and Bliss Polish! These awesome ladies have put together the Harry Potter Birthday Collaboration Box and it will include 4 polishes, a cuticle oil pen, and some added magic (which I am keeping secret so you will be as happily surprised as I was). There will only be 36 boxes available and each will cost $36 + shipping (do you see a trend here?). Today, I have swatches of the polishes for you so take a look and the rest of the purchasing info will be at the bottom of this post.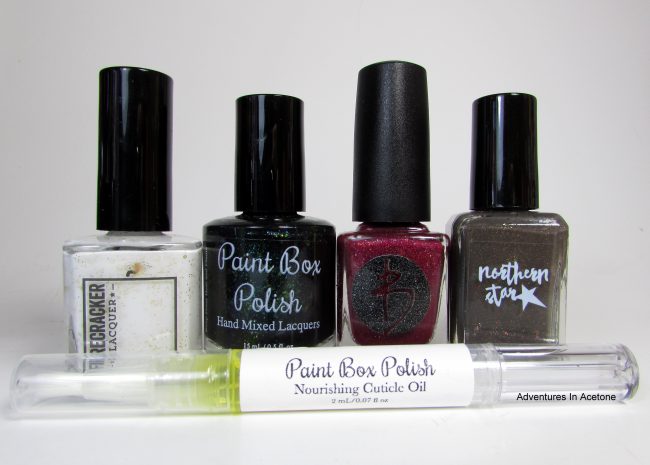 Firecracker Lacquer I Open at the Close
White crelly with holo gold glitters in varying sizes.
I'm showing three coats below with top coat. 
The third coat gave a bit more brightness to the white crelly base but you may be happy with just two coats. I am loving the clean white and gold combo in this, and the added holo is a beautiful touch.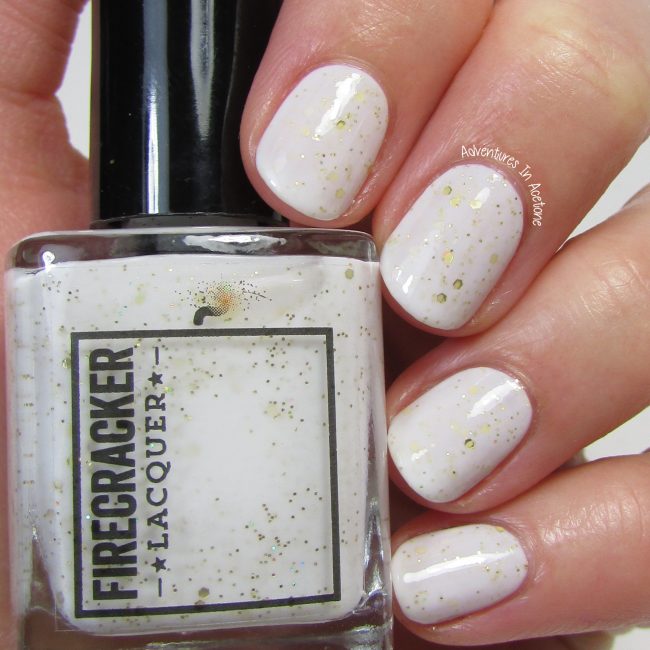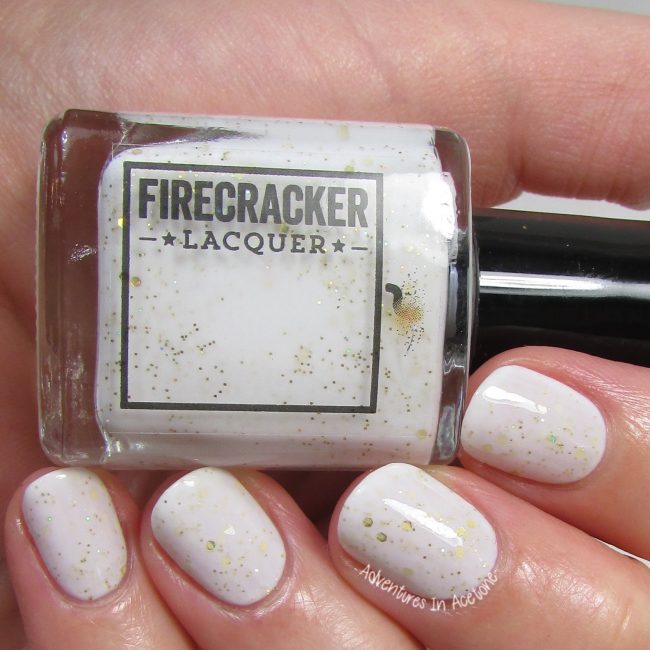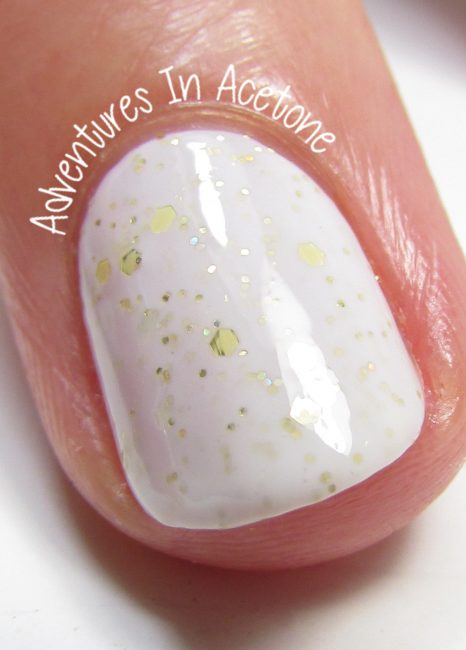 Paint Box Polish His Mother's Eyes
A black polish with metallic flakes as green as Harry and Lily's eyes. A blue shimmer was added as a nod to movie Harry and poor Daniel Radcliffe's inability to wear green contacts.
I'm showing two coats below with top coat for full coverage.
This base is dark and it is overpowering the shimmer and flakes in my photos, but in person they are more noticeable. I really like the beautiful blue shimmer.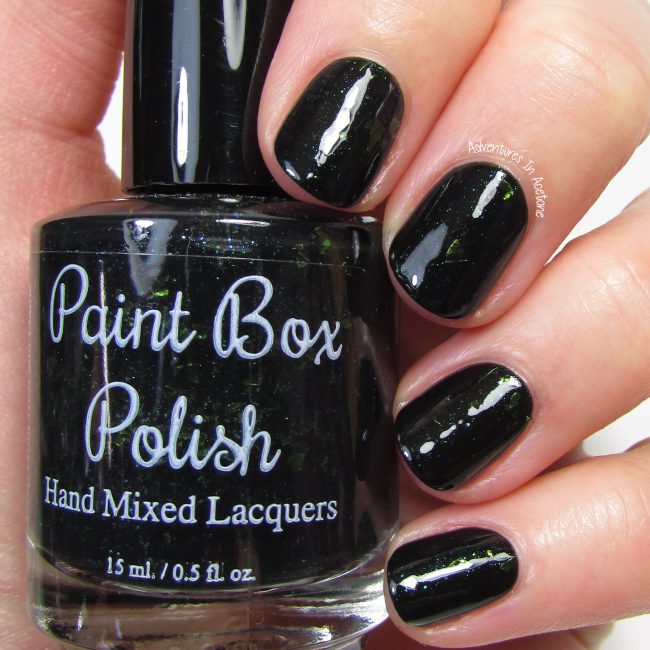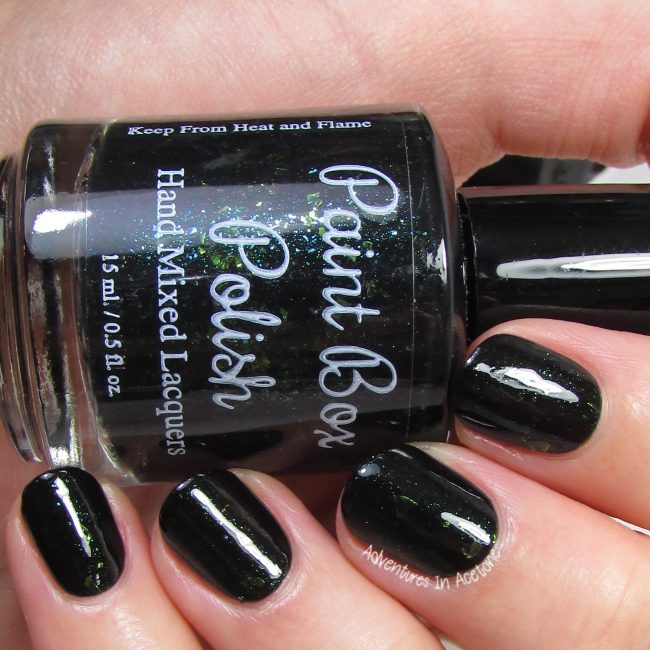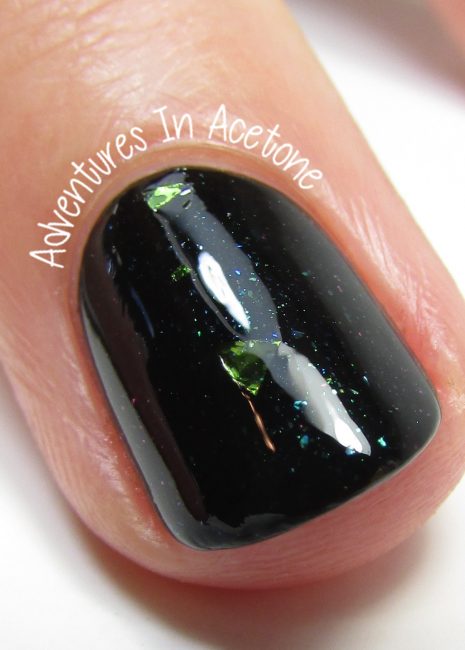 Bliss Polish Brave Above All
Bright burgundy with blue, gold and holo micro flakes and scattered holo.
I'm showing two coats below with top coat.
The flakes are gorgeous and add a ton of depth!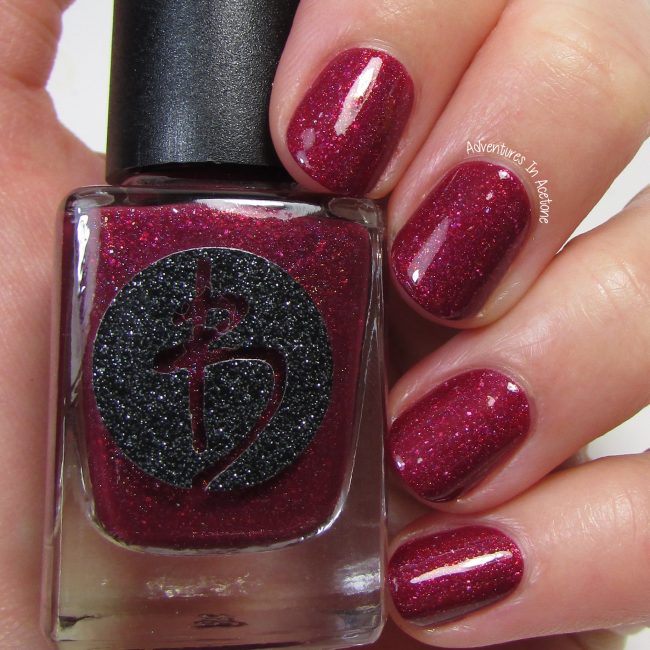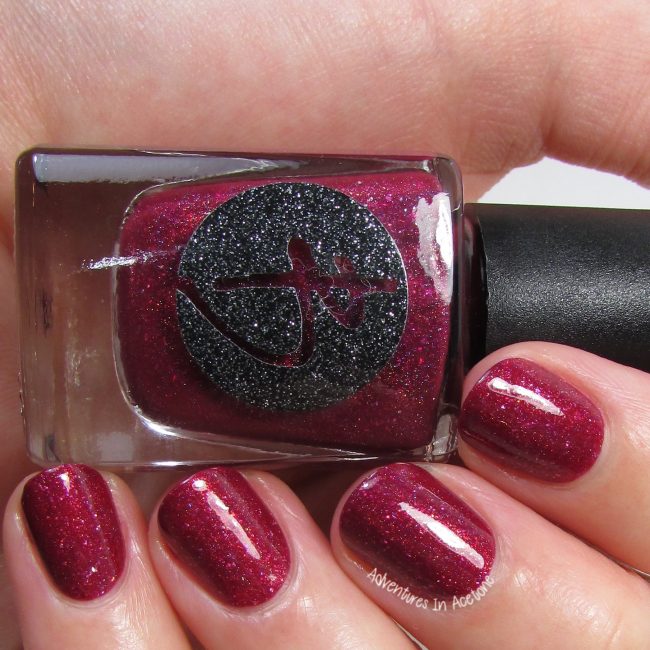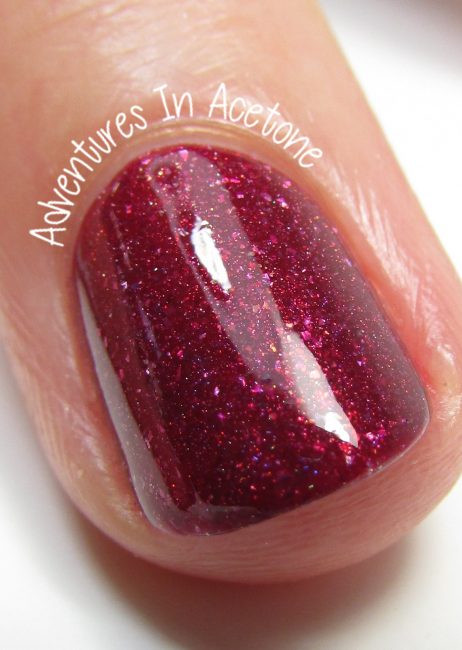 Northern Star Polish Horcrux of the Matter
Walnut brown polish with color shifting flakes (both the teal to pink and the orange to green), gold shimmer, and also scattered holographic (though that is only apparent in the sun).
I'm showing three coats below with top coat.
This formula was so creamy and the colored flakes were a fun contrast to the brown base!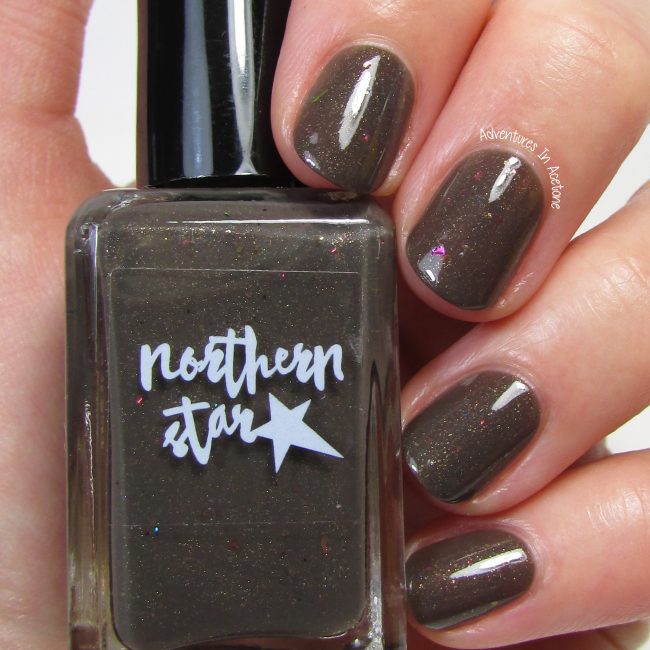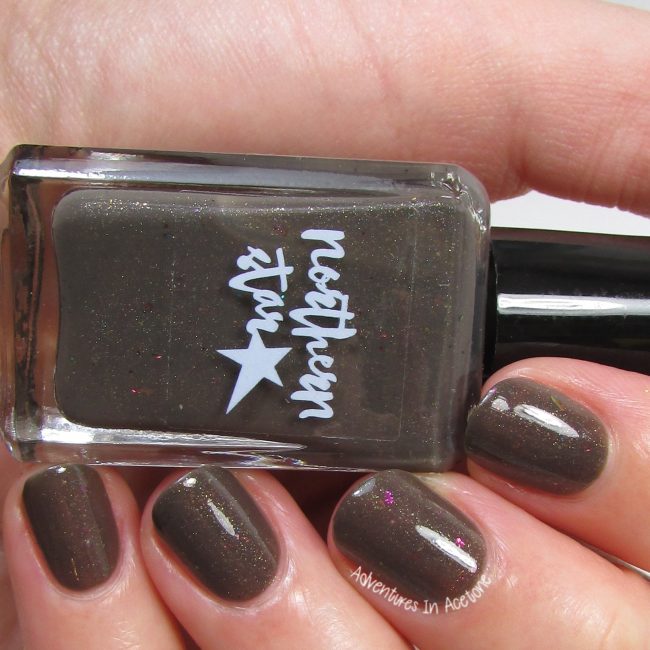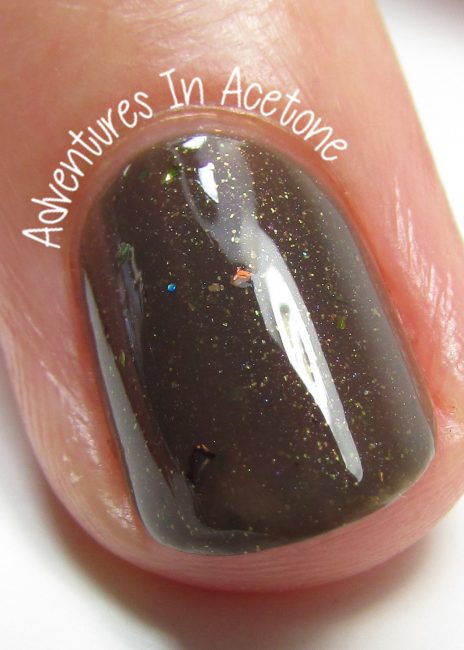 As I said above, in addition to these four polishes, the box includes a cuticle oil pen from Paint Box Polish. The scent is Pumpkin Juice and it smells amazing! A blend of organic apricot kernel, sweet almond, jojoba, and vitamin E oils. It absorbs quickly and provides exactly the right moisture to strengthen nails, prevent peeling, and add needed flexibility. The scent is a pumpkin-based combination that also refreshing and fruity! The fruity addition to the pumpkin scent is a great combination. Upon application, the fruity half of the scent is strongest. I noticed, however, that the pumpkin scent lingered longer than the fruit once it was absorbed into the skin. Pam's cuticle oils are thin and absorb quickly. I usually keep one in my car or purse so I can use it throughout the day when I'm out and about. This is a perfect addition to this Harry Potter Birthday Collaboration Box!
What are your thoughts on this collaboration box?
There will be only 36 Harry Potter Birthday Collaboration Boxes available. They will cost $36 +Shipping and will launch at FirecrackerLacquer.com on July 31st at 6PM MST.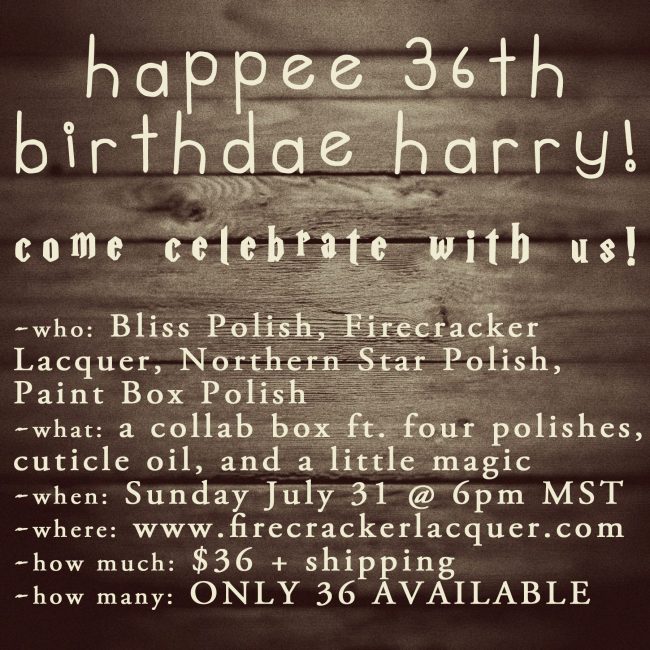 *The polishes in this post were sent for me to review with my honest opinion.
If you enjoyed this post, please Sign Up for email updates and you will have the latest news, reviews, nail art, and tutorials delivered right to your inbox! Never miss a post from Adventures In Acetone again. Thank you so much for reading.
– Let's paint something amazing! –