Press Sample
Good afternoon, readers! It's Day 2 of Spring Week with The Digit-al Dozen! Today's mani features three of the 4 new Dermelect "ME" Spring 2016 Outburst Collection polishes. I just loved how these three colors paired together! Sveta Sanders posted an awesome needle drag tutorial on IG, where you do the dragging on a nail mat (I used my trusty ÜberChic ÜberMat) and create decals that you can apply to your nails. This was super helpful for getting the lines straight while dragging the thin brush through the wet polish.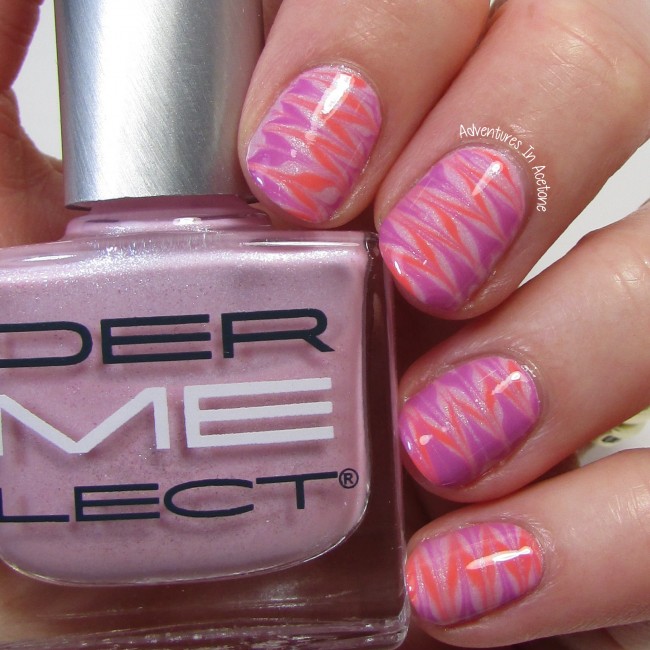 Following the tutorial I linked above, I first painted a thick layer of Dermelect Impromptu(shimmery pale rose) onto my mat.
Next, while that layer was still wet, I painted a thick line with Dermelect Explosive(neon coral) down the middle of the first layer.
While still wet, working quickly before the polish dried, I painted a line on each side of Explosive with Dermelect Unscripted(energetic violet), leaving space between the lines.
I then used a very thin nail art striper to drag stripes perpendicular across the decal in one direction, and then in between those lines in the opposite direction.
I let the decals dry for a while, then topped them with a coat of KBShimmer Clearly on Top and let that dry before peeling off of the mat.
To apply to the nail, I first painted a quick coat of Dermelect Impromptu onto the nail and then pressed a decal onto the tacky polish.
I used a cleanup brush and acetone to wipe away the excess decal from the sides of the nail, cuticles, and tips.
I topped them off with another coat of KBShimmer Clearly on Top to seal the decals onto the nails.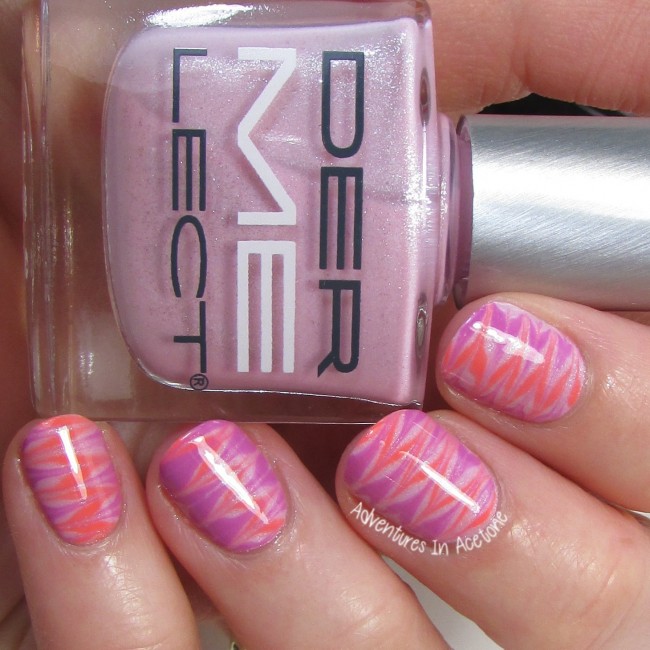 What do you think of this look? I really love the contrast between the shimmery base and the two cremes! I will have swatches of the whole collection up as soon as possible.
Dermelect's 'ME' Spring 2016 Outburst Collection, retails for $14.00 each and as a set for $29.00 on www.dermelect.com. Individual shades are also available for purchase on www.ulta.com.
Check out what the rest of the DD did for Day 2 of Spring Week below:
Loading InLinkz ...
If you enjoyed this post, please Sign Up for email updates and you will have the latest news, reviews, nail art, and tutorials delivered right to your inbox! Never miss a post from Adventures In Acetone again. Thank you so much for reading.
– Let's paint something amazing! –