Press Sample
Good afternoon, readers! Today was launch day for the latest collection from Paint Box Polish. The Ciao, Gelato Collection consists of 8 polishes, all inspired by gelato flavors from an Italian Gelateria. In addition to the gelato-themed polishes, Pam has also released a new Amaretto Tiramisu Cuticle Oil to complete your Italian dessert fix! I've already shown you an example of using this collection for nail art, with my Floral Decals earlier this week. Now, let's check out swatches of each polish individually.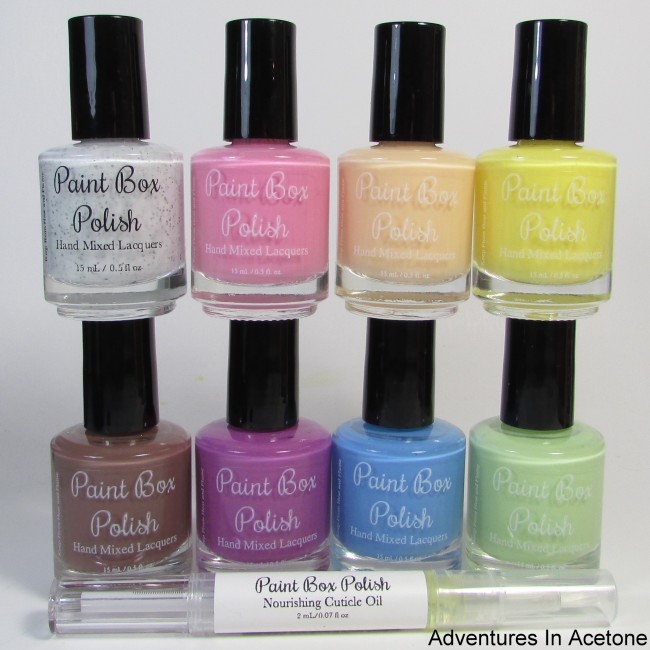 As I said above, along with the pretty new polishes, Paint Box Polish is releasing a new cuticle oil scent, Amaretto Tiramisu. It has notes of Amaretto, espresso, cocoa, mascarpone, and Madeira. Available in roller ball tubes or brush pens. As always, I love the cuticle oils from Paint Box Polish and this one is totally yummy!
Paint Box Polish Stracciatella
The gelato equivalent of chocolate chip ice cream, stracciatella is made by drizzling chocolate over gelato al crema, then mixing the shards in before serving. This is translated by the irregular black flakies in a white crelly base.
I'm showing 3 coats below with top coat. 2 coats were enough but I wanted to cover the slight visible nail line and make the white a little brighter. This is a lovely polish and perfect base for nail art!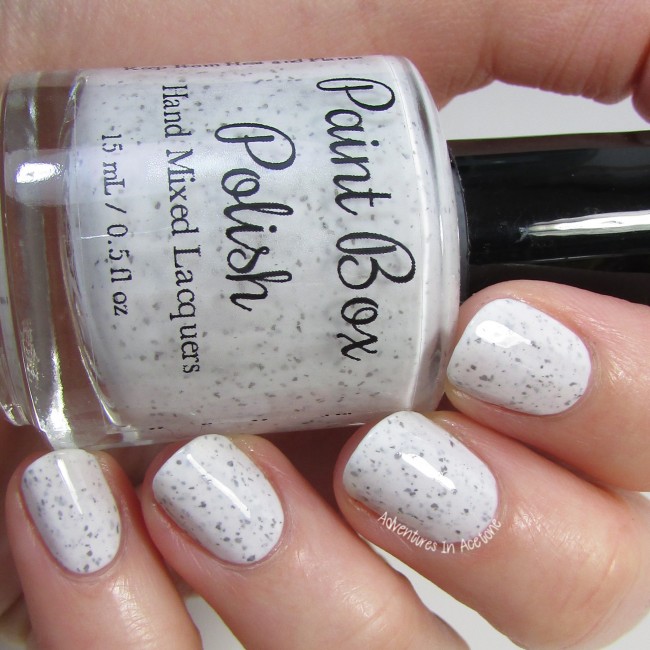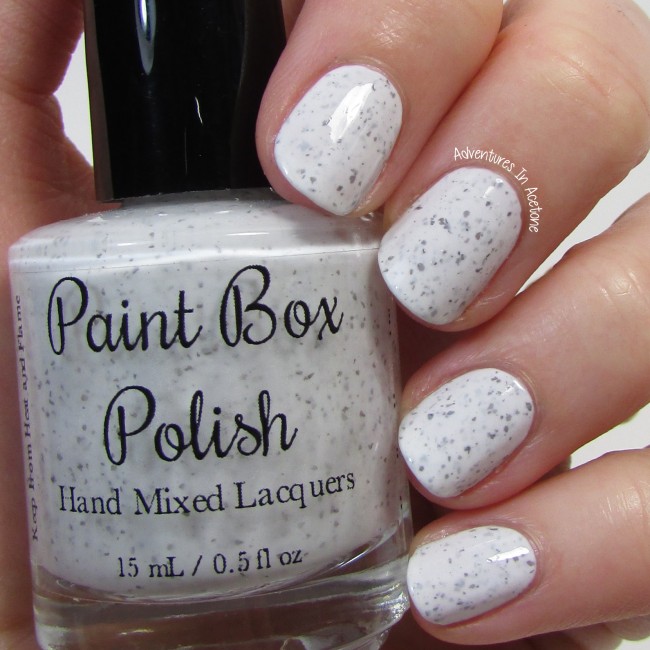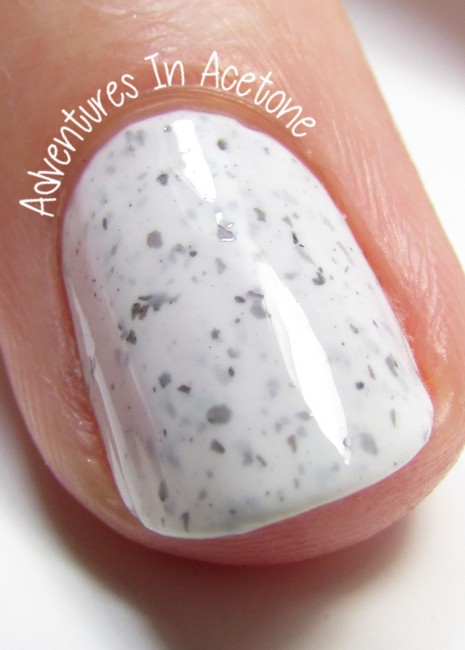 Paint Box Polish Fragola
Italian for strawberry, Fragola is a pretty pink.
I'm showing three thin coats below with top coat.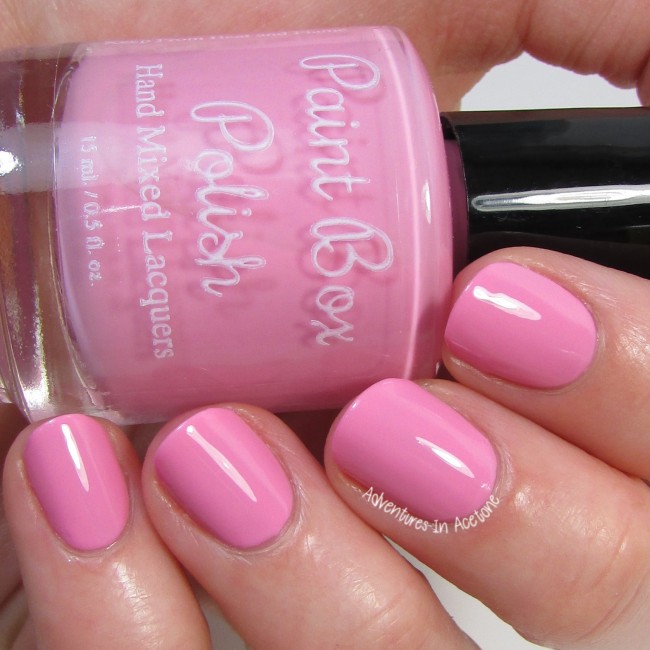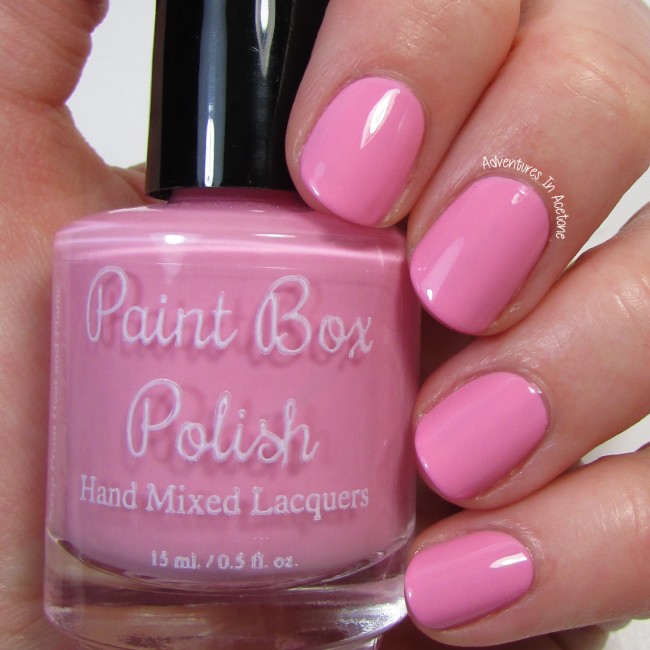 Paint Box Polish Melone
A lovely cantaloupe orange shade!
I'm showing three coats below with top coat.
As you can see, this super pale orange does show VNL at three coats and may need a fourth if that isn't your style.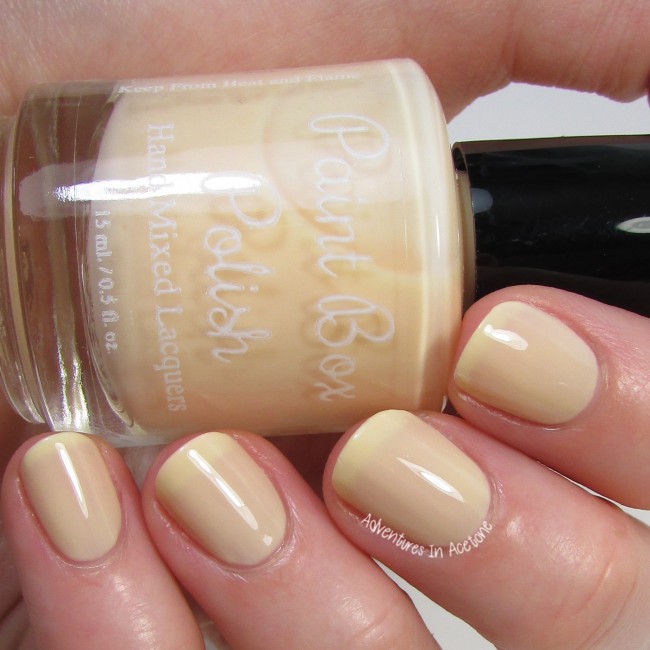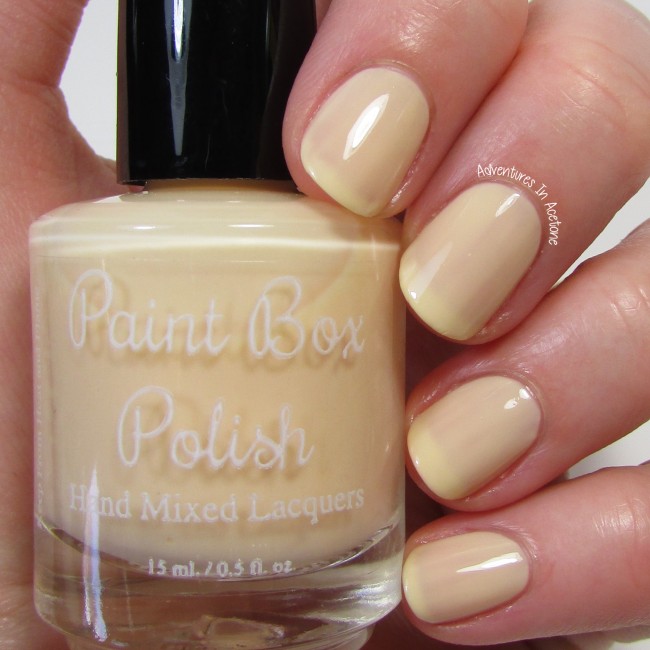 Paint Box Polish Ananas
A bright, fun yellow that screams pineapple.
I'm showing three coats below with top coat.
As with some of the others, VNL (visible nail line) is slightly there and you can add another coat if you prefer.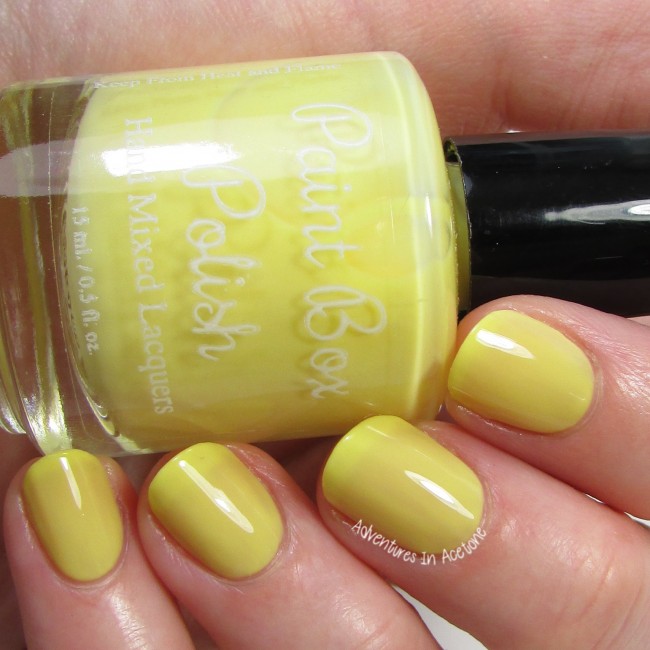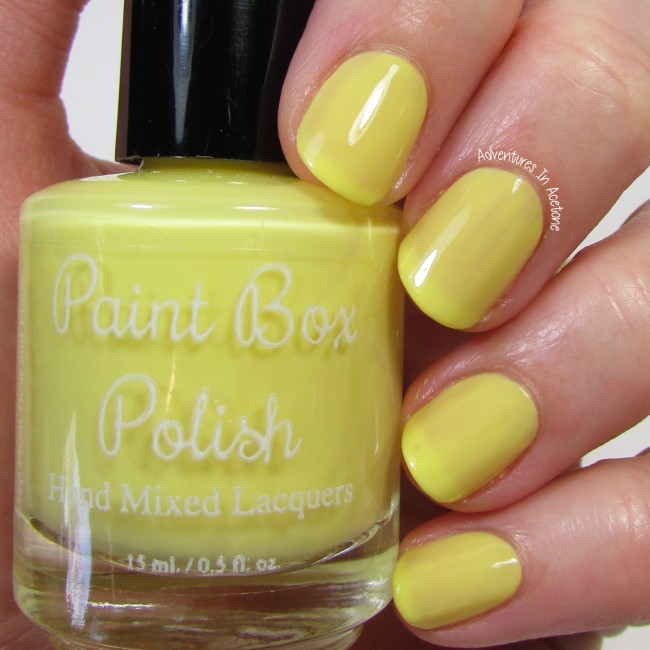 Paint Box Polish Pistacchio
Pale spring green.
I'm showing three coats below with top coat.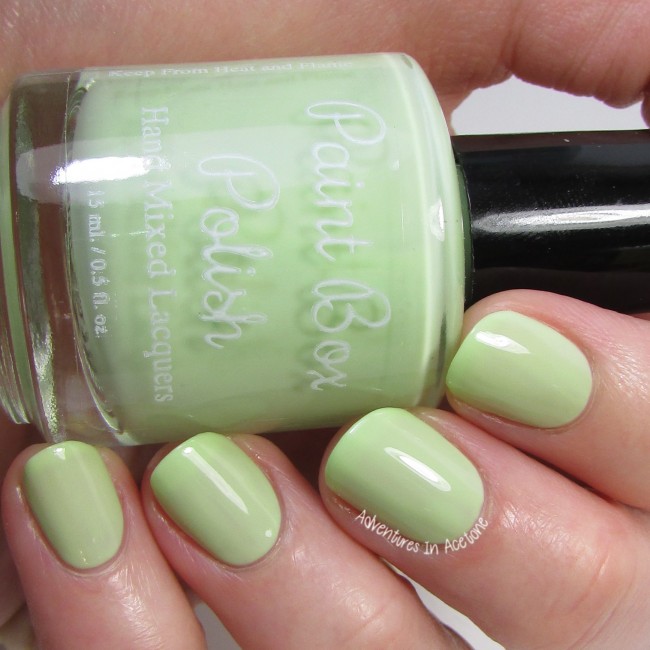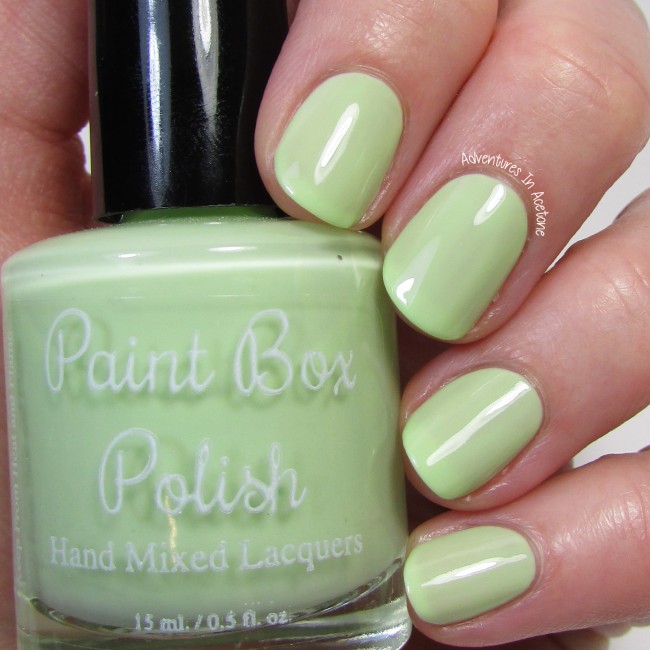 Paint Box Polish Puffo
Like our Superman ice cream, no one really knows what flavor Puffo is supposed to be. Some say bubble gum. It's a bright blue color.
I'm showing two coats below with top coat.
One of the most opaque of the collection and a gorgeous blue!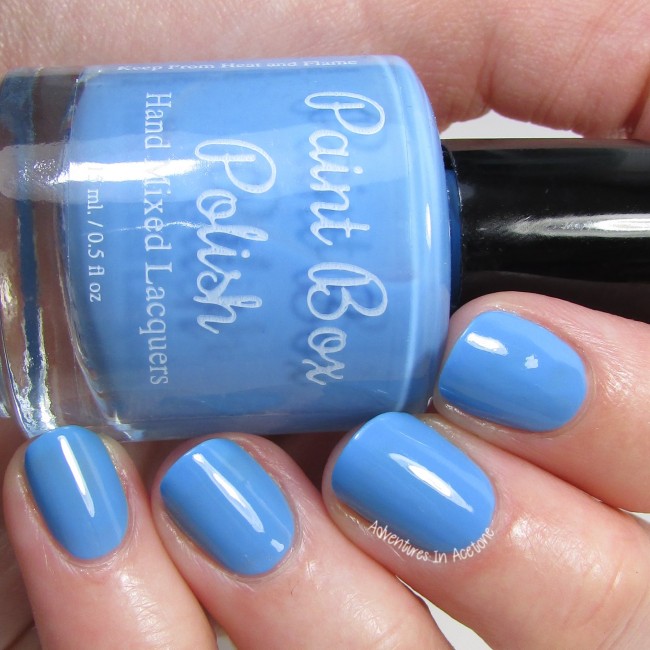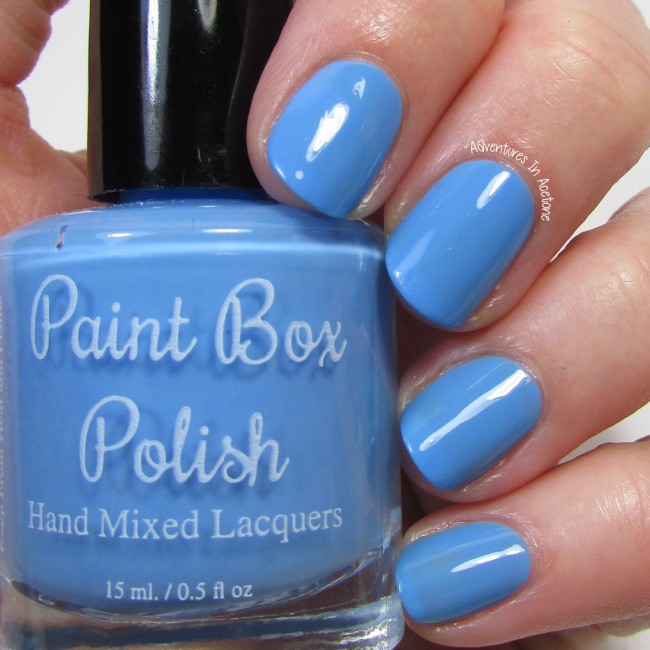 Paint Box Polish Frutti di Bosco
Italian for fruits of the forest, gelato al frutti di bosco is flavored with blueberries, raspberries, blackberries, etc. The polish is a pinky/purple shade.
I'm showing two coats below with top coat. It may have needed a third, in the photos I see some lighter patches that weren't as noticeable in person.
This is one of my favorite polish color shades so I am so happy to see it included!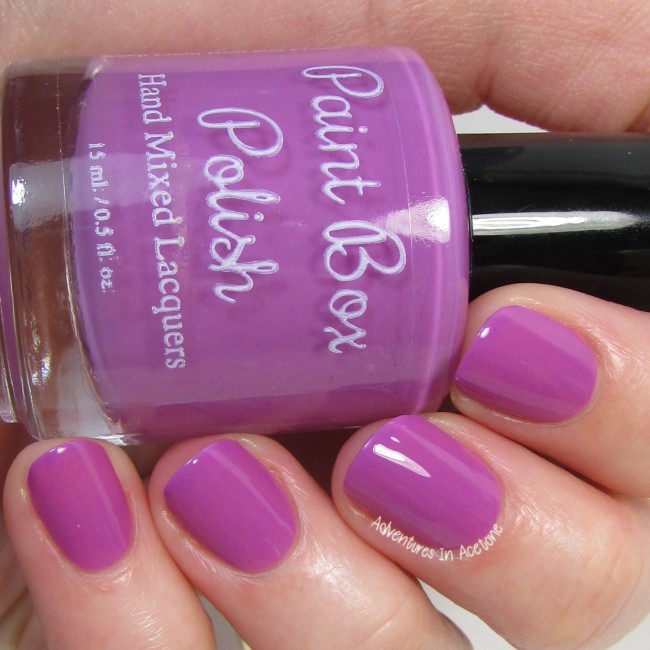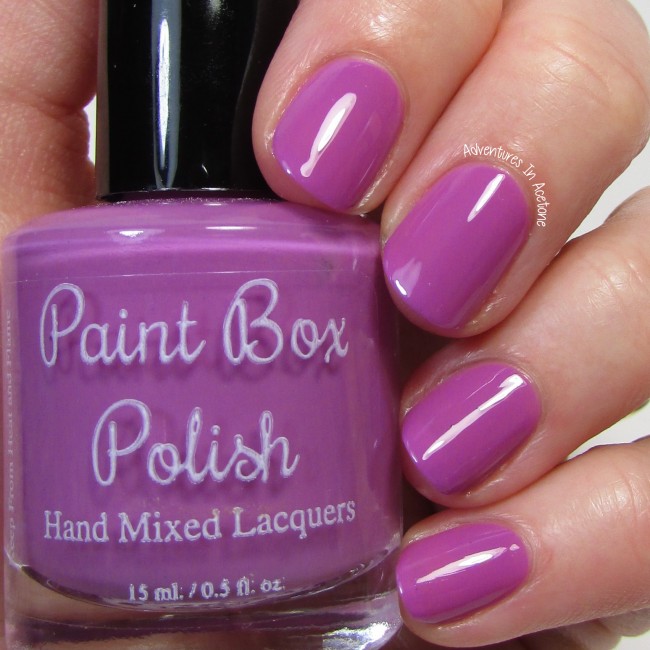 Paint Box Polish Bacio
Named for a popular chocolate hazelnut candy, Bacio is a creamy, warm brown.
I'm showing two coats below with top coat.
This is another favorite of the group and it came as a surprise to me that I would love it so much. It pairs beautifully with the other colors in the collection and had great coverage.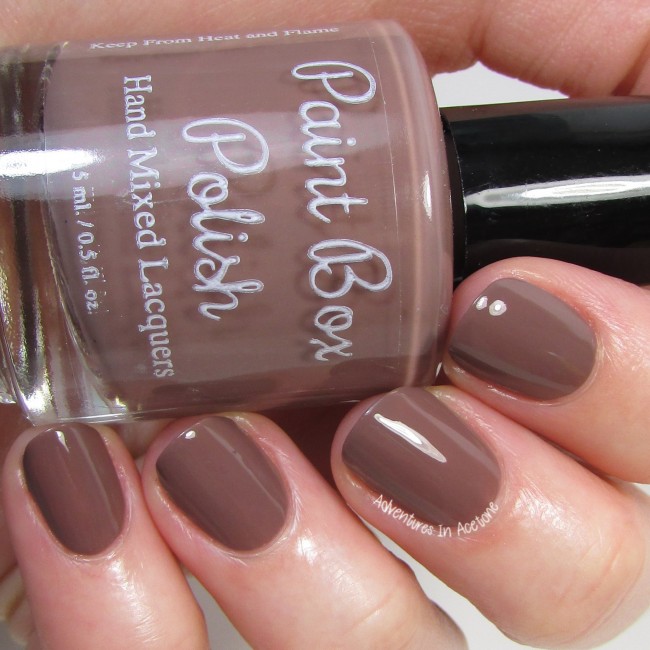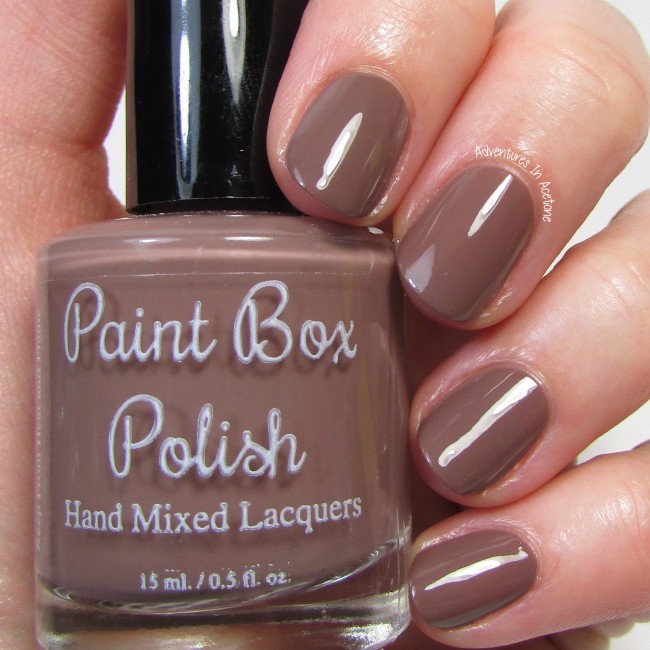 In addition to the new collection and cuticle oil scent, Paint Box Polish now sells 8ml mini bottles! These are a great mini size and are easy to use because of the brush not being a mini size. Check out my comparison pictures below.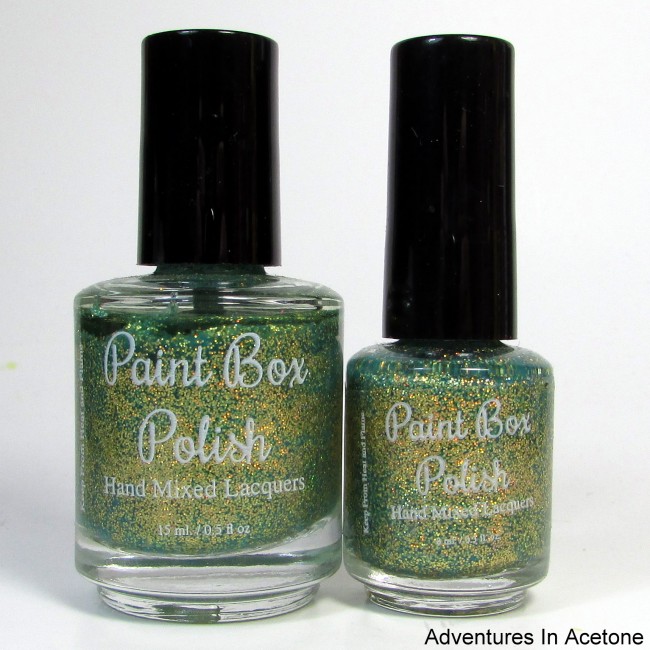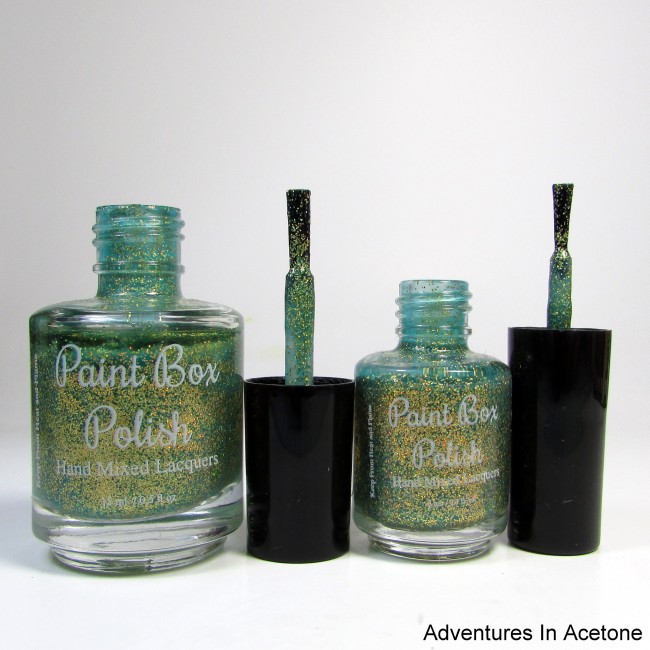 All of these new things are available at the Paint Box Polish Shop now! The full sized bottles are $9 and the lux minis are $5.25 each. The cuticle oils retail for $4 (brush pen as shown in this post) or $6 for a roller ball.
Don't forget my **20% off COUPON CODE: ACETONE** when you make your order!
Paint Box Polish Links:
Shop: http://paintboxpolish.bigcartel.com
Facebook: https://www.facebook.com/PaintBoxPolish
Instagram: https://instagram.com/paintboxpolish/
Twitter: https://twitter.com/paintboxpolish
*The polishes used in this post were sent for me to review with my honest opinion. 
If you enjoyed this post, please Sign Up for email updates and you will have the latest news, reviews, nail art, and tutorials delivered right to your inbox! Never miss a post from Adventures In Acetone again. Thank you so much for reading.
– Let's paint something amazing! –