Good morning, readers! I hope you are having a great day today. YAY it's already Thursday– this week seems to be flying by and the weekend is in sight. Today's post is a simple mani I wore last week that I really liked. Sometimes, simple is best. It made for a quick full mani, I finally got to try out this lace stamp image (this image was the whole reason I bought this plate in the first place!), and keeping it simple let the beauty of the base polish shine through. ILNP Juliette is one of my favorites in my collection, and it's one of my husband's favorites on me as well! It's not often that he peeks over at new polish and says how cool it is, or even requests you to wear it when you can't decide on a color. That makes it a winner around here for sure. Let's take a look!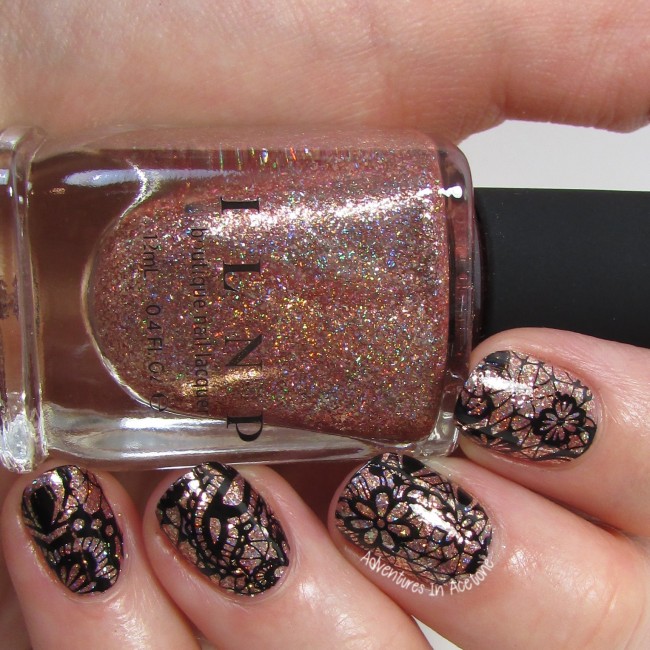 I began with three thin coats of ILNP Juliette.
Then, I topped it with a coat of KBShimmer Clearly on Top to help with the drying process before stamping.
For easy cleanup, I used a layer of Liquid Palisade around the nails.
Once it was dry, I used Mundo de Uñas Black to stamp this lace image from Bundle Monster's Nailstamp4fun Collaboration Plate BM-XL206.
I then used my tweezers to peel up the Liquid Palisade and the excess stamp image.
I added another coat of KBShimmer Clearly on Top to seal in the mani.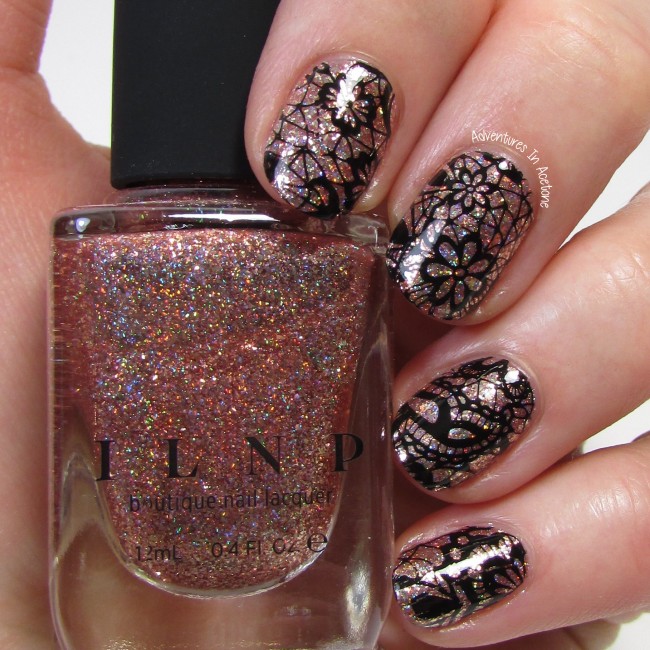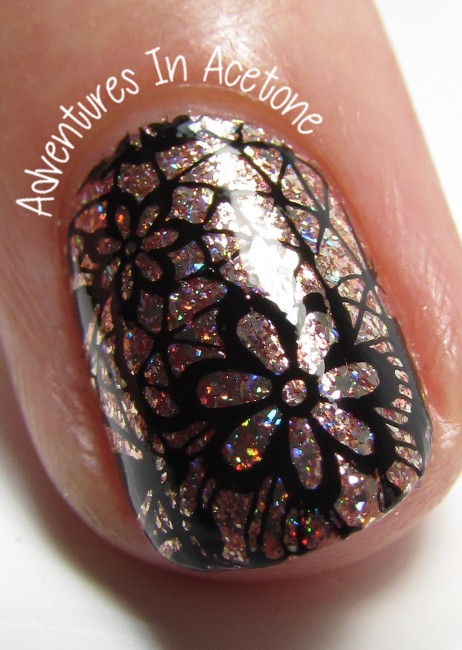 What do you think of this lace mani? The base has holo particles in it, so it was not the easiest thing to photograph. I just loved wearing this full mani for a few days!
If you enjoyed this post, please Sign Up for email updates and you will have the latest news, reviews, nail art, and tutorials delivered right to your inbox! Never miss a post from Adventures In Acetone again. Thank you so much for reading.
– Let's paint something amazing! –