Previous Press Sample
Good evening, readers! This week's 40 Great Nail Art Ideas prompt is pastels and I've paired them with a bold freehand painted houndstooth design. I used all of the Salon Perfect Pastels Collection for this look, over Salon Perfect Sugar Cube. I used the dry-brush technique to apply the 6 pastels over the white base and liked that look so much that I opted to leave some nails without the houndstooth design. This was my first time doing a freehand houndstooth pattern but I'm happy with how it turned out.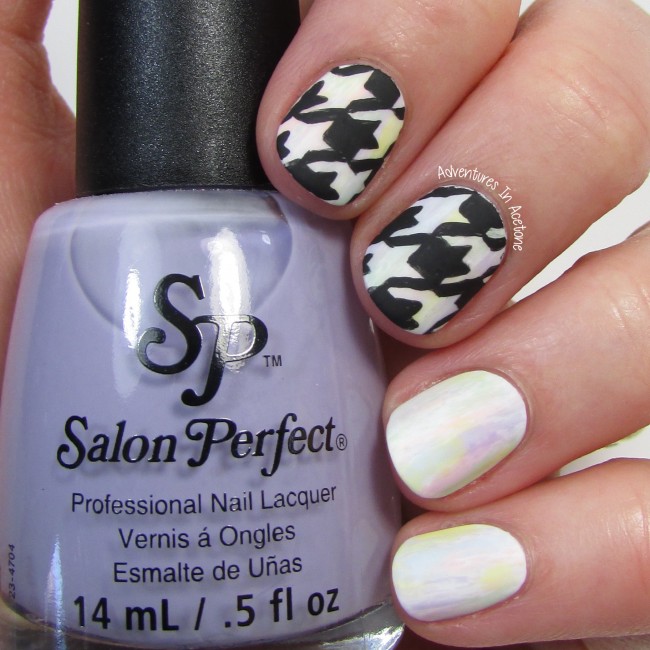 I began with two coats of Salon Perfect Sugar Cube for a white base.
I then, one color at a time, wiped most of the polish off of the brush and swiped from cuticle to tip in random places on my nails to add the pastels: Salon Perfect Put a Ring On It, Georgia Peach, Mellow Yellow, Mint Julep, Cold as Ice, and Lilacking Control.
I added a coat of KBShimmer Clearly on Top to all nails and let that dry before moving on.
For my index and middle finger, I used my black acrylic craft paint and ÜberChic Liner Brush to paint the houndstooth pattern. It was easiest to start with black squares and add the extra details from there.
I topped the houndstooth nails with another coat of KBShimmer Clearly on Top, and finished all of the nails with a coat of KBShimmer Oh Matte!
What do you think? Have you painted freehand houndstooth before? Check out what the other Crumpet's Nail Tarts did for their Pastel manis below:

Loading InLinkz ...
If you enjoyed this post, please Sign Up for email updates and you will have the latest news, reviews, nail art, and tutorials delivered right to your inbox! Never miss a post from Adventures In Acetone again. Thank you so much for reading.
– Let's paint something amazing! –