Good morning, readers! It's time for this week's 40 Great Nail Art Ideas post and the prompt is Glitter Topper or Flakie. I've created a base of fishtail nail art with some OPI Starlight Collection shades using my ÜberChic ÜberMat (which made it SO much easier!) and topped with Elevation Polish LE Yeti the Stone Warrior flakie topper. Keep reading for a look at the steps along the way.
I've done a quick collage to show step by step how I did the fishtail nail art onto the mat below.
I used the finger nail image on the mat and messily swiped colors back and forth, letting each swipe dry before adding the next. The polishes I used were all from the new OPI Starlight Collection: OPI I'm in the Moon for Love, Center of the You-niverse, and I Drive a Supernova. Painting fishtail art onto my nails ALWAYS caused the messiest cleanup and pooling, so this worked out much better!
Once it was dry, I carefully peeled it up with an orange stick and pressed it onto my tacky nail. (I painted a quick coat of OPI I'm in the Moon for Love as my nail base and applied before it was completely dry.)
I used my orange stick and pressed the edge of the nail at the cuticle line to "cut" the excess off of the nail.
For a cleaner edge, I used a cleanup brush and acetone. This step kind of melted the edges to the nail below.
I applied a coat of KBShimmer Clearly on Top next to seal in the fishtail design.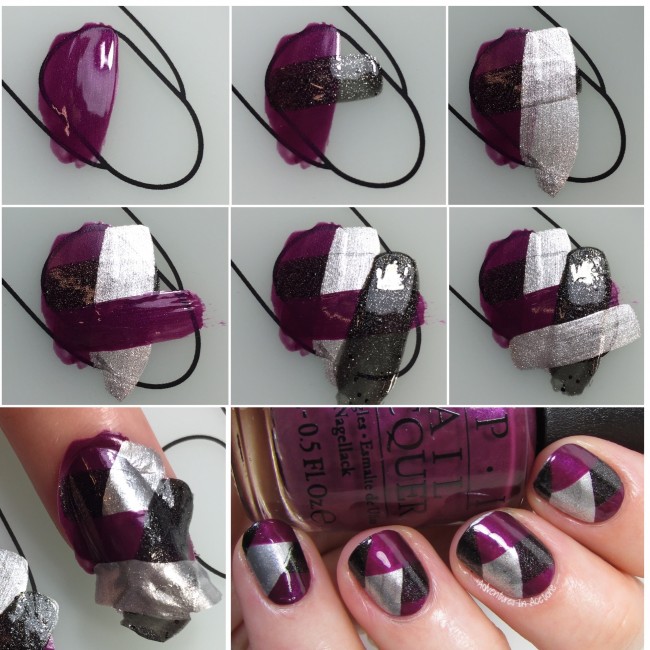 I must confess, I think I prefer this mani before the step of the added flakie topper.
To go along with the prompt of glitter topper or flakie, one coat of Elevation Polish LE Yeti the Stone Warrior was added and topped with a coat of Girly Bits Polish Matte'rs.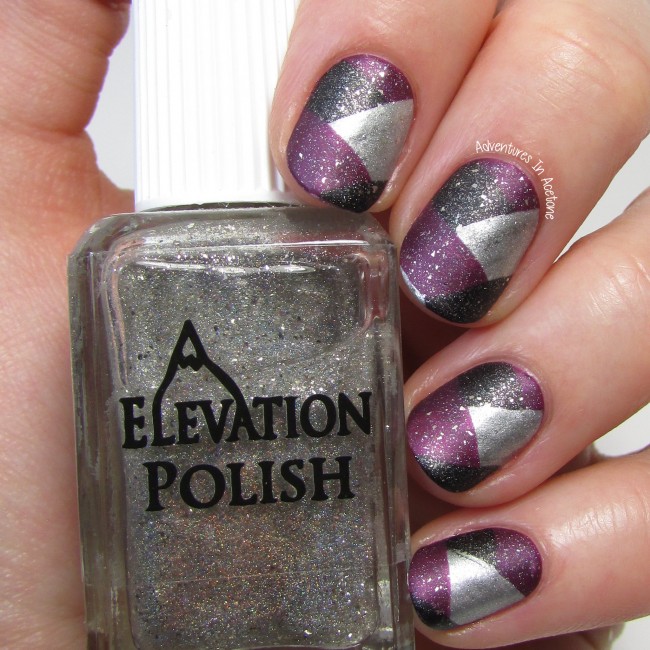 What do you think? Which version do you prefer? Check out what the other ladies did for their mani today below!
Loading InLinkz ...
If you enjoyed this post, please Sign Up for email updates and you will have the latest news, reviews, nail art, and tutorials delivered right to your inbox! Never miss a post from Adventures In Acetone again. Thank you so much for reading.
– Let's paint something amazing! –