Good morning, readers! Today is the first of a year's worth of Friday nail art posts with Crumpet's Nail Tarts! We've begun a crazy fun new challenge that will be every Friday and I am so excited! The first prompt is Hobbies and I decided to create nail art inspired by a recently new hobby of mine: coloring! The grown up coloring book craze has definitely hit this house and I really enjoy it! I have a few coloring books and use colored Sharpie markers or my beautiful set of Prismacolor colored pencils. For this mani, I chose to stamp a black image over a white base and used my OPI Color Paints Collection to fill in the spaces with a dotting tool as if I were in a coloring book. The finished look reminds me of how my pictures look if I've used markers to color. Some can bleed together and they are see through enough to color over the lines and not cover them, so it was reflected well with these jelly polishes.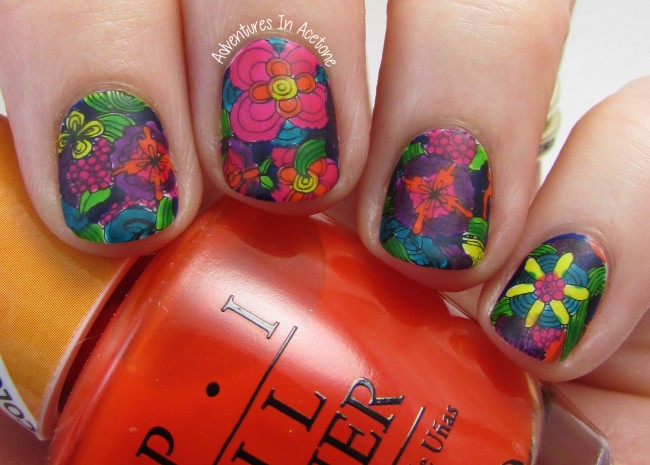 I began with three thin coats of OPI I Cannoli Wear OPI and let dry.
I painted a stripe of Girly Bits Border Patrol latex nail art barrier around my nails for help with cleanup.
Next, using Funky Fingers Dark Knight, I stamped this floral image from ÜberChic plate 3-02.
I peeled the Border Patrol off of my skin and used a cleanup brush and acetone to get any remaining stamping polish off of my skin.
I used a very small dotting tool and the following OPI Color Paints to fill in the images: OPI Pen & Pink, Chromatic Orange, Primarily Yellow, Landscape Artist, Turquoise Aesthetic, Indigo Motif, and Purple Perspective.
I topped the nails with one coat of Girly Bits Polish Matte'rs to take away the shine and give it a more realistic feel of a coloring book.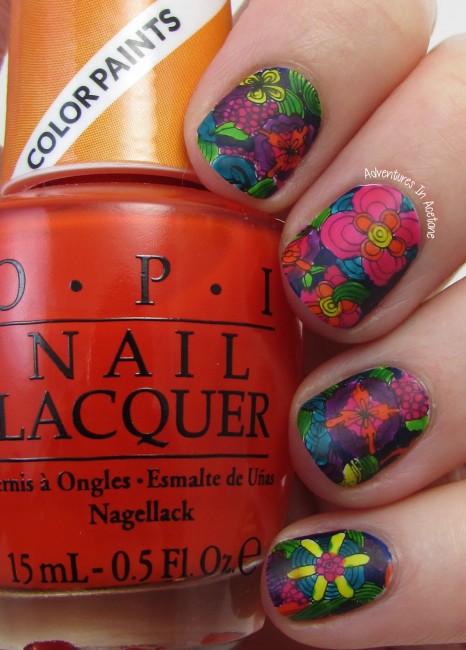 What do you think? It was bothering me that I had some bleeding into the other colors, but the image was just too small to avoid that while using a dotting tool. However, it really did work like markers do on paper, so I guess it works for this. Check out what the rest of the ladies have for their hobby themed posts below!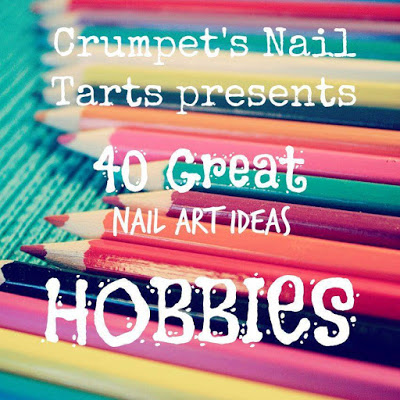 Loading InLinkz ...
If you enjoyed this post, please Sign Up for email updates and you will have the latest news, reviews, nail art, and tutorials delivered right to your inbox! Never miss a post from Adventures In Acetone again. Thank you so much for reading.
– Let's paint something amazing! –