Good afternoon, readers! Are you ready for my second Food Week design? A few of my nail art buddies and I have decided that we are "meeting for pizza" today for our posts– Laurie from Dressed up Digits, Ashley from Ashley is PolishAddicted,  Sheila from Pointless Cafe, and Vic from Vic and Her Nails. Unfortunately, we all live so far away from each other that I've never personally met up with any of them (yet!), so this is a fun virtual pizza date girls night! Who doesn't love going out for pizza? Or ordering in for that matter? I know I do!
For my design, I stamped white over a black base and painted over the white with OPI Color Paints in the reverse lead lighting technique. I just loved these adorable pizza slices from Cheeky stamp plate CH41 and knew that I wouldn't be able to freehand paint any cuter ones.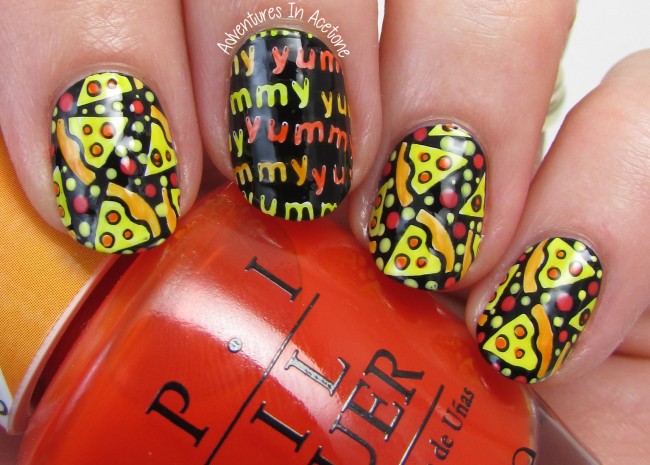 My base was 2 coats of Funky Fingers Black Knight. 
Once that was dry, I stamped the pizza and yummy designs from Cheeky stamp plates CH41 and CH42 with Funky Fingers Gesso.
OPI Color Paints in Chromatic Orange and Primarily Yellow were used to fill in the words and pizza. I even mixed a bit of them together for the crust color.
For some added fun, I added some dots with a a dotting tool and OPI Aloha From OPI and OPI I Just Can't Cope-acabana. 
I added a coat of KBShimmer Clearly on Top to seal everything in.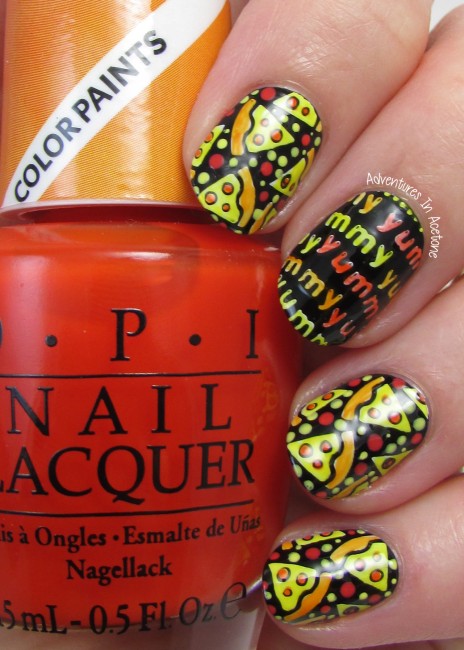 What do you think? I think they are cute and I'm really getting into stamping again, yay! Don't forget to visit my other pizza date ladies (linked above) and check out what the rest of the  Digit-al Dozen ladies did for Day 2 below.
Loading InLinkz ...
If you enjoyed this post, please Sign Up for email updates and you will have the latest news, reviews, nail art, and tutorials delivered right to your inbox! Never miss a post from Adventures In Acetone again. Thank you so much for reading.
– Let's paint something amazing! –