Good morning, readers! Are you ready for a new nail art week with The Digit-al Dozen? This month's theme is Food so let's see how interesting it will get. For my first mani, I've been inspired by a favorite fruit: strawberries! The way the strawberries blend from red to white at the very top of the fruit under the leaves sounded like a really fun idea for nail art. I also used this opportunity to try another stamping decal on my new ÜberChic Über Mat, but this time it was mostly for getting the positioning right onto the nail and not to fill in anything like my Floral Decals. Let's take a look.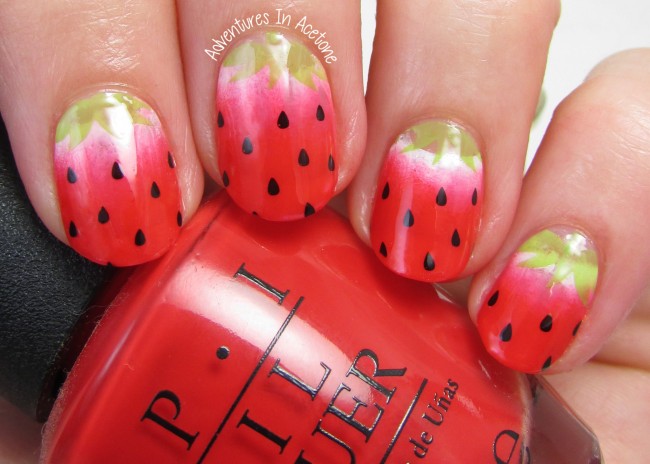 To begin, I used some Glisten and Glow CTRL-ALT-DEL Latex Barrier around my nails to help with cleanup on the gradient. I also painted half moon shapes with the latex so they would all peel up together after the sponging.
Next, I sponged a gradient over the bare nail of OPI Coca Cola Red and OPI Alpine Snow. 
I used tweezers and peeled the CTRL-ALT-DEL back up from the cuticles to reveal clean skin and a half moon shape on the nail.
While those were drying, I grabbed my Über Mat and painted a few of the "nail spots" on the mat with a coat of Qtica Extending Top Coat and let dry.
Next, I used the strawberry image from ÜberChic Plate 3-03: I swiped Zoya Tilda on the leaf part of the image and Funky Fingers Dark Knight on the spots.
I stamped the image onto the "nail spots" on the mat and let dry.
I used an orange stick to easily peel the stamp decals off of the mat
I added a coat of top coat to my gradient nails and carefully placed the strawberry stamp decals on top, cleaning up excess with acetone and a cleanup brush.
KBShimmer Clearly on Top was used to seal everything in.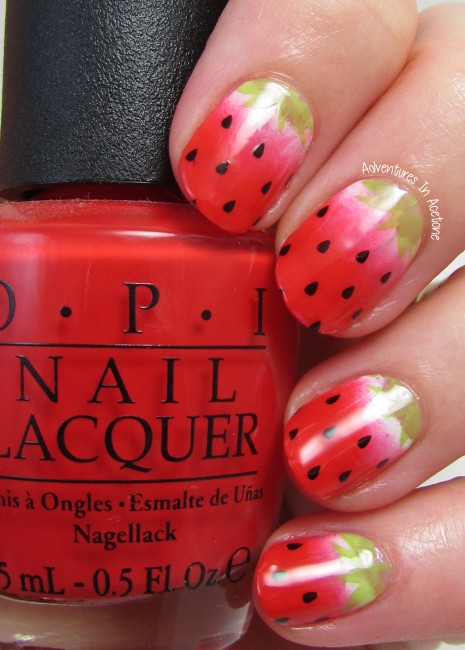 What do you think? I think I could have skipped the half moon part of the first step because the leaves pretty much covered that for the most part anyway. I'm still figuring out how to play with stamp decals but this is another thumbs up from me on the Über Mat. I can't wait to show you the rest of my food manis for this week, but for now you can check out what the rest of the Digit-al Dozen ladies did for Day 1 below!
Loading InLinkz ...
If you enjoyed this post, please Sign Up for email updates and you will have the latest news, reviews, nail art, and tutorials delivered right to your inbox! Never miss a post from Adventures In Acetone again. Thank you so much for reading.
– Let's paint something amazing! –