Good morning, readers! After my Big Brother Toothy Yeti nail art and tutorial, I knew I wanted to recreate the adorable Little Sister Blush Yeti plush by First Sunday as well! I recently purchased both yeti plushes from the "Lulu's Favorite Things" section in the Elevation Polish shop and my kids are so in love! They take them everywhere, and we have to find them before bedtime each night to be tucked in with the kiddos. I'm glad they love them as much as I do, they are getting lots of snuggles! Here is a picture of Hailey (7) and Owen (3) with their new yetis the day they arrived: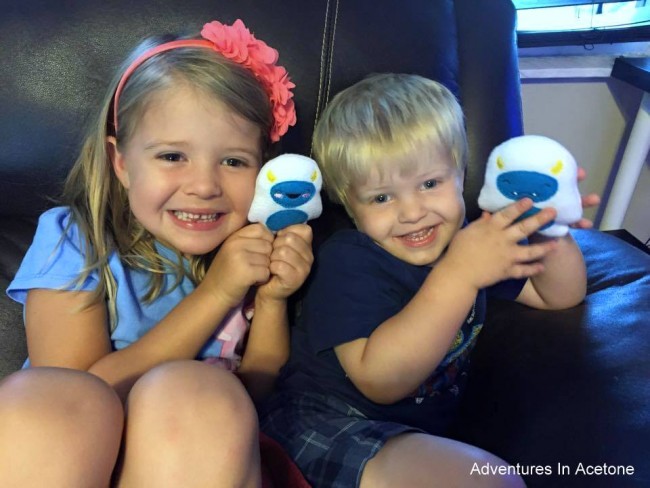 As with the Big Brother Toothy Yeti mani, I wanted to use a "yeti" polish as the base for this Little Sister Blush Yeti mani. The only "pink" yeti polish I have is Elevation Polish Angels are the Yetis of the Clouds and I think it was a perfect match. I painted the little sister yeti almost exactly the same as the big brother tutorial, but the mouth and cheeks are different. I'll have a tutorial post up tomorrow for her!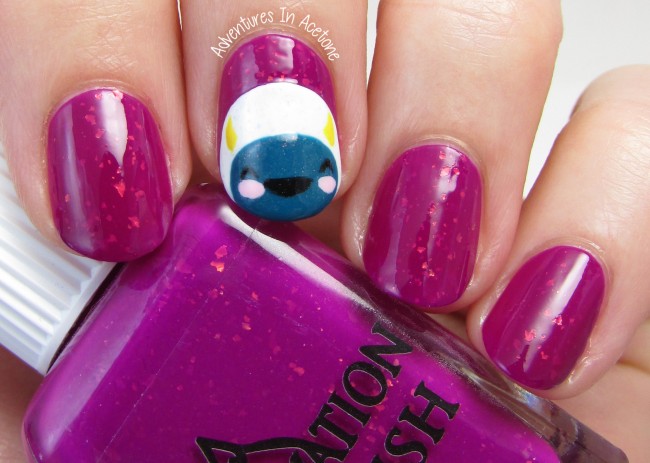 I started out with two coats of Elevation Polish Angels are the Yetis of the Clouds and let dry.
Then, I used the bottle brush and OPI Alpine Snow to paint the yeti head shape.
Next, I grabbed Elevation Polish Yeti Hugs: Feel So Close and painted a thin coat over all of the white.
I used the bottle brush and Zoya Talia to do the teal circular face shape.
Once dry, I covered the teal with a thin coat of Elevation Polish The Twinkle in Yeti's Eye.
OPI Good Greif! and the nail art brush were used for the little horns on the head.
Elevation Polish NYC was used for the mouth and eyes.
The cheeks were done with a nail art brush and OPI Mod About You.
One coat of Girly Bits What a Rush was used as top coat on the entire mani.
What do you think? I love the adorable First Sunday Yetis and am glad I grabbed them at Elevation Polish! Do you have them, too? You can check them out here. I think I'm obsessed with having yeti nails. They are too cute to not want to recreate!
Check out the other First Sunday Handmade links below:
Facebook:https://www.facebook.com/FirstSundayHandmade
Shop: https://www.etsy.com/shop/firstsundayhandmade
If you enjoyed this post, please Sign Up for email updates and you will have the latest news, reviews, nail art, and tutorials delivered right to your inbox! Never miss a post from Adventures In Acetone again. Thank you so much for reading.
– Let's paint something amazing! –