Good evening, readers! It's the final day of Negative Space Week with The Digit-al Dozen and I am so happy that I made it through the week. Negative Space was a huge challenge for me, and I don't see myself doing a lot of these in the near future.
Today is also the Orange day for 40 Great Nail Art Ideas, so I've combined both into one mani! Orange saran wrap dabbing over a KBShimmer Spiral Nail Vinyl and we are left with these!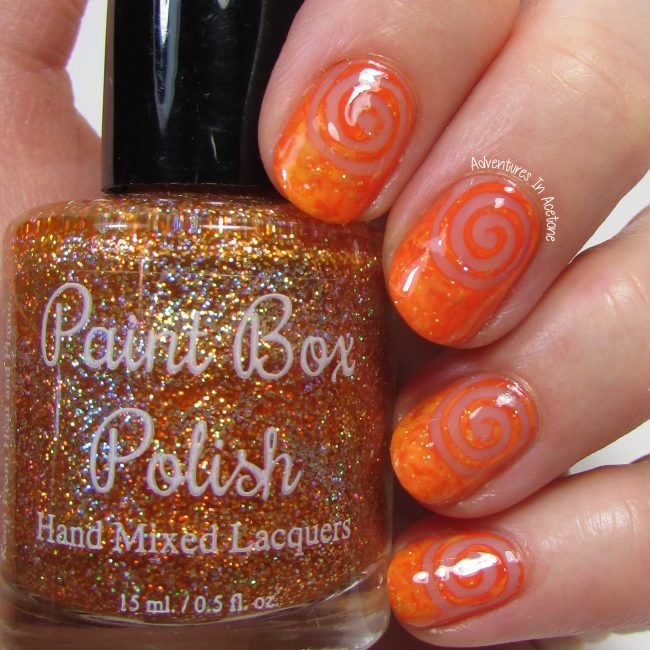 I began with dry base coat nails and applied a spiral nail vinyl to each one at the cuticle line, leaving the edge off of the nail for something to grab for removal of the vinyls.
Next, I painted a quick coat of Zoya Cam over the entire nail.
While that was still tacky, I dabbed some blobs of Paint Box Polish Dracarys and China Glaze Home Sweet House Music onto my UberMat and dabbed some balled up saran wrap into the wet polish.
Then, I dabbed the saran wrap over the orange nails, re-dabbing when needed for even coverage.
While the polish was still wet, I peeled off the spiral vinyls to reveal the bare nail underneath.
Two coats of KBShimmer Clearly on Top sealed in and evened out the design.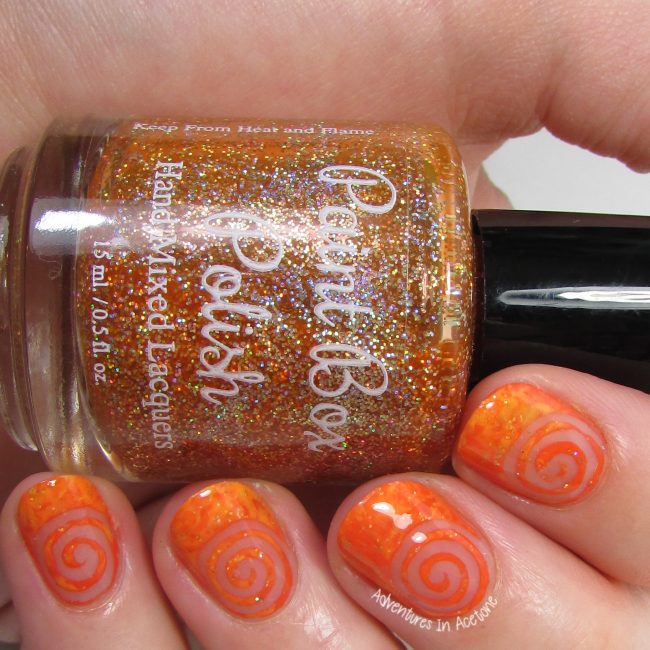 What do you think? I love that the Paint Box Polish jelly glitter mostly just added some extra sparkle to the saran wrap effect. Check out what the other Digit-al Dozen ladies did for Day 5 below:

Loading InLinkz ...
See the other Orange manis from Crumpet's Nail Tarts below:

Loading InLinkz ...
If you enjoyed this post, please Sign Up for email updates and you will have the latest news, reviews, nail art, and tutorials delivered right to your inbox! Never miss a post from Adventures In Acetone again. Thank you so much for reading.
– Let's paint something amazing! –