Good afternoon, readers! It's Day 2 of Rainbow Week with The Digit-al Dozen and today I've used my ÜberChic ÜberMat to make these rainbow chevron stamping decals. This is just like coloring in the lines, I have a little collage at the end showing how I did it.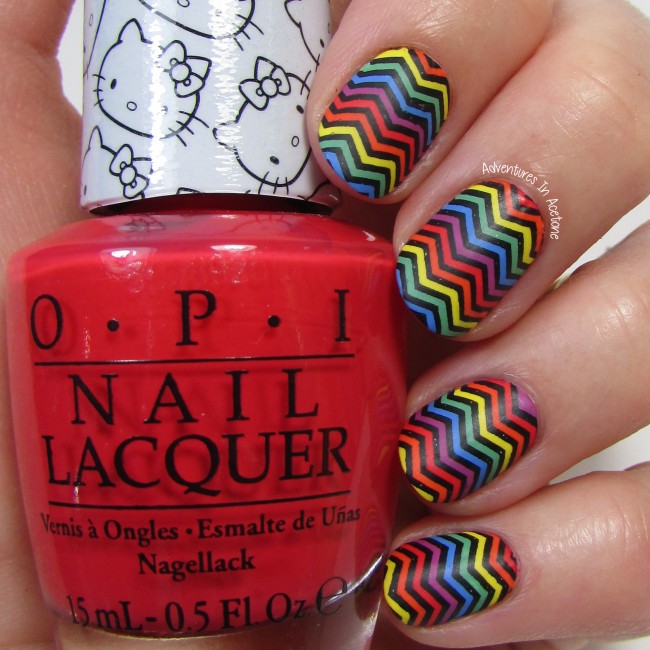 I began by painting a coat of Qtica Extending Top Coat onto the nail shaped sections of the ÜberChic ÜberMat.
Once they were dry, I used Mundo de Uñas Black and stamped the thin chevron design from Bundle Monster stamping plate BM-201 onto each of the nail shapes of the mat.
Then, I used a thin nail art brush to paint in the sections between the black lines in a rainbow pattern with the following polishes: OPI 5 Apples Tall, Zoya Cam, OPI My Twin Mimmy, Zoya Ness, Zoya Dory, and Zoya Liv.

After I filled in the decals and let them dry, I used an orange stick to gently peel the decals from the mat and flipped them over to see the finished design.
I painted my nails with a coat of Rica Whiteout and topped them with a thin coat of top coat.
To help with cleanup, I painted a barrier of Liquid Palisade around the nails.
While the top coat was still tacky, I applied the stamping decals to the nails and pressed gently.
Using acetone and a cleanup brush, I separated the excess decal from the nail and peeled up the Liquid Palisade, taking the excess with it. Acetone and the cleanup brush were also used to remove the excess from the tips.
I finished the look with a coat of Girly Bits Polish Matte'rs matte top coat.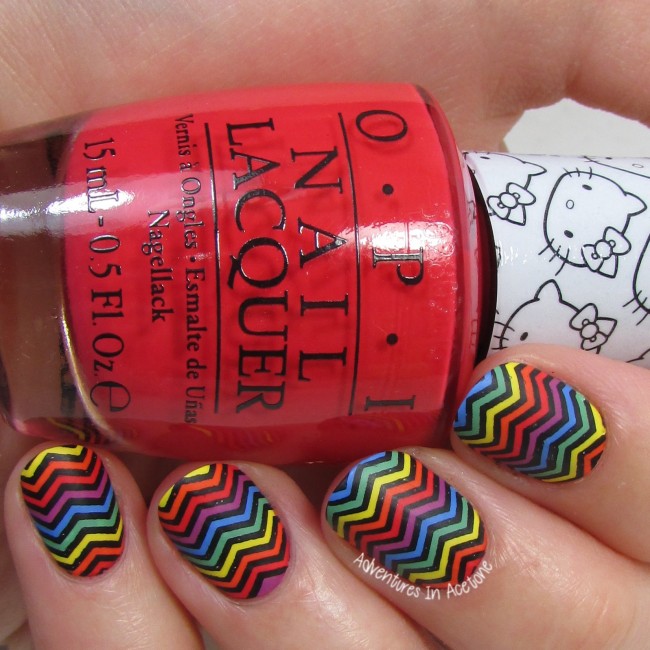 Check out the collage below to more easily picture those step by step instructions:
What do you think? Check out what the other Digit-al Dozen ladies did below for Day 2 of Rainbow Week:

Loading InLinkz ...
If you enjoyed this post, please Sign Up for email updates and you will have the latest news, reviews, nail art, and tutorials delivered right to your inbox! Never miss a post from Adventures In Acetone again. Thank you so much for reading.
– Let's paint something amazing! –