Previous
Press Sample
Good afternoon, readers! Today's mani is a really neat effect and takes no nail art skill at all. Have you tried Squish Stamping before? You basically just dab different colors of polish onto a stamper head and then press it onto your nail, squishing the blobs of polish into a marble effect. I chose two bright KBShimmer cremes for this look to match my bathing suit for a beach day last week. They looked gorgeous together and I had forgotten how easy this look was to achieve. There is a lot of cleanup, so I suggest using a latex barrier like Liquid Palisade or Girly Bits Border Patrol.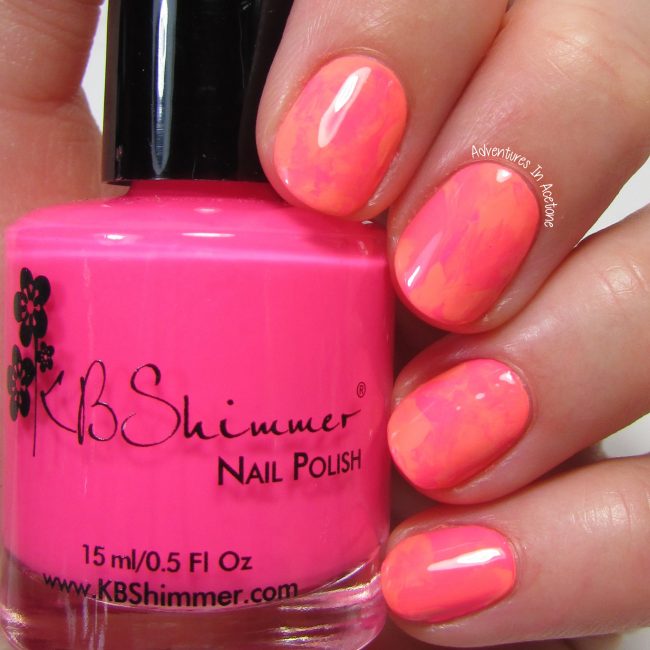 I began by painting two coats of KBShimmer Bahama Drama on my nails and letting them dry completely before moving on.
Once dry, I used a stamper and dabbed a handful of dots in each KBShimmer Bahama Drama and KBShimmer How Low Can You Flamingo? onto the stamp head.
While the blobs were still wet, I pressed the stamper onto my nails, sometimes rolling onto the nail to squish the design onto the nails.
Once I was happy with the coverage, I repeated onto my other nails.
I used a cleanup brush and acetone to wipe away any polish from the skin.
I added a coat of KBShimmer Clearly on Top to seal in the design.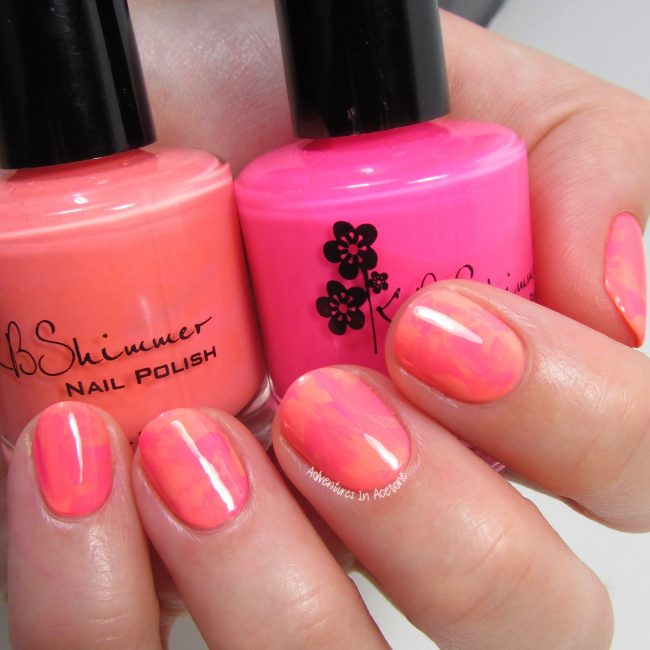 What do you think? This was much brighter in person and looked awesome at the beach, I wish neons didn't freak out my camera so much. You can find both of these at the following shops below:
http://www.livelovepolish.com/collections/kbshimmer
http://www.harlowandco.org/collections/kbshimmer
www.amazon.com/shops/kbshimmer
*The polishes in this post were previously reviewed with my honest opinion.
If you enjoyed this post, please Sign Up for email updates and you will have the latest news, reviews, nail art, and tutorials delivered right to your inbox! Never miss a post from Adventures In Acetone again. Thank you so much for reading.
– Let's paint something amazing! –