Press Sample
Good morning, readers! I have some new products by Creative Shop to share with you today. A few months ago, Creative Shop released their Space Stampers Collection and they are gorgeous! Sparkly, squishy, they come in dark and light colors (to easily see the stamp image depending on which color stamping polish you are using), have a grippier handle and more surface area than the previous Creative Shop stamper. I also was able to try my first stamping plate by Creative Shop. It was their Ukraine-inspired plate and it is filled with full images inspired by Ukraine embroidery patterns, the famous Ukrainian poet (Taras Shevchenko), and traditional Ukrainian hairstyles. I've tried out each stamp image for you to see it better than just on the plate, and at the bottom of this post I will have a couple manis I created with this plate. Let's take a look!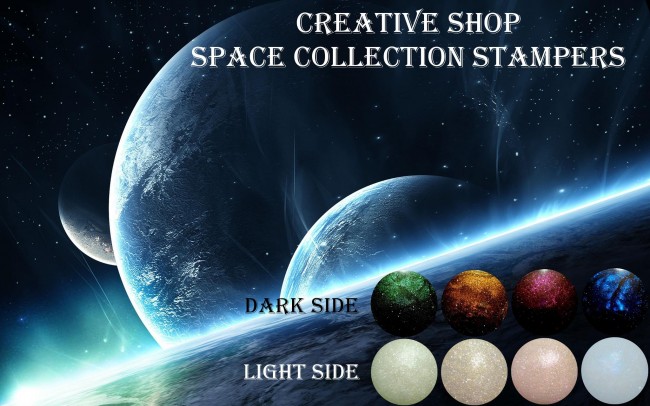 Before we get to the stamping plate, I have some thoughts on the new Space Collection Stampers. Above, you can see in the promo image that there are 4 dark stamping heads available and 4 light. They are all sparkly! While the sparkle isn't really needed, it sure is nice to have something extra pretty that doesn't impair their usefulness.
As you can see below, the new metal handle that holds the stamper heads has ridges for easier grip. There is also (not shown) a small hole in the bottom of the handle that allows for air to push out of the handle–making the stamper head even squishier without the air pressure caught in the handle. If you find the squishy head isn't the best for your stamping style, you can cover the hole and it gives a bit more resistance to the stamping head while pressing onto your nail.
I, personally, had a hard time getting used to the squishy stamper head. After a lot of practice, I found that the best way for me to transfer a good image was to press my nail flat onto the stamping head and then really push and rock into the squish to get the edges of the nail covered as well. I still don't always get the cuticle line stamped as well as I like, but it is getting easier with practice.
I did a quick instagram video showing the new stamper next to the old Creative Shop stamper, so check that out if you are interested: VIDEO.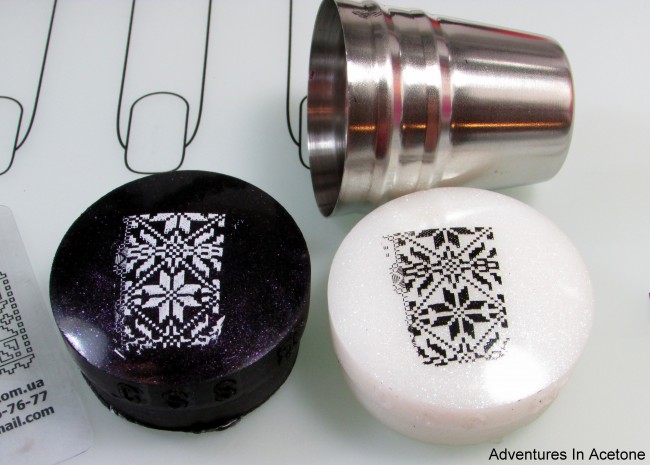 Let's look more closely at the Creative Shop Ukraine Stamping Plate. I didn't have trouble stamping any of the images, you can see them more clearly below. There are some etched textures in some of the embroidery designs that stamped better if I scraped the excess polish off in a particular direction on the plate and you can play around with your own plate to decide which way works best for you.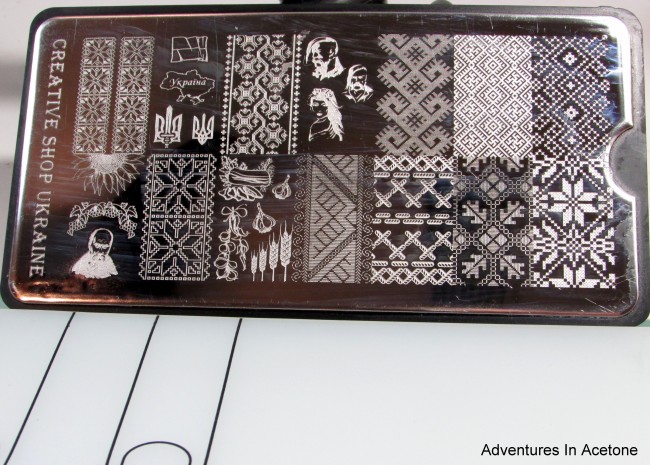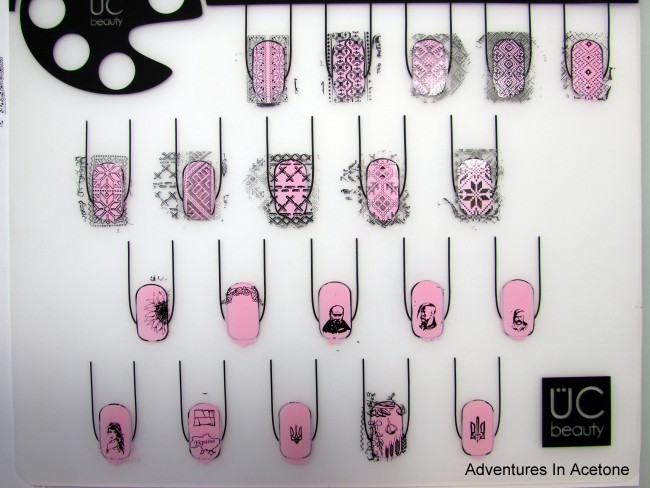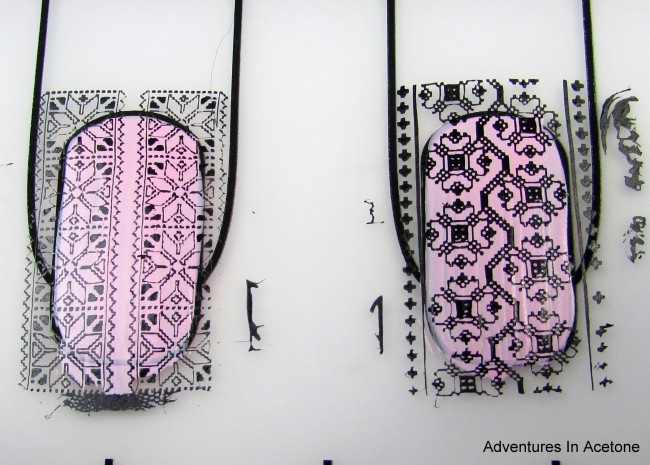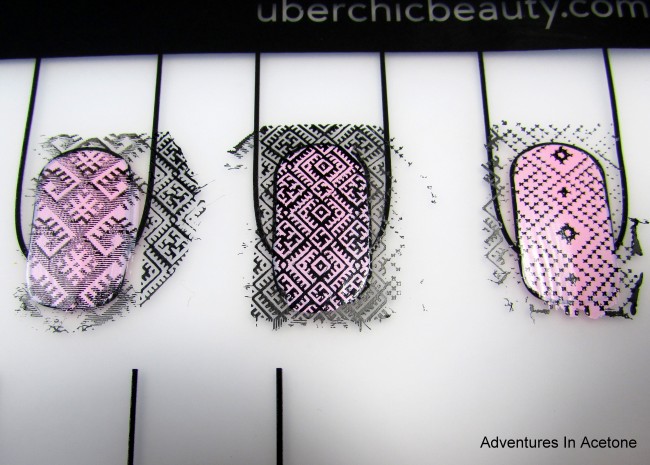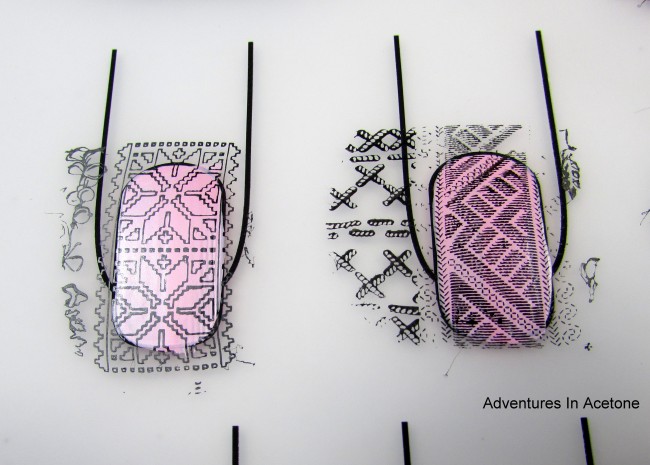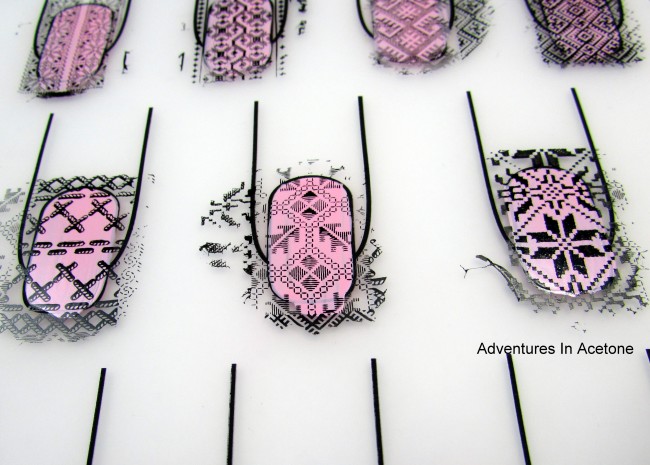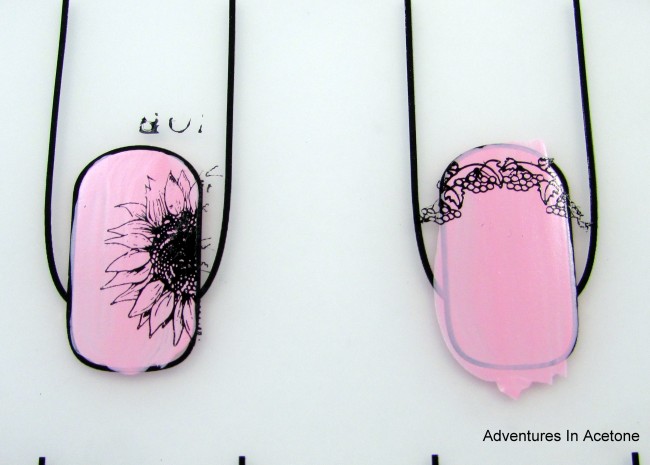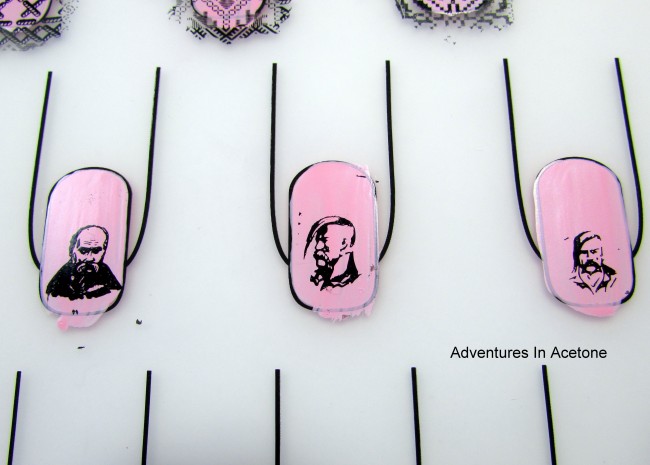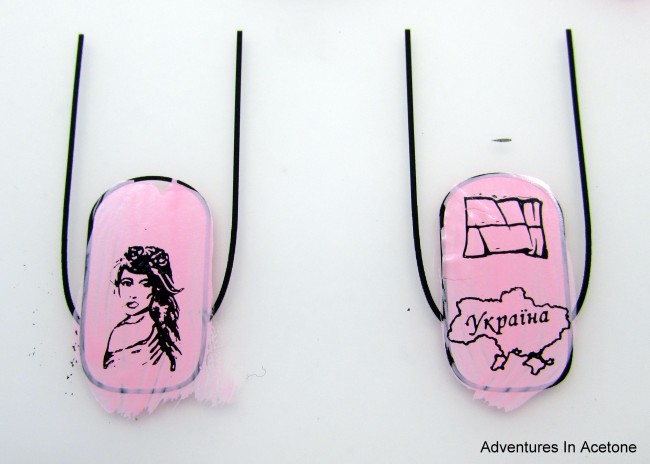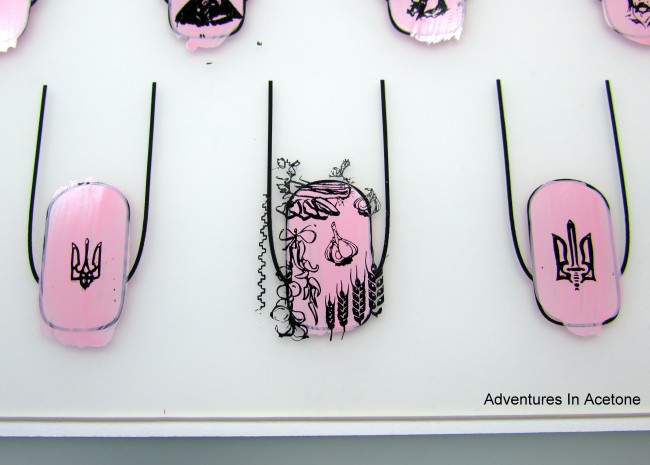 I really like the full image embroidery designs so I chose 4 to stamp over OPI My Pal Joey in the mani below. I stamped these with Mundo de Uñas Reddish stamping polish and the Creative Shop Space Stamper I showed you earlier in this post. I painted a coat of Girly Bits Polish Matte'rs to give a satin matte finish.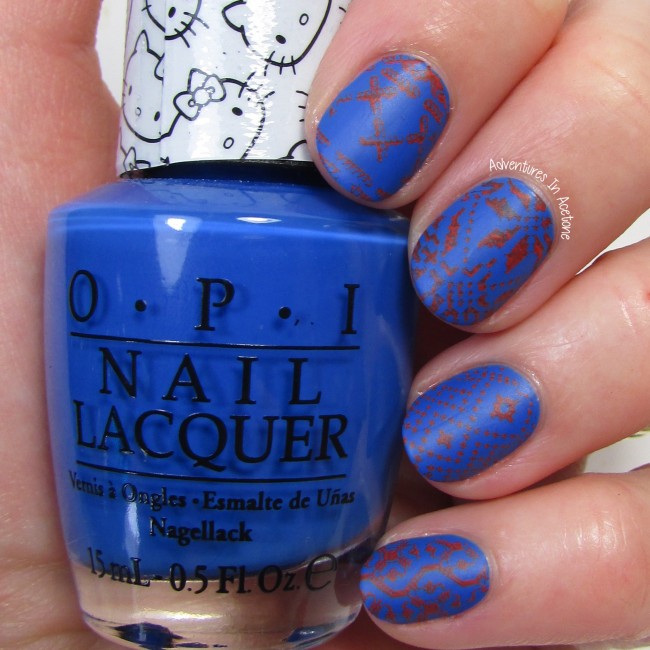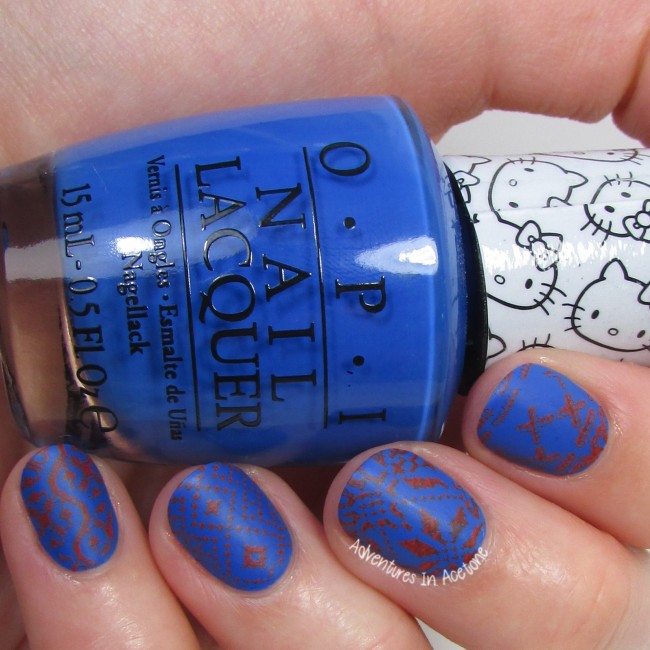 Lastly, I knew I had to create stamping decals with that gorgeous sunflower image on the Ukraine Stamping Plate!
I stamped the sunflower image onto a coat of clear polish on my UberMat using Mundo de Uñas Taupe stamping polish.
Then, I filled in the sunflower with OPI My Twin Mimmy and OPI Suzi Loves Cowboys. 
Once dry, I carefully peeled the decals off of the Mat and applied to my nails over Paint Box Polish Fizzing Whizbees.
I added a coat of NYC Grand Central Station to seal in the decal and add shine.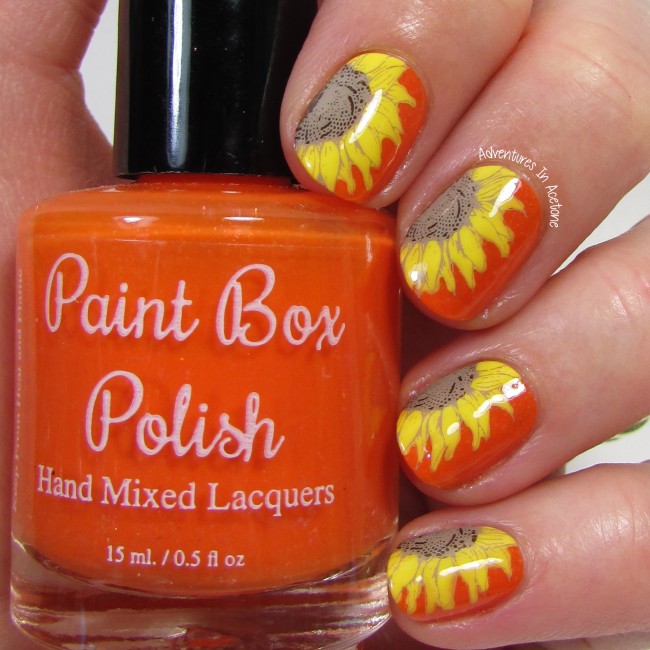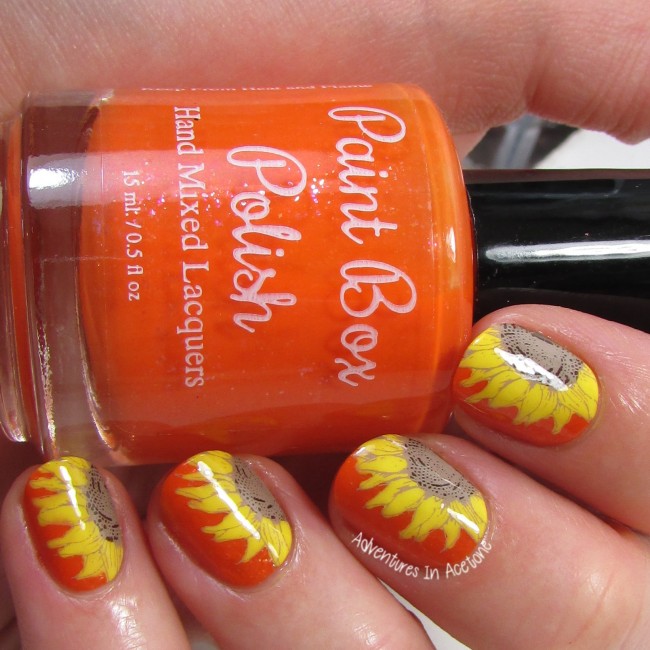 What are your thoughts on these new products from Creative Shop? I can't wait to use some of the embroidery designs for sweater nails this winter! I am also super in love with the sunflower design and really loved wearing that mani.
You can purchase Creative Shop products in the shops below:
1. USA, Canada – http://www.beautometry.com
2. USA – http://store.whatsupnails.com
3. UK – http://rainbow-connection.co.uk
4. EU – http://www.hypnoticpolish.com
*The products in this post were sent for me to review with my honest opinion.
If you enjoyed this post, please Sign Up for email updates and you will have the latest news, reviews, nail art, and tutorials delivered right to your inbox! Never miss a post from Adventures In Acetone again. Thank you so much for reading.
– Let's paint something amazing! –