Press Sample
Good afternoon, readers! Day 3 of Gradient + Week with The Digit-al Dozen is upon us and this is my favorite look so far this week! (Kind of wishing I had done these ahead of time, I would have enjoyed wearing this mani for longer than one day.) I have these Salon Perfect Neon POP! Collection colors sitting on my desk after yesterday's delivery and I loved how three looked side by side, so I grabbed them for this gradient. Sloteazzy collaborated with Bundle Monster and helped design a stamping plate full of watermarble designs–it takes the mess out of watermarbling and looks just as cool! I ordered it a while ago and am finally trying it out. The spiral design was perfect to stamp over the radial gradient! Let's take a look.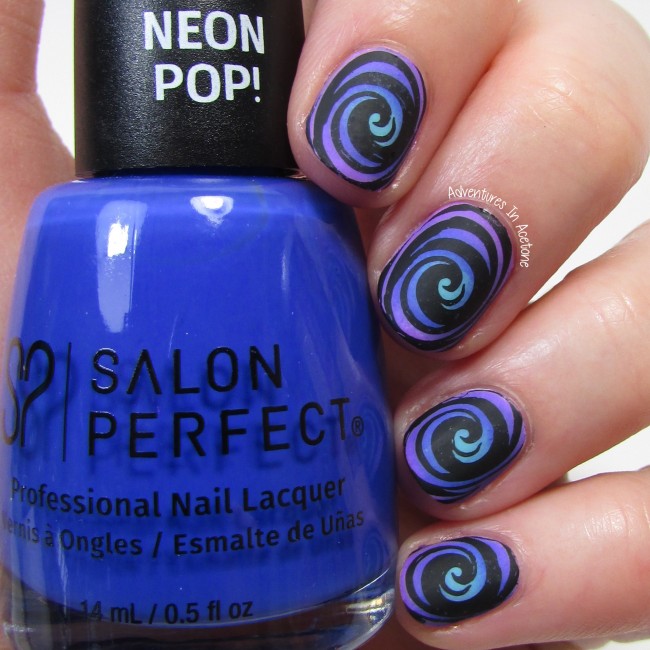 To begin, I painted a base of Salon Perfect Sugar Cube white creme on my nails. A coat of  Salon Perfect Crystal Clear top coat was used to seal in the white and help with drying time.
While it was drying, I painted Liquid Palisade around my nails.
For the gradient, I made a dot in the middle of a makeup sponge with Salon Perfect Mer-made of Money. Then, I used Salon Perfect Violets are Blue to paint a circle around the dot.  Lastly, I painted a circle around the two others with Salon Perfect Purple POP!
While the sponge was still wet, I lined it up on the center of the nails and dabbed, repainting and repeating until I was happy with the coverage.
Once the gradient was dry, I used Mundo de Uñas Black stamping polish, the spiral watermarble design from Bundle Monster BM-XL210 plate, and my XL clear stamper from ÜberChic to line up the image centered on the nail and radial gradient.
I used tweezers to peel up the Liquid Palisade and a cleanup brush with remover to get any leftover polish off of the skin.
I sealed everything in with a coat of NYC Grand Central Station quick dry top coat and then a coat of KBShimmer Oh Matte! to remove the shine.
What do you think? I am super in love with this mani, and the design makes my short nails look longer!
Salon Perfect polishes are available at Walmart stores for $3.98 each and the Neon POP! Collection will be in a promo display until August.
*The polishes in this post were sent for me to review with my honest opinion.
Check out the other Digit-al Dozen ladies below:

Loading InLinkz ...
If you enjoyed this post, please Sign Up for email updates and you will have the latest news, reviews, nail art, and tutorials delivered right to your inbox! Never miss a post from Adventures In Acetone again. Thank you so much for reading.
– Let's paint something amazing! –