Good morning, readers! This week's 40 Great Nail Art Ideas prompt is Spring. Honestly, after a full Digit-al Dozen week of Spring last week, I wasn't looking forward to doing another spring mani. Therefore, I decided to do some floral paisley stamping using colors I don't typically grab for (green and yellow) over a blue base and add some pink details. As a whole, I think it can count as a "spring" mani. Let's take a look!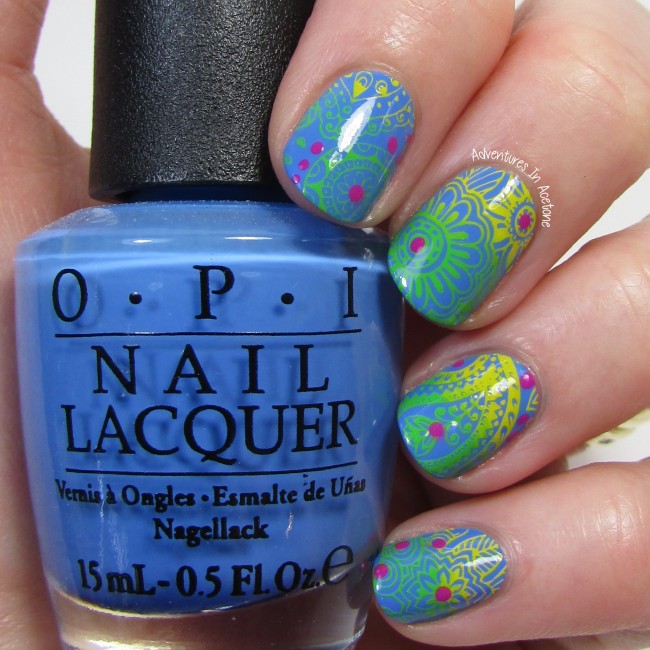 I started out with two coats of OPI Rich Girls & Po-Boys from The New Orleans Collection (swatch post coming this weekend!).
Once that dried for a while, I did a gradient with Mundo de Uñas Avocado and Yellow on the Bundle Monster BM-S107 plate image and applied to the nails.
For some added color pop, I added dots with a dotting tool and Mundo de Uñas Tutti. I originally planned to stamp with that third color but the yellow and pink were mixing for an effect I wasn't wanting so I skipped it and added it later.
KBShimmer Clearly on Top was used to seal it all in and add shine.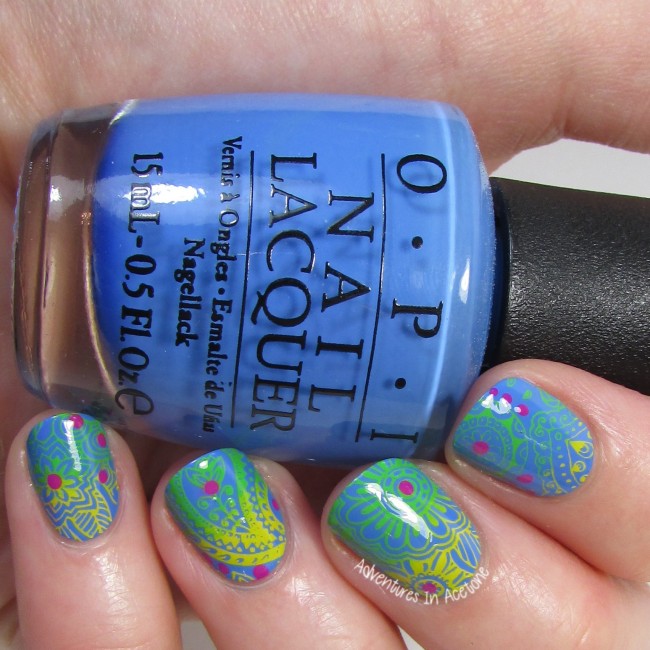 What do you think of this look? Can it pass for Spring? I am definitely impressed with the opaqueness and brightness of the Mundo de Uñas stamping polishes over this blue base! Check out what the other Crumpet's Nail Tarts did for their Spring manis below:

Loading InLinkz ...
If you enjoyed this post, please Sign Up for email updates and you will have the latest news, reviews, nail art, and tutorials delivered right to your inbox! Never miss a post from Adventures In Acetone again. Thank you so much for reading.
– Let's paint something amazing! –