Good morning, readers! It's time for this week's 40 Great Nail Art Ideas Love prompt and it is perfectly timed with Valentine's Day. (AKA: I can wear this mani throughout the weekend!) I am a little shocked that I ran out of time for more Vday manis this year, but life happens, right?
I'm finding myself falling in love with stamping nail art lately, mostly with help from my UberMat and the transparent stamper from Girly Bits. I can either make pretty stamping decals on the mat or do layered stamping with perfect positioning using the see-through stamper. I am anxiously awaiting my first order of stamping polishes from Mundo de Uñas and I just put in an order for more stamping plates from Bundle Monster! Get ready for more stamping manis on Adventures In Acetone in the near future!
For today's LOVE mani, I have a lace base topped with pretty love letters! So simple and yet I've already been wearing this mani for days and plan to wear it through the holiday weekend. Let's take a look at what I used for this mani.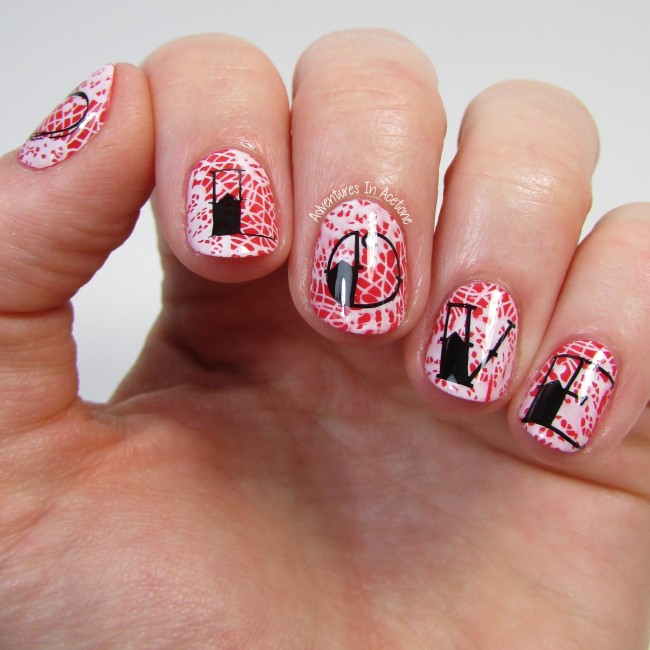 I began with a base of two coats of OPI 5 Apples Tall from the Hello Kitty Collection. I topped it with a coat of KBShimmer Clearly on Top and let dry before stamping.
Once the base was dry, I stamped the lace image from  UberChic stamp plate UC 3-02 with Rica Whiteout on all of my nails.
Next, I used the transparent stamper from Girly Bits to stamp the LOVE letters from  Bundle Monster stamp plate BM-426 using Funky Fingers Dark Knight.
For my thumbs, which you can barely see, I added a doodle heart image with Funky Fingers Dark Knight from an unnamed essence stamp plate.
I topped everything off with another coat of KBShimmer Clearly on Top.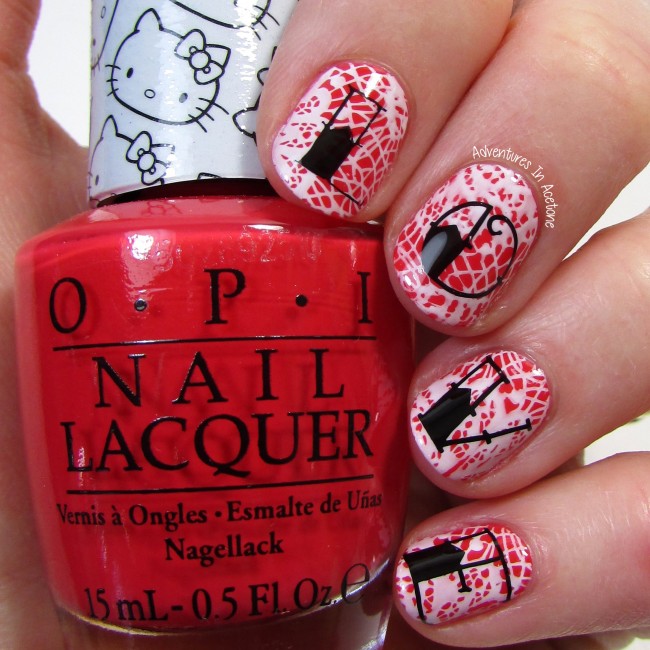 What do you think? I'm so happy with how this turned out! Check out what the other ladies from Crumpet's Nail Tarts did for their LOVE mani below:

Loading InLinkz ...
If you enjoyed this post, please Sign Up for email updates and you will have the latest news, reviews, nail art, and tutorials delivered right to your inbox! Never miss a post from Adventures In Acetone again. Thank you so much for reading.
– Let's paint something amazing! –