Good morning, readers! It's Traditions Week with The Digit-al Dozen, are you enjoying it? Another favorite Christmas Tradition of mine is driving around on Christmas Eve and looking at all of the houses decorated with Christmas lights. The neighborhood Mr. Adventures In Acetone grew up in goes all out for Christmas Eve–they have light tunnels over the road made from multiple lit arches, everyone sits out on their driveway to wave to the people like us driving by, and they even usually have "Santa" dressed up handing wrapped candy canes out to the kids in the cars. So fun, we all enjoy it so much!
For this mani, I used some of the awesome Christmas lights vinyls from the KBShimmer Winter Holiday Vinyl Nail Decal Sheet that I reviewed last year. I was so happy to have some left over. Paired with the OPI ColorPaints, they worked out perfectly!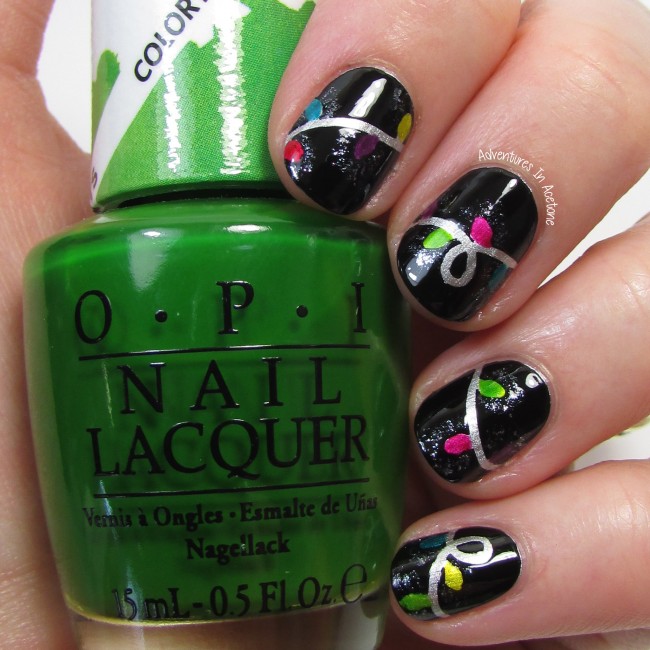 I began with a base of OPI Silver Canvas (the silver foil that was part of the OPI ColorPaints Collection).
To speed up the drying process for the next step, I also added a coat of KBShimmer Clearly on Top.
After about 10 minutes, I applied the light strand vinyl shapes from the KBShimmer Winter Holiday Vinyl sheet.
One nail at a time, I painted a quick coat of Funky Fingers Black Knight and carefully peeled up the nail vinyl with tweezers.
I used a detail brush and the following OPI ColorPaints to fill in the bulbs: OPI Magenta Muse, OPI Primarily Yellow, OPI Landscape Artist, OPI Turquoise Aesthetic, and OPI Purple Perspective.
For some added fun, I lightly painted OPI Girls Love Diamonds outward from the bulbs to imitate that they were lit up.
KBShimmer Clearly on Top was used to seal everything in.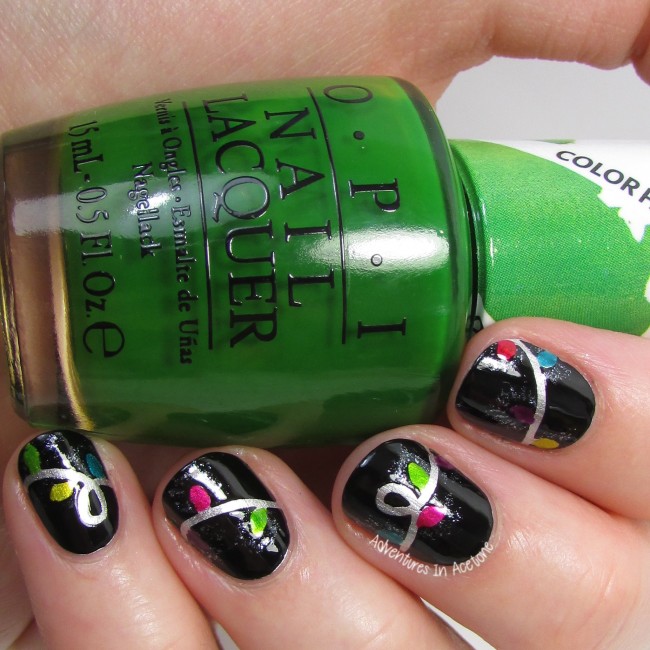 Do  you enjoy looking at Christmas Lights at night? Check out what the other tradition manis the DD ladies have shared for today below:

Loading InLinkz ...
If you enjoyed this post, please Sign Up for email updates and you will have the latest news, reviews, nail art, and tutorials delivered right to your inbox! Never miss a post from Adventures In Acetone again. Thank you so much for reading.
– Let's paint something amazing! –