Press Sample
Good morning, readers! I am very excited to show you 6 Cirque Colors today! They come in three limited edition ICON DUOS and are exclusive to Nordstrom, celebrating the Opening Ceremony Pop-In. Each duo consists of one holo and one creme polish. They are limited edition, launched on November 25th on Nordstrom.com and 6 Nordstrom retail stores (listed at the bottom of this post). Let's take a look below.
"Nordstrom's latest monthly pop-in celebrates the world of Opening Ceremony – the iconic NYC-based fashion company launched in 2002 by Carol Lim and Humberto Leon. This event culls the best of the brand's style for both men and women, including unique holiday gifts from up-and-coming designers and artisans. Inspired by OC's pre-spring color palette, we're proud to introduce to you our limited edition ICON DUOS – 3 exclusive gift sets each containing 1 creme and 1 holographic nail lacquer."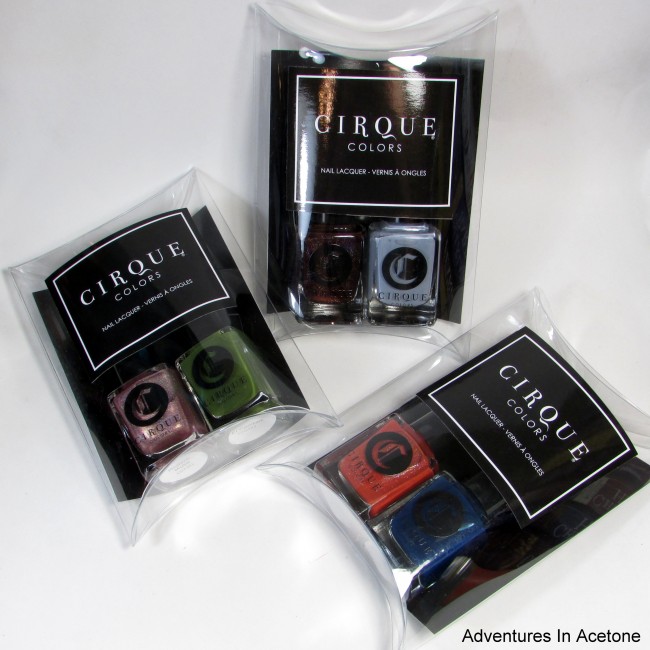 Cirque Colors Oporto
A rich mahogany holographic with glowing red embers.
I'm showing two coats below with top coat.
I really like this vampy color and the glowing flecks paired with holo are so pretty! The holo is more subtle than in the other duos but it allows the flecks to show through.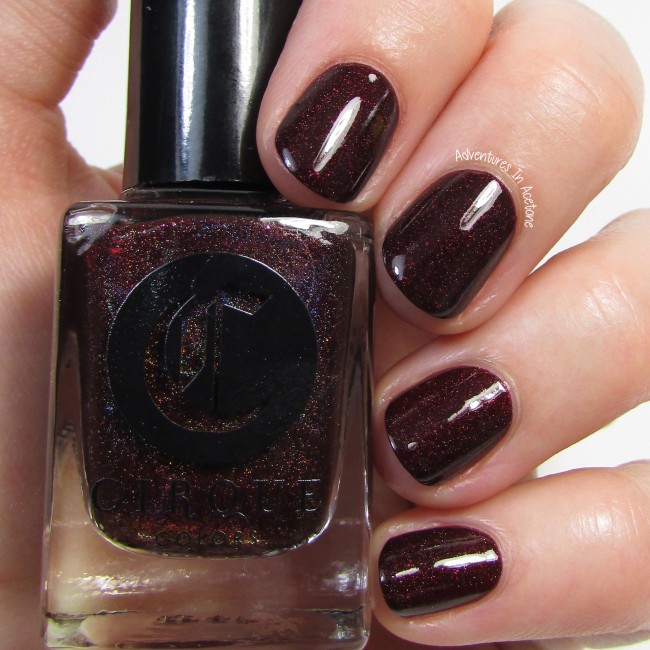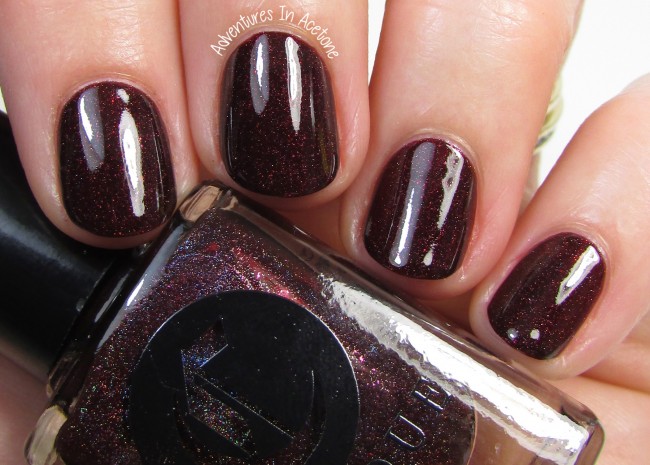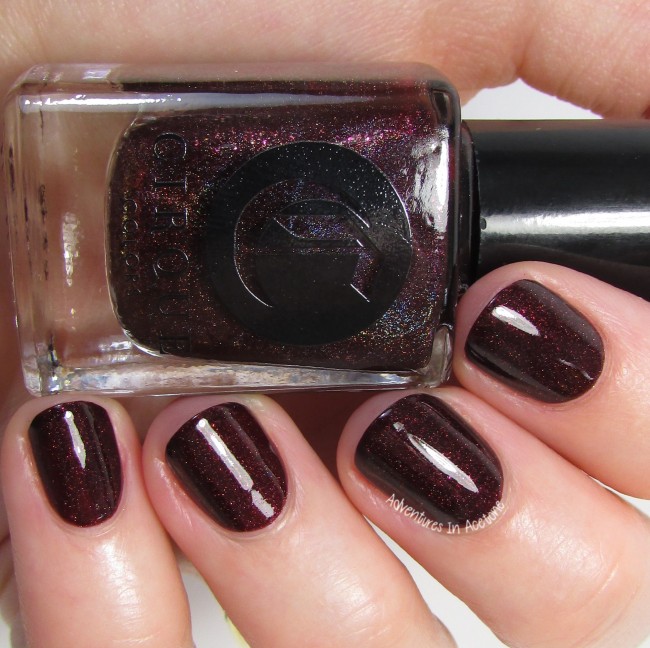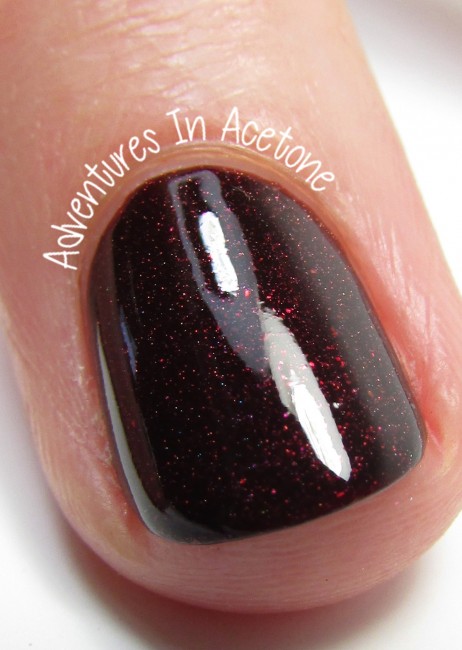 Cirque Colors Storm King
A muted icy blue creme.
I'm showing two coats below with top coat. With thinner coats, you will probably need a third for complete coverage.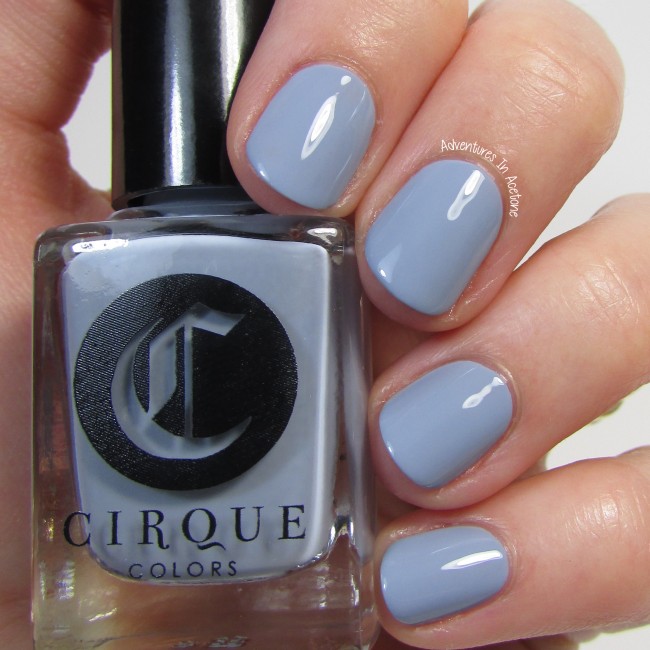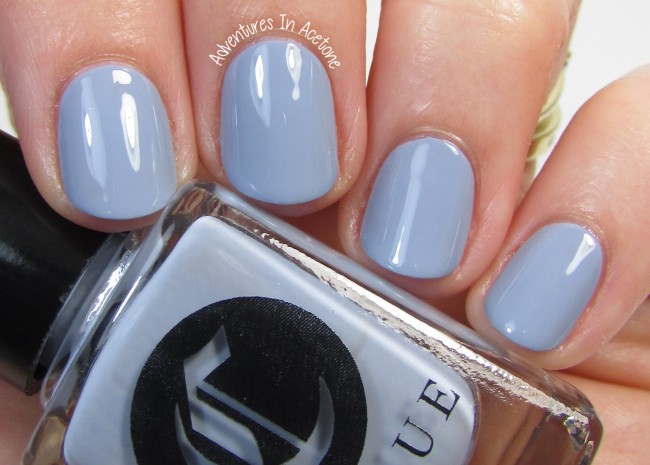 I wanted to pair the duo together in a simple and fun mani, so I used Watermarble Stick It! Nail Vinyls. After the two coats of Cirque Colors Oporto and quick drying top coat were completely dry, I pressed the vinyls onto the nails and sponged on a few coats of Cirque Colors Storm King. I peeled up the vinyls, added more top coat, and was good to go! The look of watermarble without the mess and time of actual watermarbling.
Cirque Colors Modern Muse
A shimmery dusty pink holographic.
I'm showing three coats below with top coat. There was slight visible nail line showing at two.
This was very holographic and appears to have gold shimmer as well.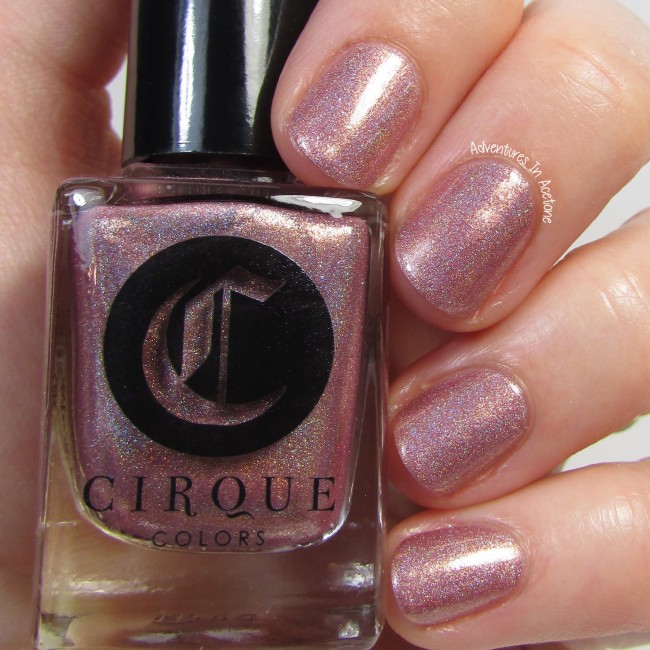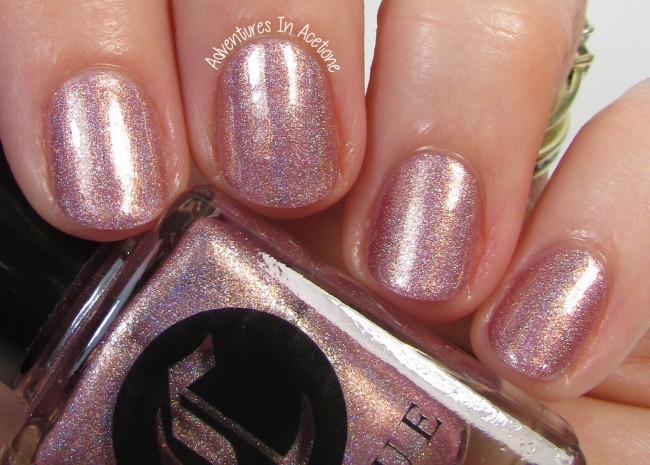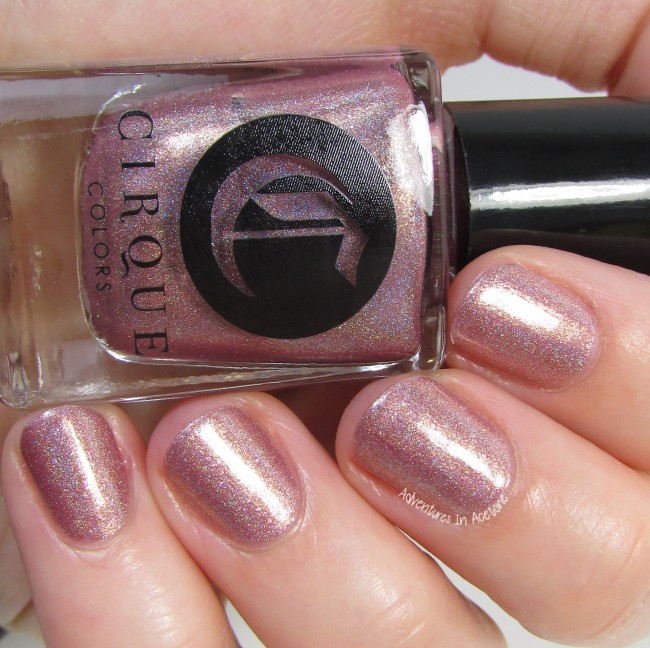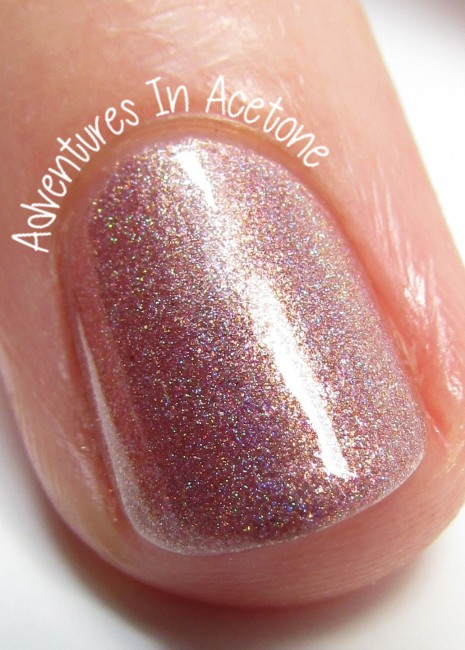 Cirque Colors El Capitan
An olive green creme.
I'm showing two easy coats below with top coat.
The formula was very nice and easy to work with.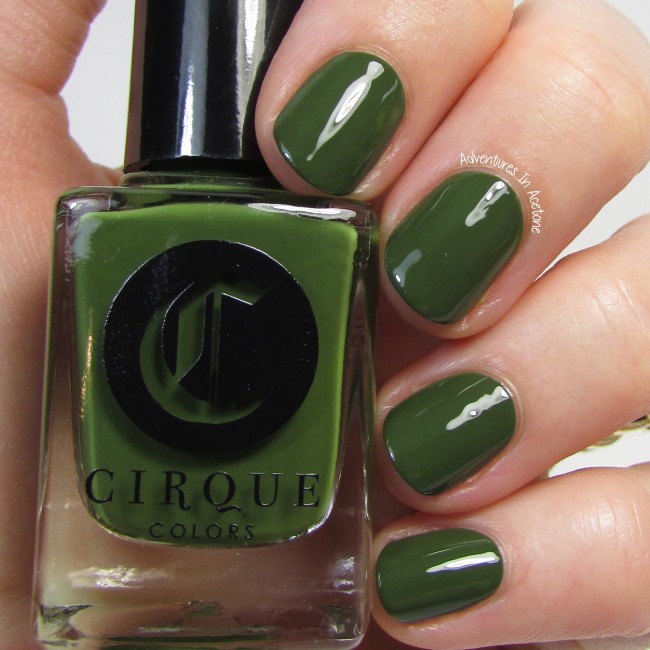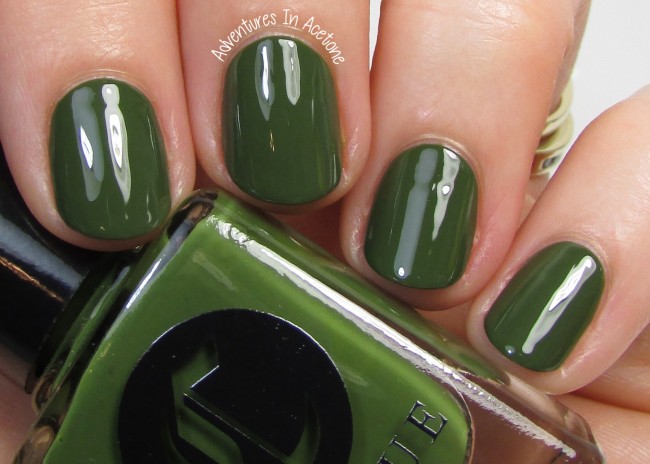 This color combo was a bit odd to me, but I still wanted to try them side by side in nail art. KBShimmer Chevron Nail Vinyls were used in this quick mani. After the three coats of Cirque Colors Modern Muse plus top coat were dry, I applied the vinyls and pressed carefully. Then, I sponged on Cirque Colors El Capitan, removed the vinyls, and sealed with top coat.
Cirque Colors Tangerine Dream
A spicy orange holographic.
I'm showing two coats below with top coat.
There are pretty hidden  pink flecks that are a nice addition. I really like this color!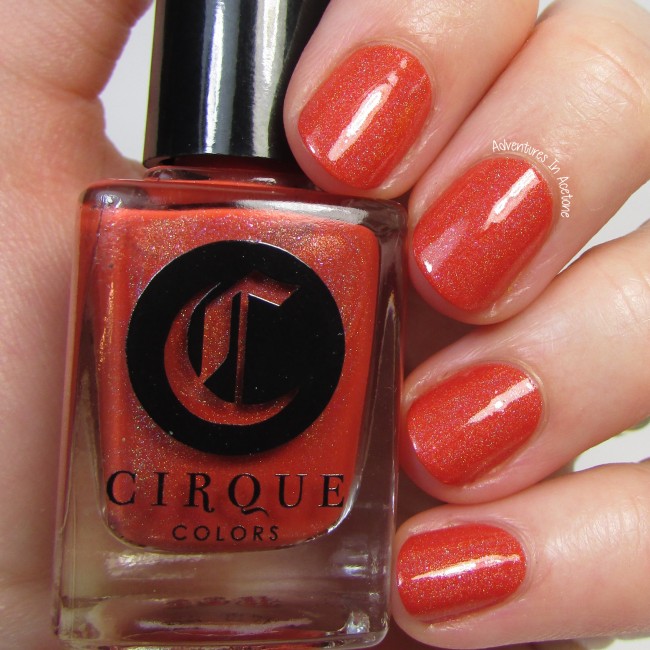 Cirque Colors Selvedge
A deep cobalt blue creme.
I'm showing two easy coats below with top coat.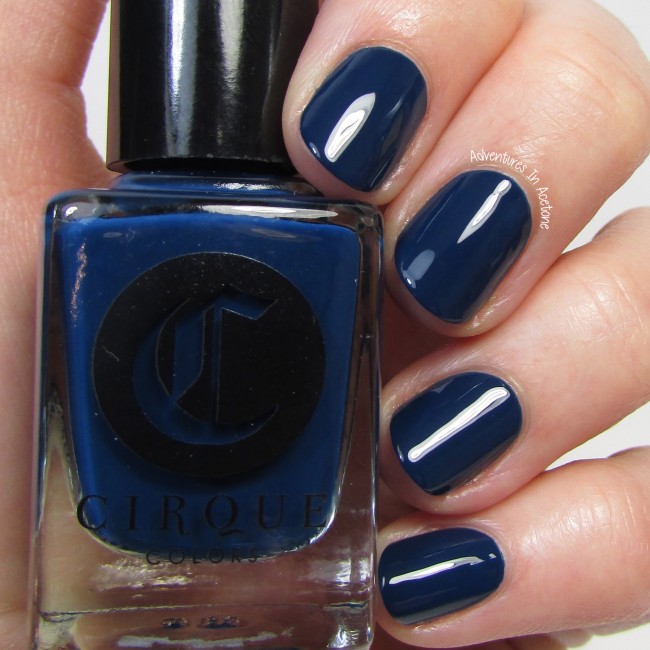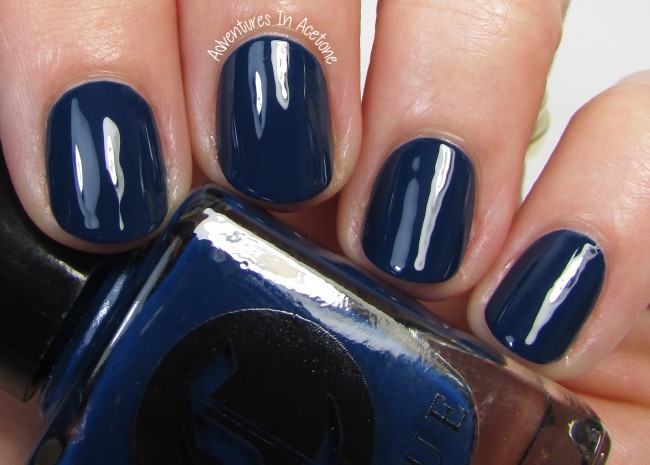 This was my favorite color combination of the duos and the Vinyl Boutique Quatrefoil Vinyls worked perfectly for this look. I waited for the two coats of Cirque Colors Tangerine Dream and top coat to dry completely. Then, I applied the vinyls and sponged on Cirque Colors Selvedge. Once I removed the vinyls, I added top coat.
What do you think about these Cirque Colors ICON DUOS? The polishes are UV reactive, so they will glow under a black light. Also, I wanted to add in that Cirque Colors are scented with lavender essential oil, so please be aware of that if you have sensitivities.
These launched November 25th at Nordstrom.com and the 6 retail locations below. The sets are Limited Edition and will be available until January 3rd, 2016. Each duo is priced at $22 ($26 value).
Retail locations with the duos in store:
Downtown Seattle
500 Pine Street
Seattle, WA 98101
206.628.2111
Bellevue Square
100 Bellevue Square
Bellevue, WA 98004
425.455.5800
Michigan Avenue
55 East Grand Avenue
Chicago, IL 60611
312.464.1515
San Francisco Centre
865 Market Street
San Francisco, CA 94103
415.243.8500
Tyson's Corner Center
8075 Tysons Corner Center
McLean, VA 22102
703.761.1121
NorthPark Center
8687 North Central Expressway
Dallas, TX 75225
214.231.3900
*The polishes in this post were sent for me to review with my honest opinion. 
If you enjoyed this post, please Sign Up for email updates and you will have the latest news, reviews, nail art, and tutorials delivered right to your inbox! Never miss a post from Adventures In Acetone again. Thank you so much for reading.
– Let's paint something amazing! –