Press Sample
Good morning! I have exciting news to share–I'm a new addition to the Great Lakes Lacquer swatch team! I can't wait to share these gorgeous polishes with you and I have used one of the October Limited Edition polishes for the base of today's Autumn Week mani. I have swatches of Great Lakes Lacquer Coral at the bottom of this post, but first let's check out my latest Digit-al Dozen mani. Ashley is PolishAddicted gave me the idea for caramel apples and I couldn't wait to try them! She knew I was struggling with ideas for Autumn Week and I am so happy with how these turned out. Thanks, Ashley!!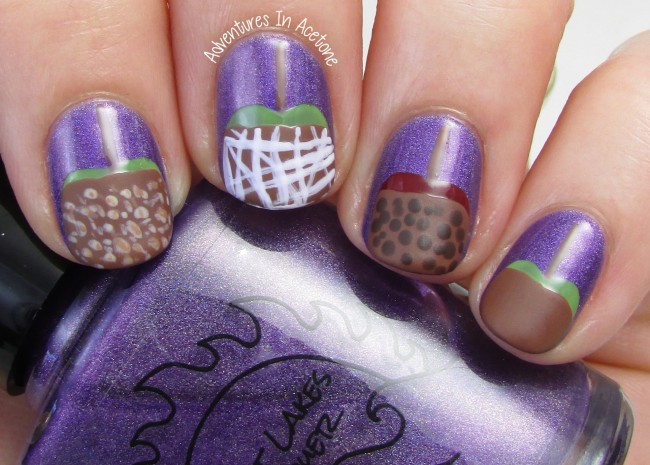 I began with three thin coats of Great Lakes Lacquer Coral and let dry.
Next, I painted the apple shapes taking up a little more than half of the nail with Barry M Key Lime and OPI Cinnamon Sweet.
Then, I used a nail art brush and OPI Going My Way or Norway? to paint the sticks coming from the top of the apples almost to the cuticle line.
I added one coat of KBShimmer Clearly on Top to the entire nail at this point and let dry.
Once dry, it was time to "dip" the apples in caramel and add toppings. I painted the caramel on most of the apple with OPI Icebergers & Fries.
The index apple was then "rolled" in nuts made of OPI You're So Vain-illa and OPI Going My Way or Norway? using the tip of a nail art brush for the appearance of uneven chunks.
The middle apple was "drizzled" with white chocolate made of OPI Alpine Snow and a striper brush.
The ring apple was "rolled" in chocolate chips made of OPI Suzi Loves Cowboys.
The pinky nail stayed simple and I topped all of the caramel and toppings with a coat of Girly Bits Polish Matte'rs for a fun added difference in the texture of the mani.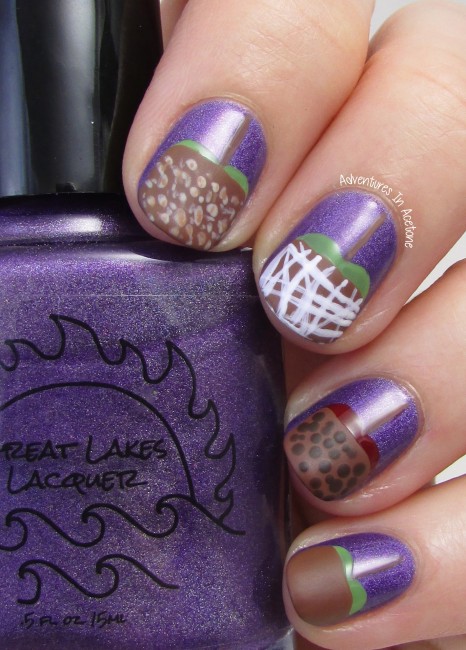 As promised, there are swatches below of my very first Great Lakes Lacquer. Here is what Mariah had to say about the October Limited Edition polishes:
"Walking Dead fan right here. Oh yes. With the eagerly awaited return of the series this month, I just had to pay tribute to one of my favorite shows. And what better way to do that than have a bit of fun with it. You know those meme's you see while browsing Pinterest? The October Limited Editions go right along with them. I would be remiss if there wasn't a nod to Andrew Lincoln's exaggerated southern drawl on Carl's name, wouldn't I? Besides, the meme's that contain this take on Carl's name should be legendary by now."
Great Lakes Lacquer Coral
A purple linear holo filled with pinky coral shimmer.
I'm showing three thin and easy coats below with top coat.
This is a gorgeous purple holo and the added pink shimmer adds a lot to it. I love it, no issues to report.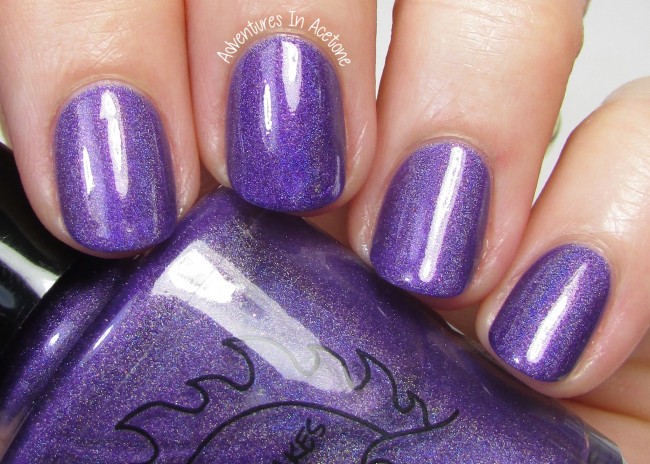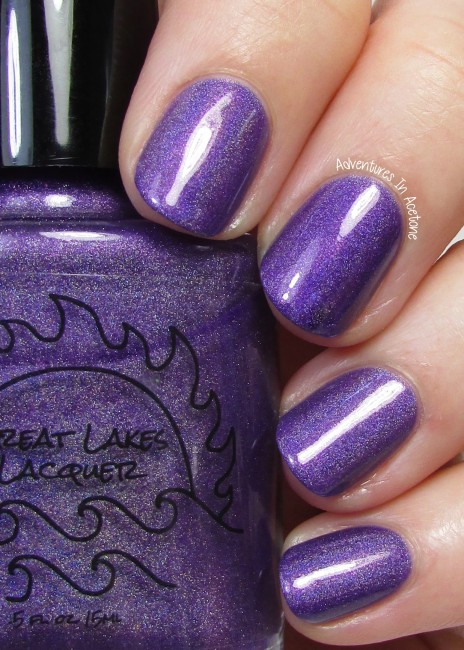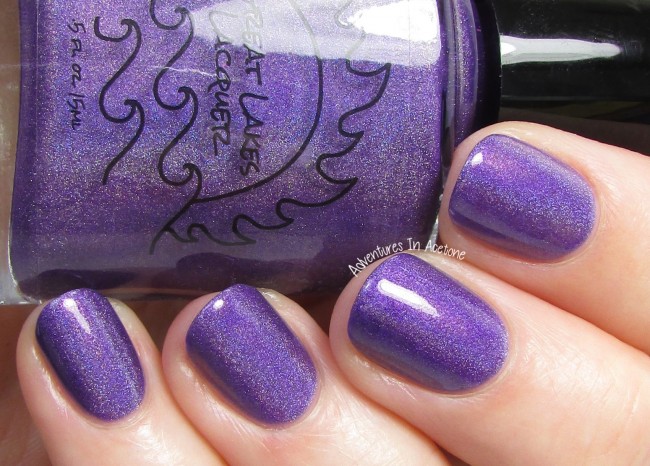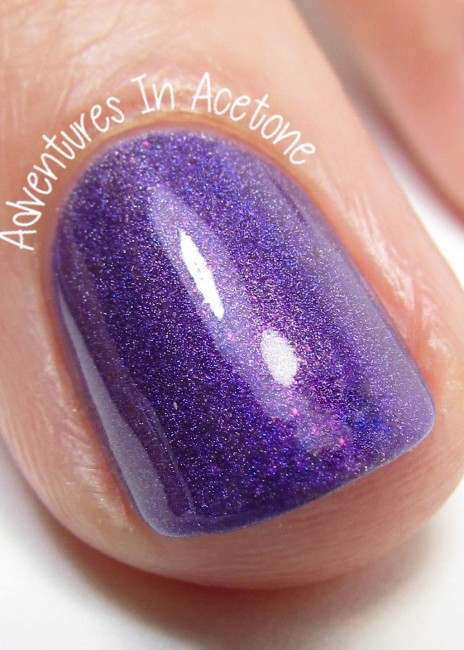 What do you think of this gorgeous Great Lakes Lacquer polish? As I said above, it is an October Limited Edition so you can only purchase it in the month of October. It will be taken out of the shop on November 1st.  It retails for $10.50 and can be found at the Great Lakes Lacquer Etsy Shop. Check out Great Lakes Lacquer on Facebook as well!
Did you like my caramel apples nail art? I'm scraping by and I hope I can think of something fun for tomorrow as the final Autumn Week mani with The Digit-al Dozen! Check out what the rest of the ladies did below:
Loading InLinkz ...
*The Great Lakes Lacquer in this post was sent for me to review with my honest opinion.
If you enjoyed this post, please Sign Up for email updates and you will have the latest news, reviews, nail art, and tutorials delivered right to your inbox! Never miss a post from Adventures In Acetone again. Thank you so much for reading.
– Let's paint something amazing! –