Previous Press Sample
Affiliate Link
Good morning, readers! It's Day 3 of Autumn Week with The Digit-al Dozen and I feel like I'm running out of ideas. How will I finish this week?! I was feeling so uninspired this morning so I grabbed my life saving Idiot's Guides: Nail Art written by the lovely Emily of The Lacquerologist. It's my "go-to" when I just can't seem to figure out what to do on my nails and it did the trick this morning! I remember LOVING the Sugar Skull Tutorial in the book (Pages 162-163 if you have one) and this week is the perfect theme week for my own Sugar Skull nail art. Emily's tutorial is so easy to follow that I did it on each nail instead of an accent.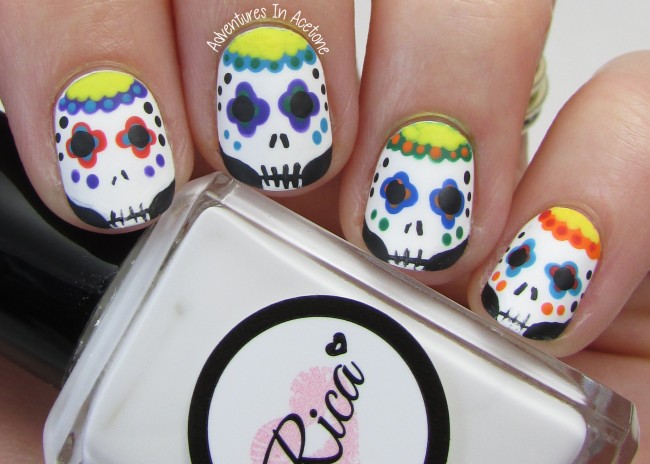 I began with two coats of Rica Whiteout.
I followed Emily's tutorial using my small collection of acrylic craft paints.
Girly Bits Polish Matte'rs was used for a matte finish on the entire nail.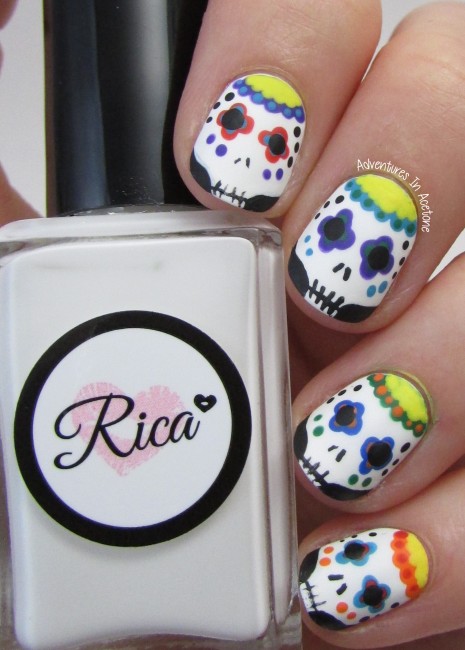 What do you think of this look? Have you painted sugar skull nail art before? If you are interested, Emily's book is available on Amazon in paperback and Kindle format HERE. It's also a great idea for a holiday gift. You can see my original review if you'd like more information.
*The Idiot's Guides: Nail Art book was previously reviewed with my honest opinion.
*There are affiliate links in this post, so I will receive compensation if you click through and purchase.
Check out what the rest of the Digit-al Dozen ladies did for Day 3 below:
Loading InLinkz ...
If you enjoyed this post, please Sign Up for email updates and you will have the latest news, reviews, nail art, and tutorials delivered right to your inbox! Never miss a post from Adventures In Acetone again. Thank you so much for reading.
– Let's paint something amazing! –