Press Release
Salon Perfect is releasing the new Bat Your Lashes Collection and I have the press release attached below. Salon Perfect polishes can be found at Walmart stores.
Raise a chalice of Witches' Brew to Salon Perfect®'s Halloween inspired Bat Your Lashes collection. Whether your hallow's eve includes trick-or-treating or just hanging with your best witches, summon Wicked good looks using exclusive Salon Perfect® lashes, nail lacquer and temporary hair color before you disappear into the night.
As the fog lifts in the night sky, let your hair down and howl at the moon. Create a maniacal mane of flowing Aqua, Soft Mint, Violet, Soft Rose or Magenta locks using Salon Perfect® Temporary Color Hair Sprays for a night of mayhem.
Conjure a manicure to die for with spook-tacular polish top coats featuring floating particles of raven black, jack-o-lantern orange, electrifying green and ghostly white matte glitter. Combine the top coats with vibrant orange, purple and green shades of Salon Perfect® nail lacquer for a spine chilling twist.
Complete your devilishly seductive Halloween look with lashes that refuse to be ignored. Whether you want lashes that flutter and float like spindly spider legs or you are looking for lush lashes like the darkest bat wings, the Salon Perfect® Bat Your Lashes collection has a style to suite your vampy spirit.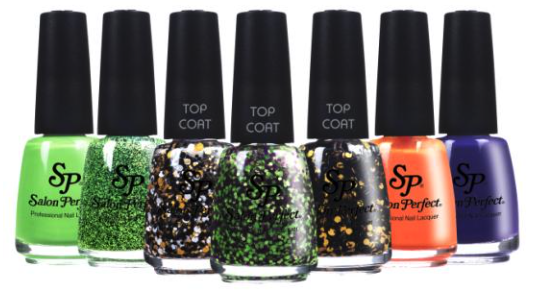 The Salon Perfect® Bat Your Lashes collection features four limited edition glitters– Witches' Brew, Spider Legs, Trick- or-Treat and Wicked – plus three nail lacquers Loopy Lime, A Royal Affair and Traffic Cone; five limited edition Temporary Color Hair Sprays: Magenta, Soft Rose, Violet, Soft Mint and Aqua; and various Salon Perfect® lashes, adhesives and lash kits.
The collection will launch in October as part of a limited edition promotional display at Walmart stores nationwide. Nail lacquer retails for $3.98 each, temporary hair color sprays retail for $2.98 and lashes, adhesives and lash kit retail prices vary from $2.98-$4.98
From lashes and brow products, to nail color and beauty tools, Salon Perfect® has the products needed to look effortlessly beautiful at an affordable price. View the complete Salon Perfect® collection at www.SalonPerfect.com.
If you enjoyed this post, please Sign Up for email updates and you will have the latest news, reviews, nail art, and tutorials delivered right to your inbox! Never miss a post from Adventures In Acetone again. Thank you so much for reading.
– Let's paint something amazing! –