Previous Press Sample
Good morning! I have a simple dry brush nail art mani to share with you today using some of the OPI Infinite Shine Summer 2015 Collection polishes from yesterday's post. If you aren't familiar with the term, dry brushing is simply wiping pretty much all of the polish off of the brush before swiping it onto the nail. I chose to swipe side to side and cuticle to tip, overlapping a few different colors. Adding Girly Bits Polish Matte'rs matte top coat gives this a fabric feel, doesn't it?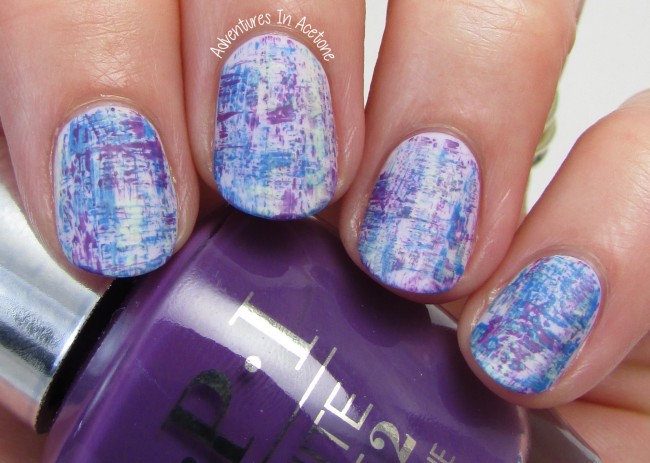 My base is three coats of OPI Lavendurable.
Once dry, I used the dry brush technique and applied OPI Purpletual Emotion, OPI Wild Blue Yonder, and OPI S-ageless Beauty.
Girly Bits Polish Matte'rs was used as the top coat.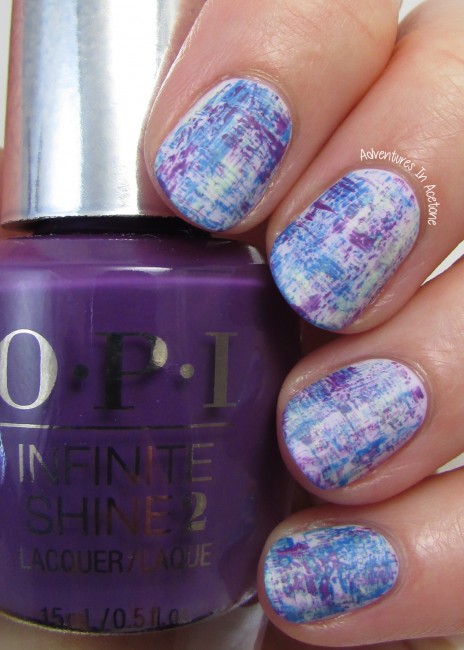 What are your thoughts on this? Have you used this technique before? The combinations are endless, and you can always go back and swipe a color again if it was covered up too much by the top layers. I did this on my index finger with the darker purple. I love love love that I don't have to add a shiny top coat before adding Girly Bits Polish Matte'rs matte top coat. This is the only matte top coat I've ever used that hasn't smeared my nail art. AMAZING. I highly recommend it.
*The OPI polishes in this post were previously reviewed with my honest opinion.
If you enjoyed this post, please Sign Up for email updates and you will have the latest news, reviews, nail art, and tutorials delivered right to your inbox! Never miss a post from Adventures In Acetone again. Thank you so much for reading.
– Let's paint something amazing! –