Press Sample
Good afternoon, readers! I recently received the new Zoya Focus and Flair Collections for Fall 2015 and I can't wait to show you full swatches. In the meantime, I used some of them to make these double stamping butterfly decals on my ÜberChic Über Mat. The Zoya Flair Collection was perfect for filling in the butterfly shapes, and Zoya Janel from the Zoya Focus Collection worked well as a base for the decals.
For this look, I've done another quick step by step collage :
I began with one coat of Qtica Extending Top Coat applied to the nail shapes on the Über Mat and letting dry.
Next, I stamped the butterfly image from ÜberChic Plate 3-01 using Pure Ice Silver Star onto the top coated sections on the Mat.
I then used all of the Zoya Flair Collection polishes (Estelle, Giada, Ember, Tris, Cinnamon, and Aggie) and a nail art detail brush to fill in the butterflies.
Once those were dry, I used China Glaze Passion and stamped the swirly line design from the same ÜberChic Plate 3-01 over the entire nail shape.
While the decals were drying, I painted two coats of Zoya Janel on all of my nails and topped them with KBShimmer Clearly On Top to seal in and also speed up the drying process.
Once they were dry, I used an orange stick to carefully pry the decals off of the Mat and flipped them over to see the finished design.
I painted Girly Bits Border Patrol latex barrier around my nails to help with cleanup on the next steps.
Next, I painted a thin coat of Qtica Extending Top Coat on the nail and pressed a decal onto it.
A cleanup brush dipped in acetone was then used to swipe the excess off of the tips and also separate the part of the decal on the cuticle from the decal on the nail.
I easily peeled the Border Patrol off of my skin, taking the excess decal with it.
One coat of Girly Bits What A Rush quick drying top coat was used to seal the decal onto the nail and add back shine.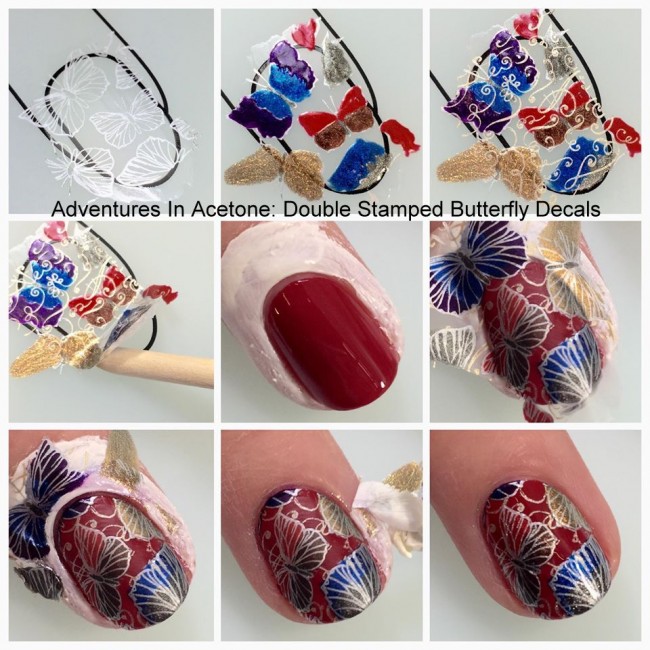 What are your thoughts on this look? I'm not yet convinced that I'm ready for fall colors but I do like how the mani turned out. The Zoya Focus and Flair Collections are available now at Zoya.com for $9.00 each. I am hoping to have my swatches up this weekend so check back then!
Also, don't forget that the ÜberChic Über Mats are still out of stock, but they should be restocking on August 28th at both http://uberchicbeauty.com and http://www.girlybitscosmetics.com.
If you enjoyed this post, please Sign Up for email updates and you will have the latest news, reviews, nail art, and tutorials delivered right to your inbox! Never miss a post from Adventures In Acetone again. Thank you so much for reading.
– Let's paint something amazing! –