Good afternoon! I have my second mani for Neon Week with The Digit-al Dozen to show you today! This week, I feel like I am being drawn to recreate some of my older manis using neon colors. That's what I did for today! One of my favorite, and popular, old manis was the Swirl Nail Art With OPI Nordic Collection.  So I've recreated it with some of the China Glaze Electric Nights Collection and I love it EVEN MORE! I don't know about you, but this totally screams Willy Wonka or maybe Candy Land to me. The alternating dots around the swirls made this so fun. Let's take a look.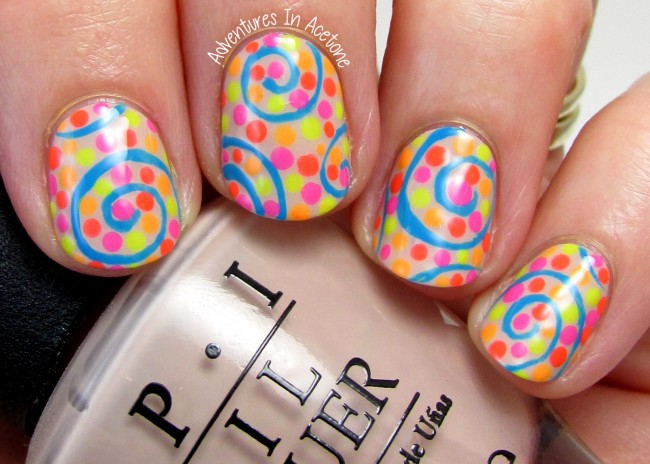 To begin, I painted two coats of OPI Do You Take Lei Away? on all of my nails and let dry.I LOVE this nude, I think it works really well with my skin tone.
Next, I used a Pure Color No. 9 striper brush and China Glaze DJ Blue My Mind to create swirls randomly on the nails. I like to start with the center of the swirl and go outward, making sure to keep enough space between layers that a dotting tool would fit.
I grabbed a small dotting tool and alternated dots around the swirls with China Glaze Glow With the Flow, China Glaze Red-y To Rave, China Glaze Home Sweet House Music, and China Glaze Daisy Know My Name?
KBShimmer Clearly on Top was used as top coat.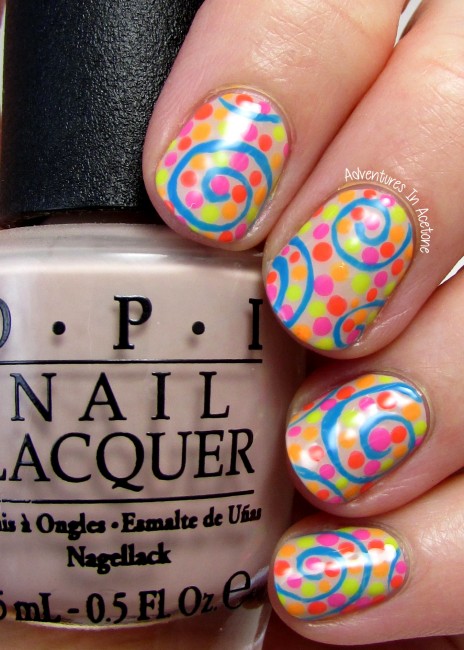 What are your thoughts on this neon mani? Whimsical, right? Come back tomorrow for the next Neon Week mani, and don't forget to check out what the other Digit-al Dozen ladies have for their Day 2 nails below!
Loading InLinkz ...
If you enjoyed this post, please Sign Up for email updates and you will have the latest news, reviews, nail art, and tutorials delivered right to your inbox! Never miss a post from Adventures In Acetone again. Thank you so much for reading.
– Let's paint something amazing! –