Good afternoon, readers! After swatching the OPI Hawaii Collection a couple of months back, I had a few that looked like they may be close to others in my collection. I forgot that I had some comparisons done and waiting to be shared with you. Better late than never? Today's post is a comparison of three similar shades: OPI Aloha From OPI (from OPI Hawaii Collection), OPI Live.Love.Carnaval (from OPI Brazil Collection), and Nicole by OPI The Coral of the Story (from Nicole by OPI Seize the Summer Collection). Let's see how they compare below!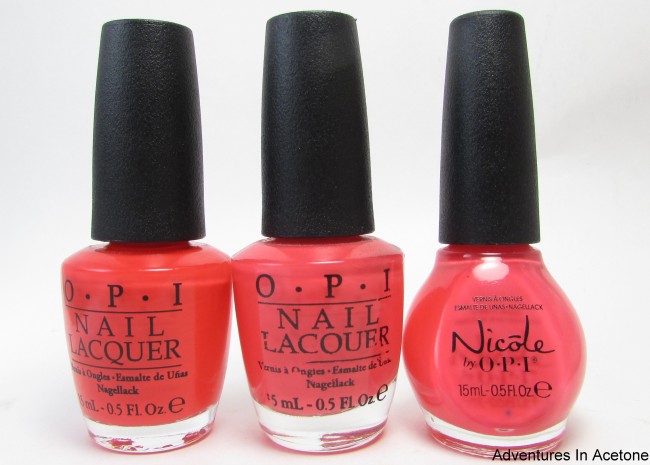 Aside from being similar in color, these three applied very similarly as well. None had application issues and all are 2 coats on the nail wheel below.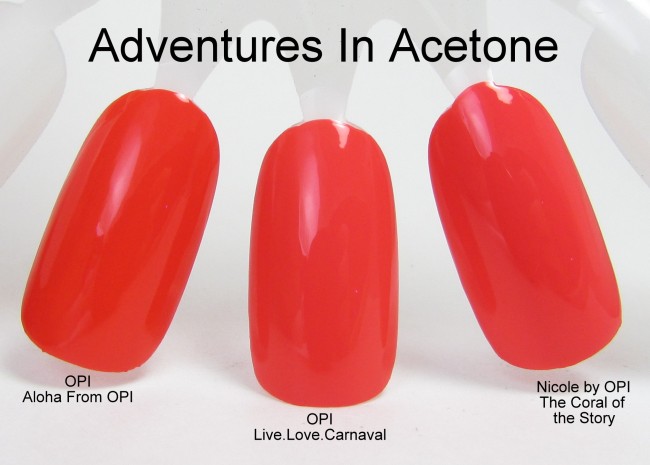 Aloha From OPI is brighter, bolder, and slightly more red. The other two seem to be close enough that I can't tell much of a difference. Can you?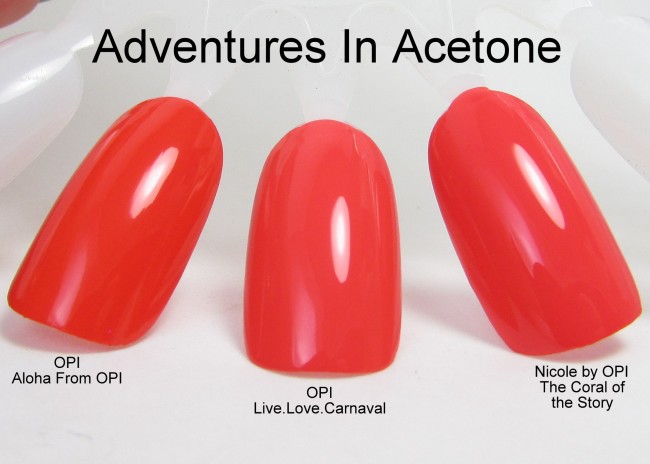 What would you choose if you could only buy one? Or do you already have one or more of these? Do you have a favorite? Thanks so much for reading, I hope this was helpful! Do you have any other comparison requests? I will do my best to compare anything you need if I have the polishes still in my collection. Please comment below and let me know!
If you enjoyed this post, please Sign Up for email updates and you will have the latest news, reviews, nail art, and tutorials delivered right to your inbox! Never miss a post from Adventures In Acetone again. Thank you so much for reading.
– Let's paint something amazing! –