Good morning, readers. This past weekend, we held a baby shower for my sister-in-law to celebrate my new nephew! I went with a bold and funky chevron dress–so of course I needed matching nails for the occasion! I chose to go with 2 patterned accent nails on each hand to match the dress, paired with a matching solid color on the other nails. I was concerned that it would be overkill if they were all the same pattern as the dress. I am really happy with how they turned out, let's take a look and keep reading for some bonus pictures of the dress at the end of this post.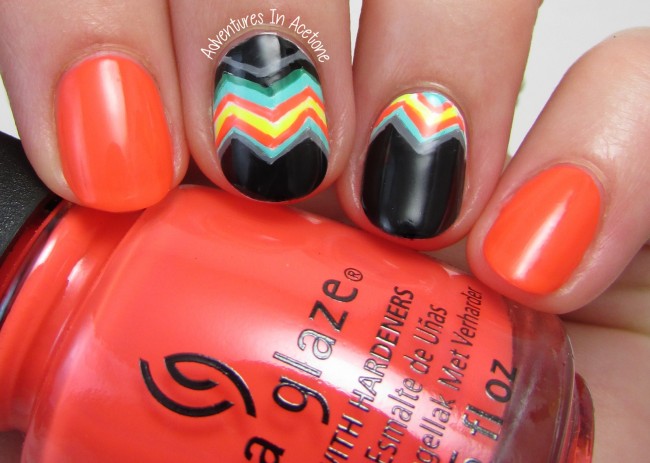 My thumbs, index fingers, and pinkies had 2 coats of China Glaze Red-y to Rave from the Electric Nights Collection. This is one of my favorites from that collection and I was thrilled to see it was a perfect match for the dress!
For my middle and ring fingers, I started out with a coat of Rica Whiteout as a simple base for the chevrons.
I used a striper nail art brush and painted the chevrons freehanded. I think I love the placement of the chevron as a half moon the most–I can see myself using chevrons as a half moon in the future!
The chevron stripes were painted with the following colors: China Glaze Red-y to Rave, China Glaze Daisy Know My Name?, China Glaze To Yacht to Handle, OPI Jade is the New Black, OPI Embrace the Gray, and OPI Black Onyx.
Once I was happy with the chevron coverage, I painted OPI Black Onyx on the rest of the white to better match the dress.
KBShimmer Clearly on Top was used to seal everything in.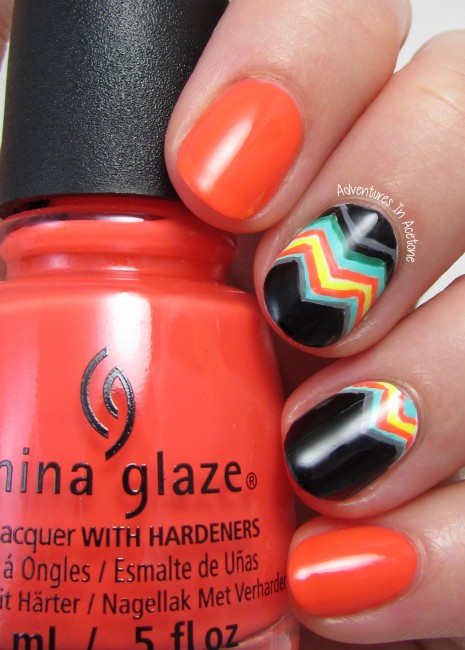 Here are a couple of bonus pictures of the matching dress at the shower!
First, a close up of the manicure on the dress.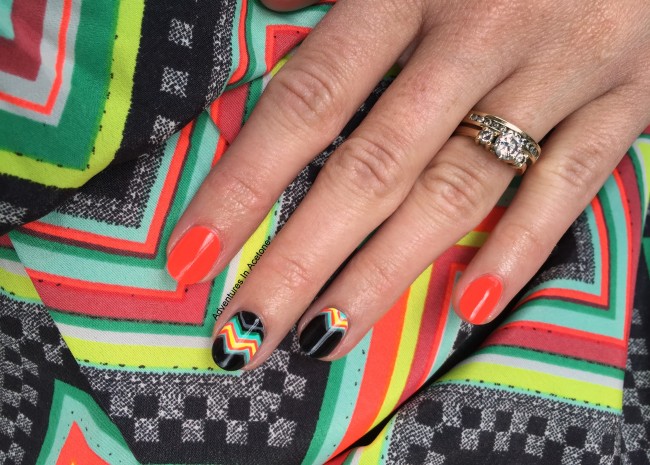 And a group photo of the girls in my family! Talk about crazy print dresses!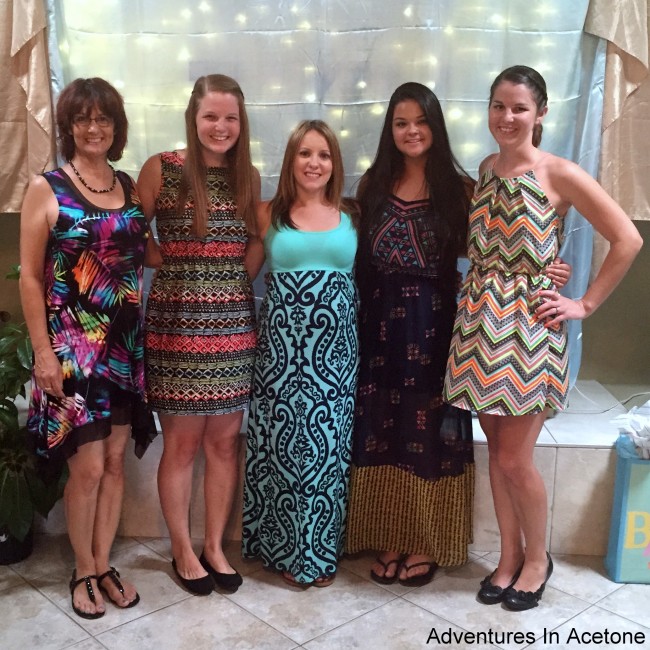 Right to left: My mom (Jill), younger sister (Caitlin), sister-in-law (Ashley), youngest sister (Chloe), and me (Jacki).
What do you think of this mani? Are you a fan of chevrons? I hardly ever freehand chevrons–I am a big fan of the chevron nail vinyls–but I am really happy with how these turned out! Thank you so much for reading!
If you enjoyed this post, please Sign Up for email updates and you will have the latest news, reviews, nail art, and tutorials delivered right to your inbox! Never miss a post from Adventures In Acetone again. Thank you so much for reading.
– Let's paint something amazing! –