Press Sample
Good morning, readers! I have a fun and really easy nail art look to share with you today. Have you tried water slide decals before? I was skeptical at first, but they have really grown on me. Especially the very detailed designs like these that would take quite a long time to recreate with freehand nail art. It's summer break from school, so that means I have a lot less time for nail art with both kids running around. That's where these water slide decals come in handy! Paired with two coordinating polishes, it's an instant nail art mani and took a lot less time to do.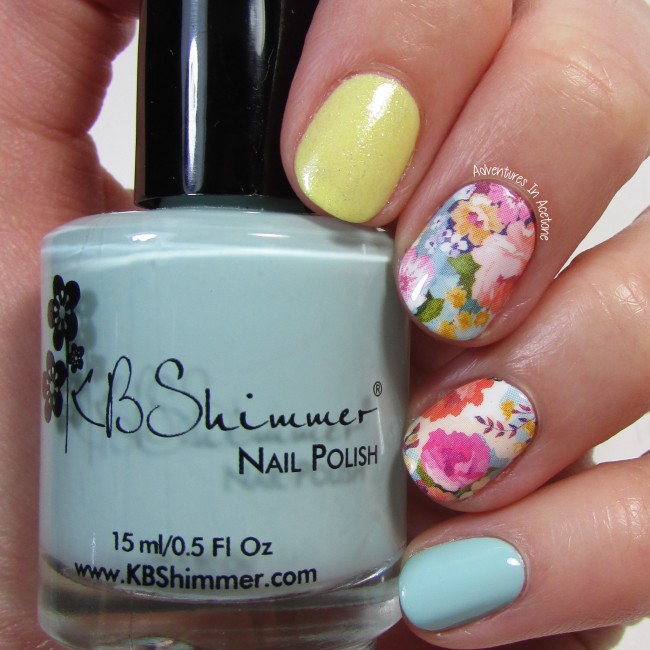 For my index fingers, I painted KBShimmer Mai Tai One On.
For my pinkies and thumbs, I painted KBShimmer Playing With The Buoys.
My middle and ring fingers first got a coat of white creme as a base for the water slide decals.
While they were drying, I cut out 4 decals from the sheet and rounded the cuticle line sides for an easy fit.
Then, I dropped them in a small cup of water and waited about 10 seconds before pulling the first decal out and sliding the white paper backing off.
One nail at a time, I slid a decal onto the white base until I liked the position and pressed it to fit the nail. I prefer to blow on the decal to help it dry as I press down any wrinkles on the edges.
Once it was staying in place on the nail due to the drying process, I used a cleanup brush dipped in acetone to wipe away any excess from the sides of the nails, tips, and cuticle line.
I then moved onto the other white nails, repeating the process, and letting dry for about 10 minutes before applying top coat.
I used KBShimmer Clearly On Top to gently seal in the decals. If the decals aren't completely dry, or if you use a thinner top coat, you can smear right through the design. So be careful.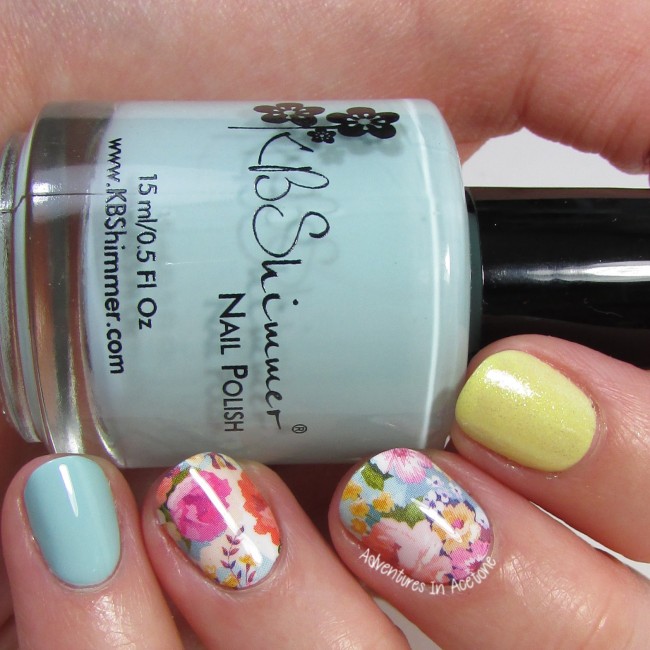 While wearing this floral mani yesterday, we took our boat out for a ride and I was pleasantly surprised to see that my nails coordinated fairly well with our boat cushions! Here is a quick iPhone picture I snapped.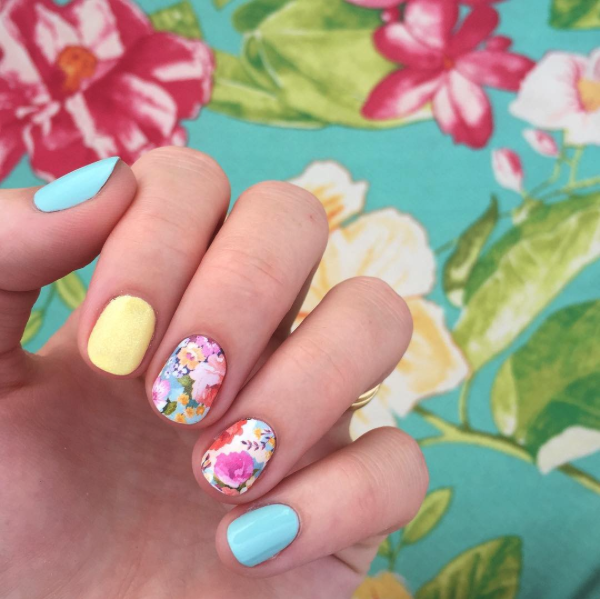 What do you think? What are your thoughts on water slide decals? I prefer to wear them as accent nails with matching nail polish because the sheets last longer that way! These Pastel Floral Water Slide Decals are available on KBShimmer.com now for only $2.95/sheet. The two new summer polishes I wore with the decals are also available now on the site.
The KBShimmer Summer 2016 Collection is available at the following shops now:
http://www.livelovepolish.com/collections/kbshimmer
http://www.harlowandco.org/collections/kbshimmer
www.amazon.com/shops/kbshimmer
*The polishes and water slide decals in this post were sent for me to review with my honest opinion.
If you enjoyed this post, please Sign Up for email updates and you will have the latest news, reviews, nail art, and tutorials delivered right to your inbox! Never miss a post from Adventures In Acetone again. Thank you so much for reading.
– Let's paint something amazing! –