Press Sample
Good afternoon, readers! It's the first of March, and that means I can finally share with you the gorgeous new Spring 2016 colors by KBShimmer. 14 new colors, split into two 7-piece collections: The Spring Collection and The Mega Flame Collection. Along with those new colors, KBShimmer has also released some new nail care products and water slide decals. These collections will be available on March 15th, so let's take a look!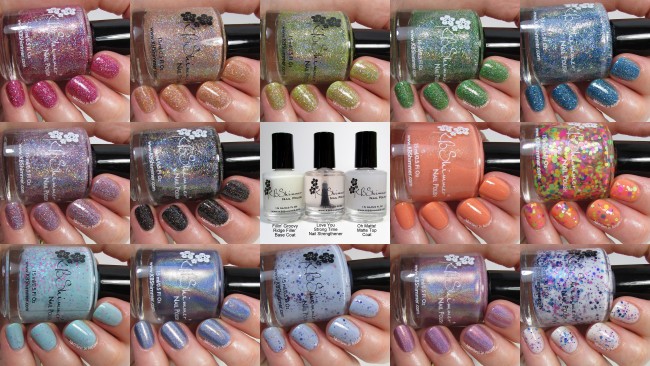 To begin, we will start with the Mega Flame Collection. The lineup features 7 new holo shades with micro holographic glitters in tinted bases. These mega holo shades offer full coverage in 2 coats and can be worn without a top coat for a fun, smooth textured finish, or worn with KBShimmer's quick-dry top coat, Clearly On Top for an ultra-holographic shine!

KBShimmer Ripe For the Pink-ing
A raspberry pink, this mega holo shade is the ideal berry color with blue undertones.
I'm showing two coats below with two coats of Clearly on Top top coat to smooth out the glitter texture.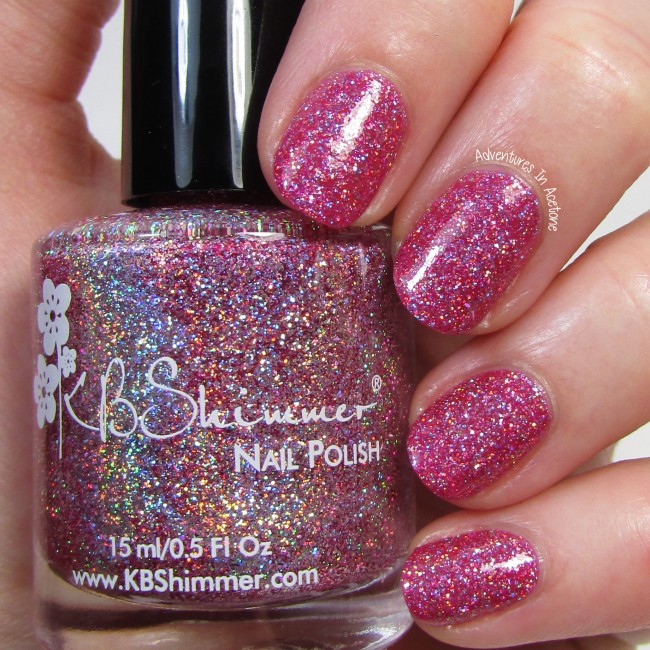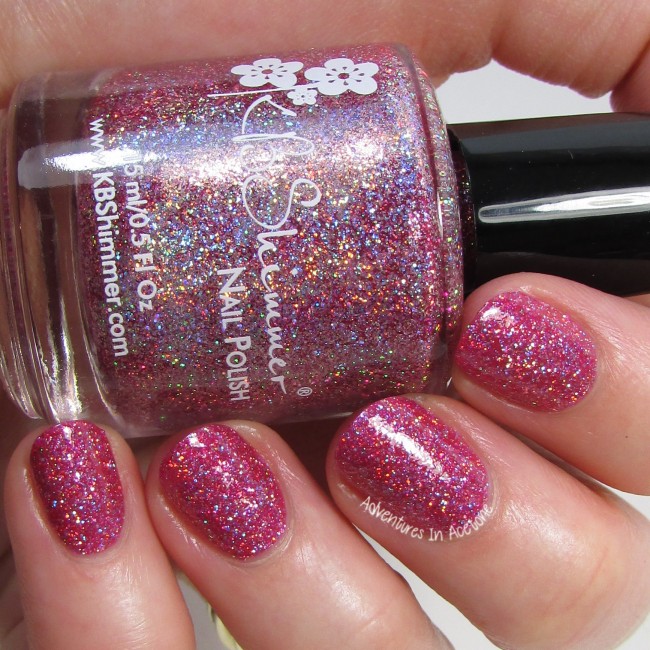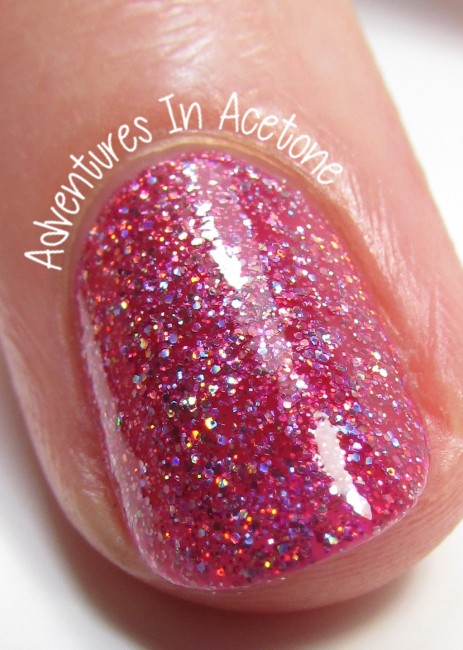 KBShimmer So Flamous
A copper leaning peach, this muted orange shade's strong holo flame will have you longing for Spring.
I'm showing two coats below with two coats of top coat.
This base color was more sheer than the pink, but the glitter is so sparkly that the VNL wasn't very noticeable in person.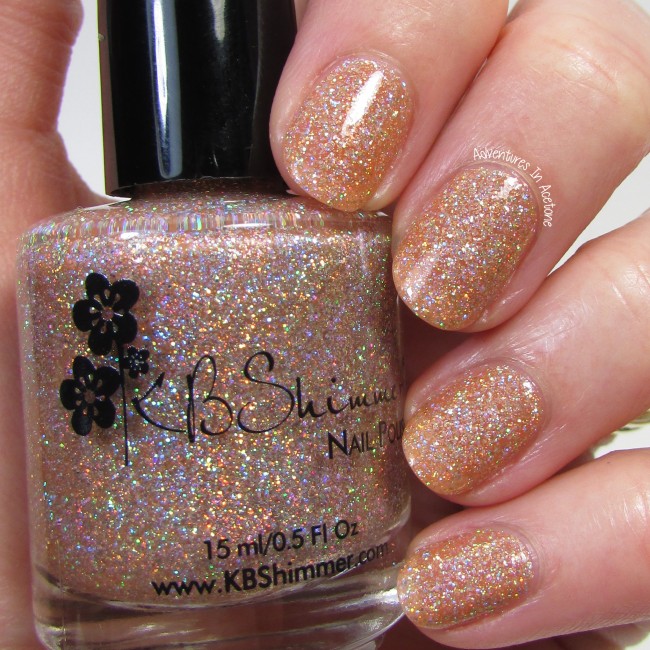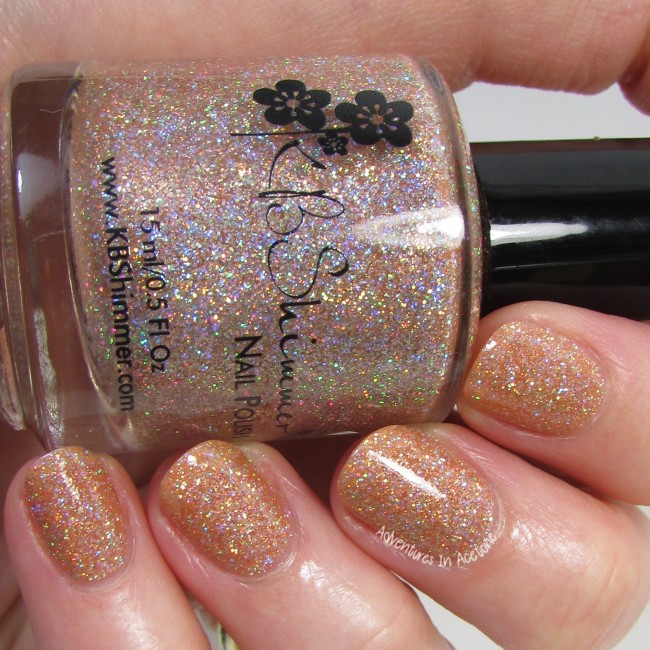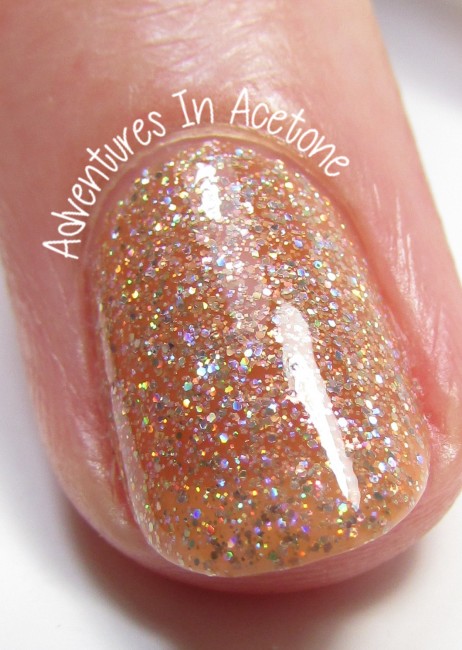 KBShimmer Stalk Market
This near celery green yellow is fresh and vibrant for spring.
I'm showing two coats below with two coats of top coat.
Again, the VNL is there but the sparkles overcome it.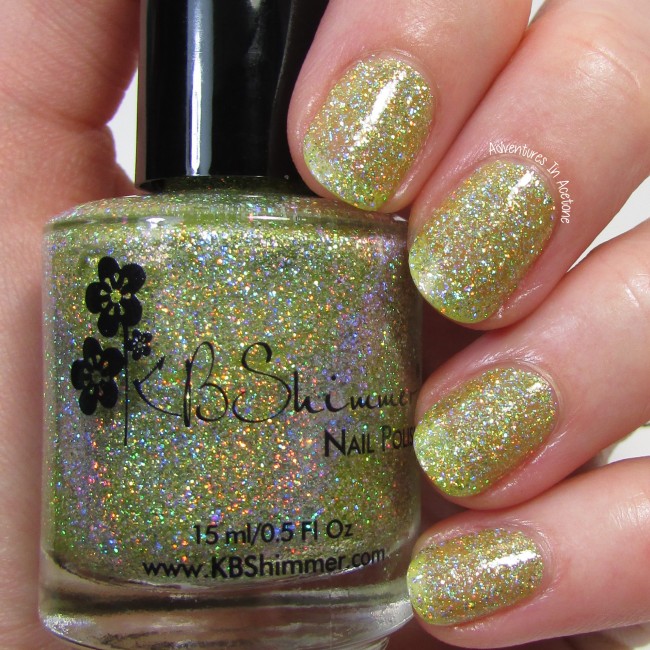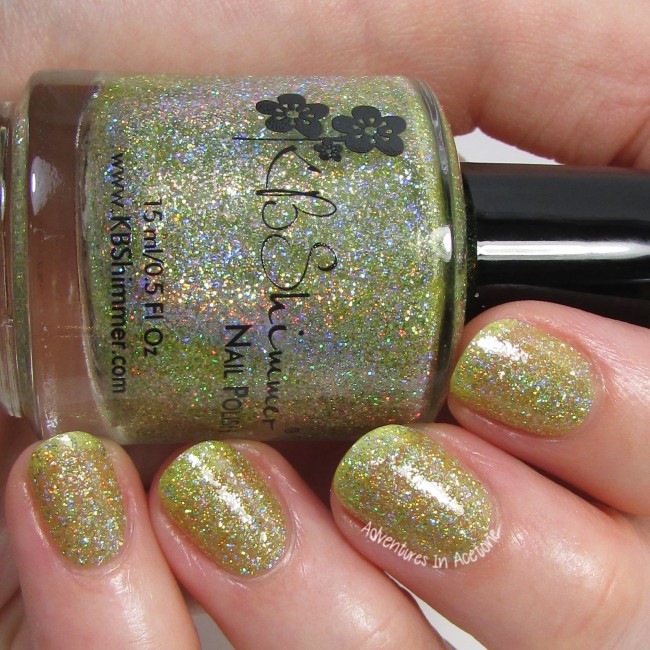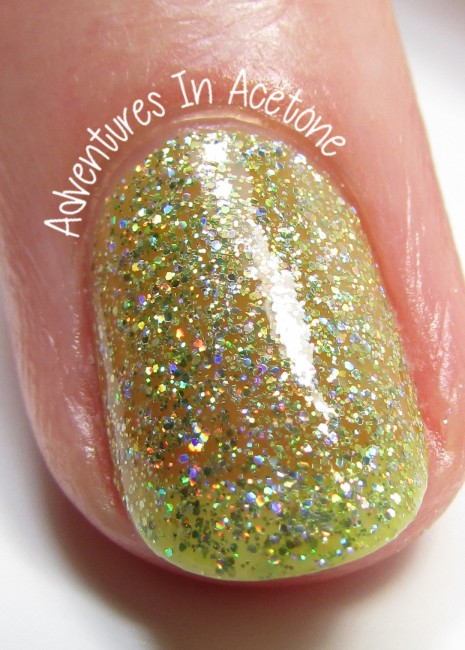 KBShimmer Smells Like Green Spirit
A twisted citrus green, this deep lime shade is a refreshing pop of color for warmer weather.
I'm showing two coats below with two coats of top coat.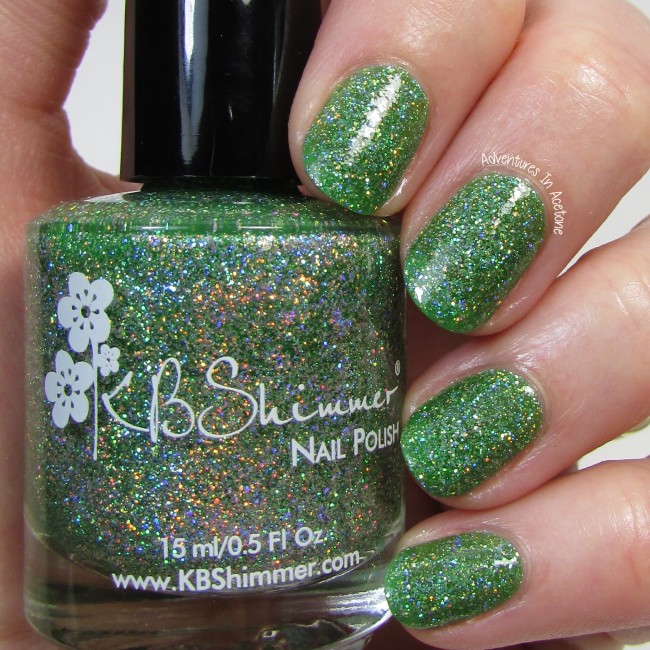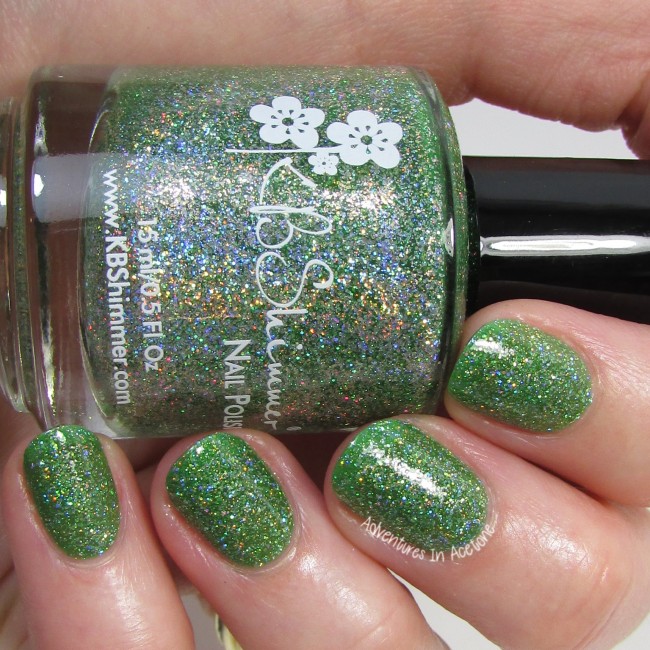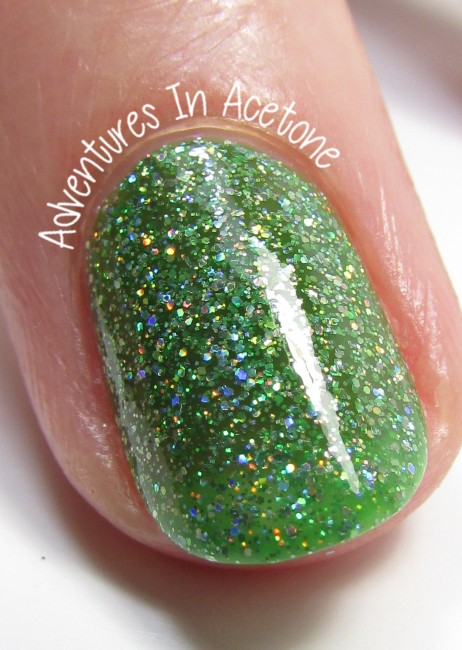 KBShimmer Set in Ocean
Crystal clear waters of the Caribbean inspired this sparkling deep aqua color.
I'm showing two coats below with two coats of top coat.
This base was more opaque than most.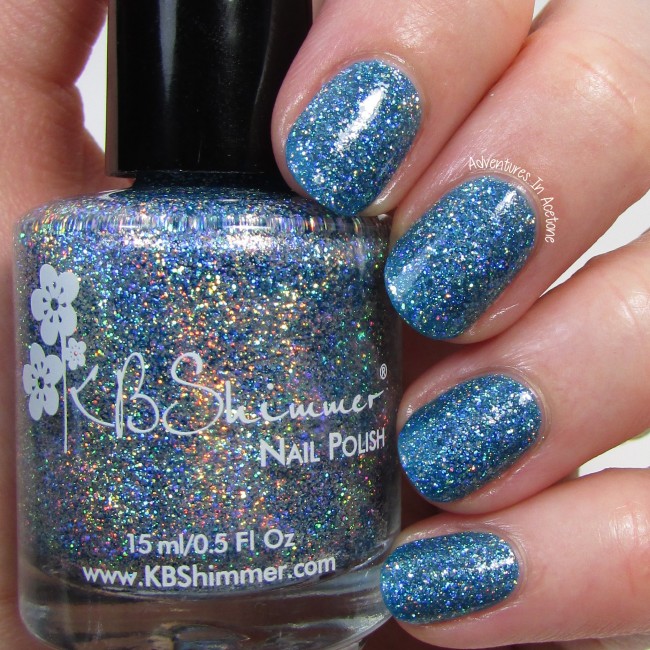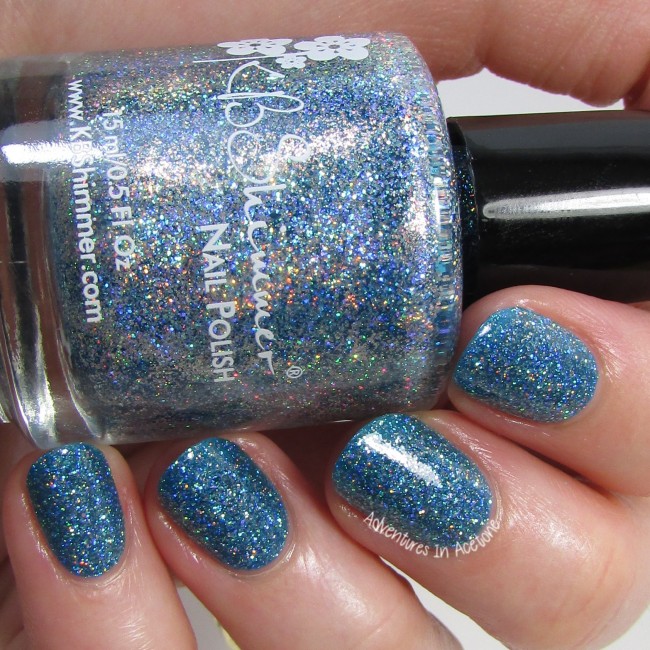 KBShimmer Things That Make You Go Bloom
A lilac purple, this pastel polish packs a punch of holo shine.
I'm showing two coats below with two coats of top coat.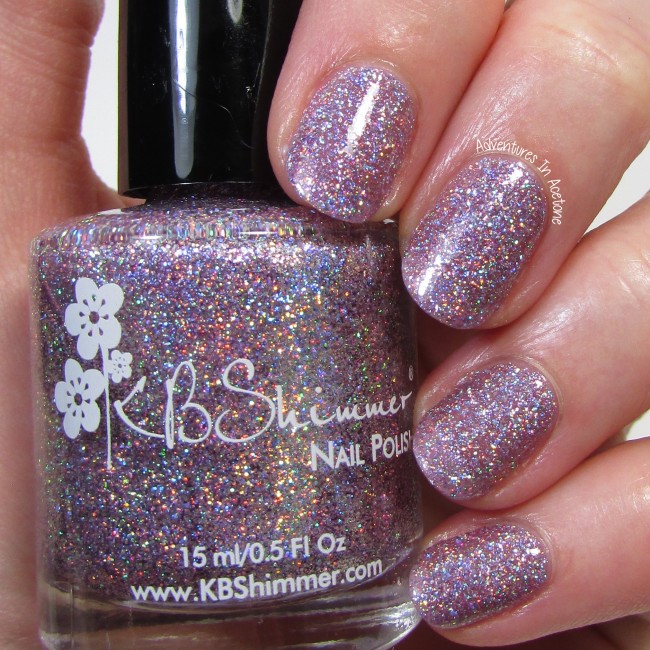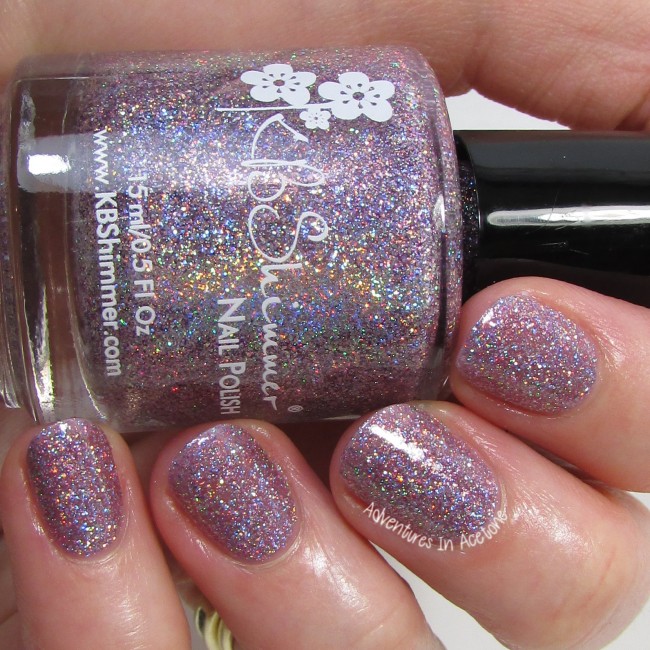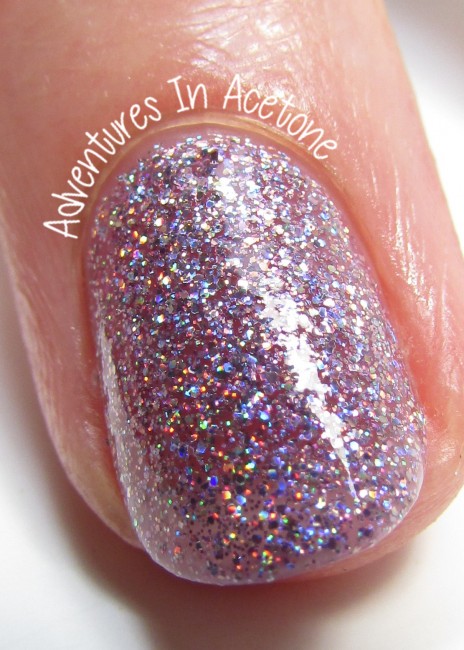 KBShimmer Night Bright
Like a clear country night, Night Bright sparkles like a billion stars in the sky. Only this night sky is best viewed in the light.
I'm showing two coats below with top coat.
How awesome is this black base with rainbow sparkles?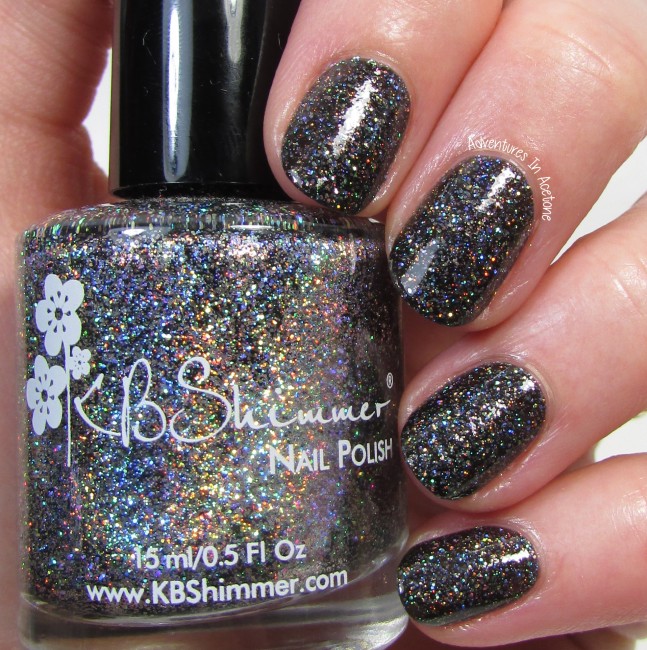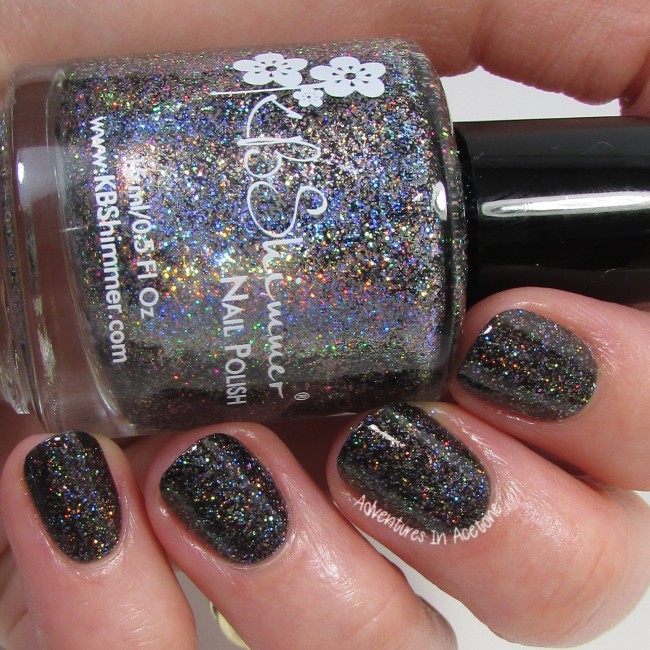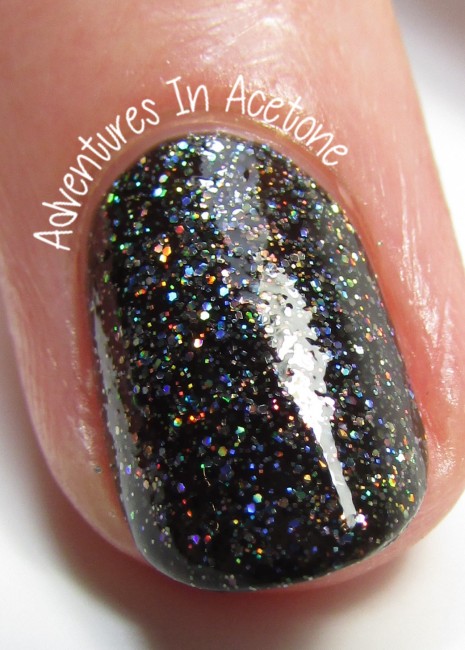 Now for the second half, the Spring 2016 Collection! A lineup that's sure to have you walkin' on sunshine… with a touch of 90's nostalgia! From eye-catching holographics to pastels and neon glitter toppers, there's something for everyone in this collection of happy, seasonally inspired polishes!
KBShimmer Prints Charming
Like an abstract painting, this white crelly polish has pops of colors in fuchsia, turquoise, and sapphire.
I'm showing three thin coats below with top coat.
There is slight visible nail line at three coats, but I love the delicate look of a white crelly and the added glitter colors are gorgeous.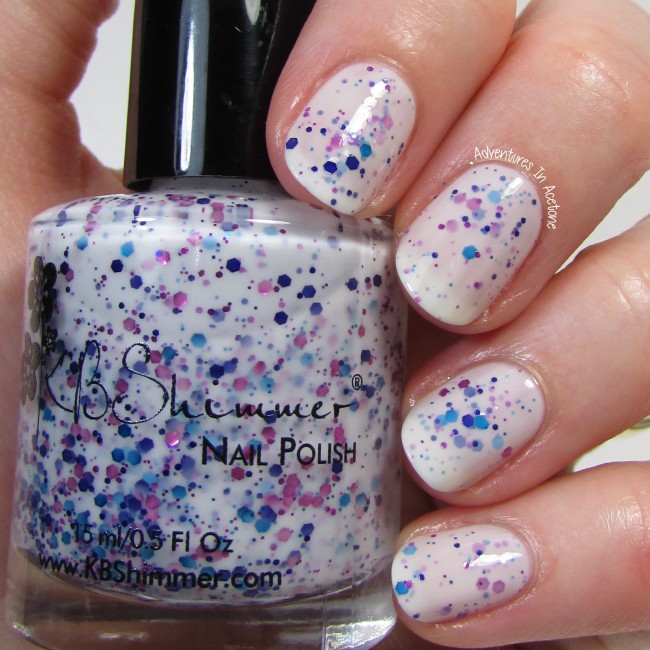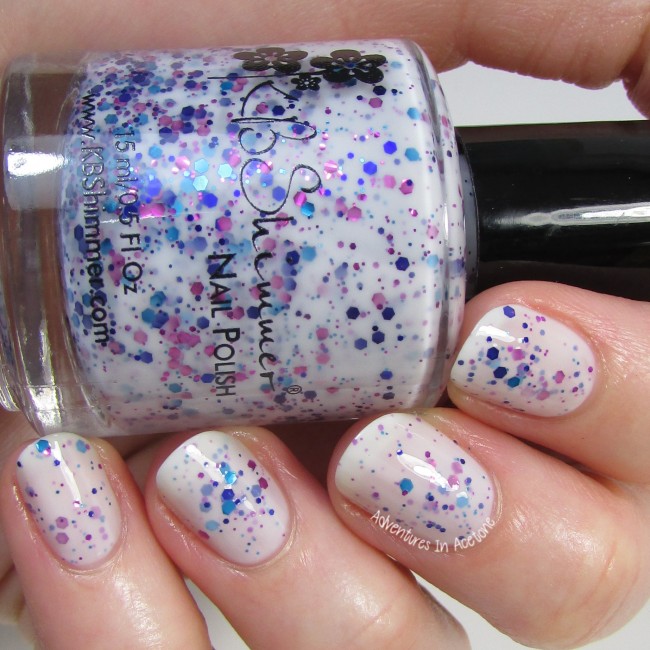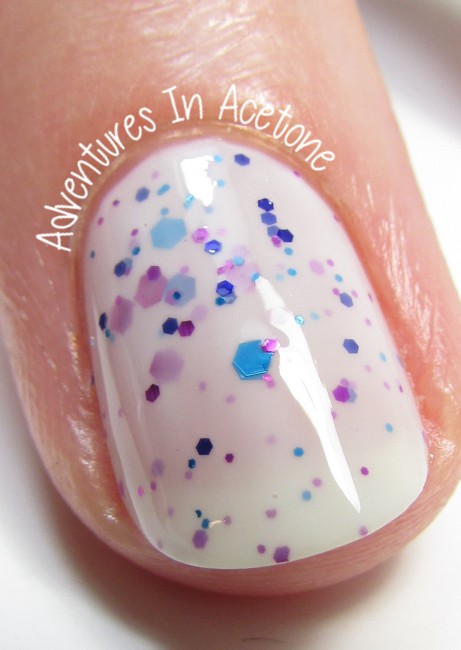 KBShimmer Hello Dahlia
A dusty peach shade, this shimmery orange crelly sparkles with micro holo dust and golden micro flakes. Based on the Pantone 2016 Spring/Summer shade Peach Echo.
I'm showing three coats below with top coat.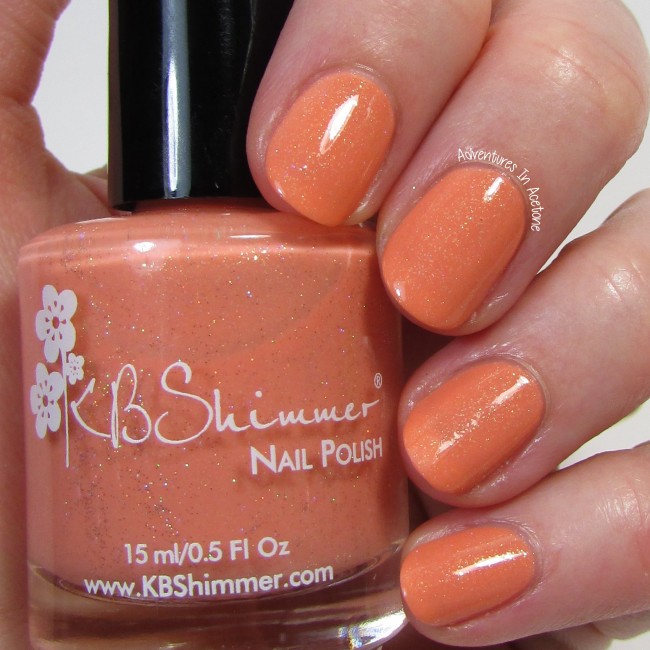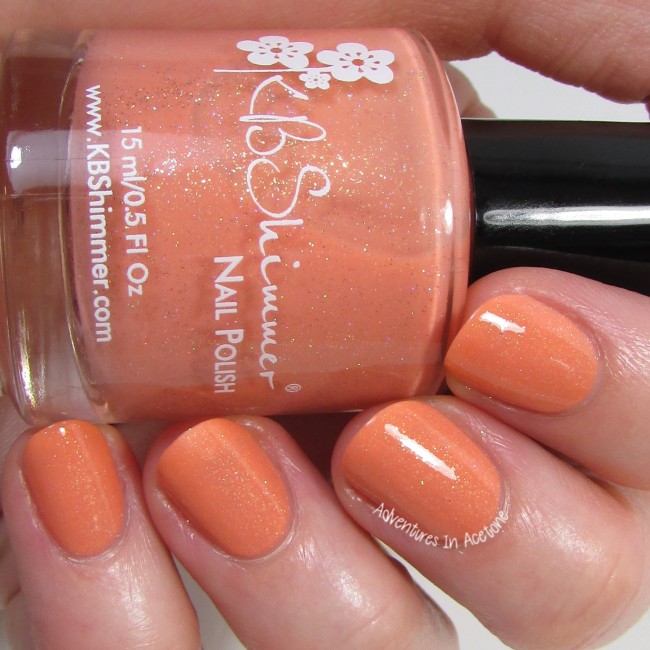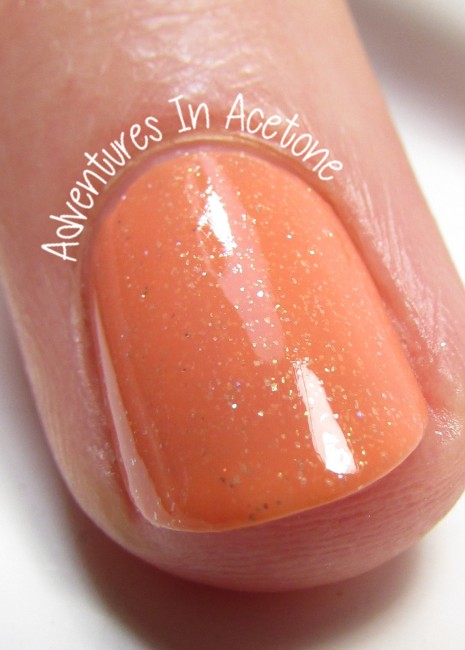 KBShimmer Upside Round
If you're a good 90's child, neon makes your heart flutter! This glitter top coat can add a punch of color to your nails with neon circle glitters in a rainbow of bright shades.
I'm showing two coats over Hello Dahlia below with top coat. I wish I had stopped at one coat, which was a good splattering of dots. Adding a second made them bunch up on top of eachother and it was overkill. So I'll be wearing one coat from now on.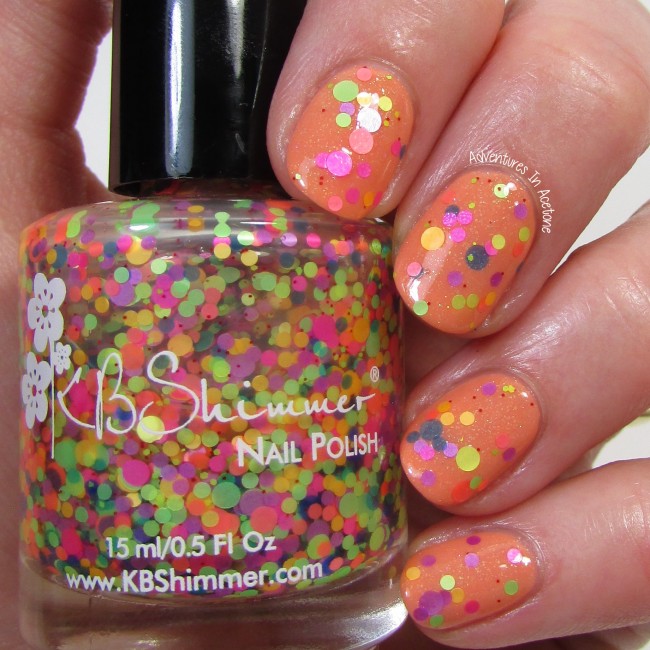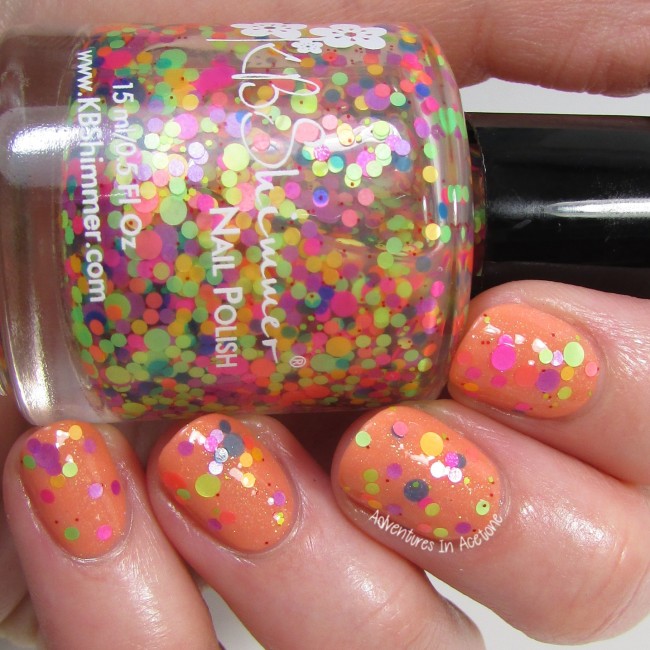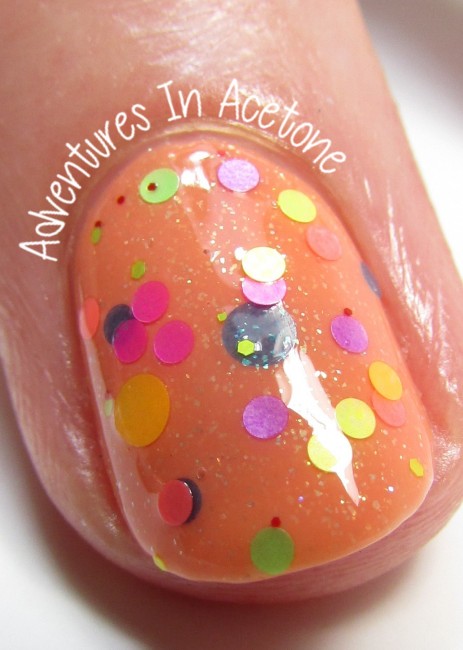 KBShimmer Pools Paradise
A lightened, green leaning aqua that offers pops of neon pink, periwinkle, and aqua glitters. Based on the Pantone 2016 Spring/Summer shade Serenity.
I'm showing three thin coats below with top coat.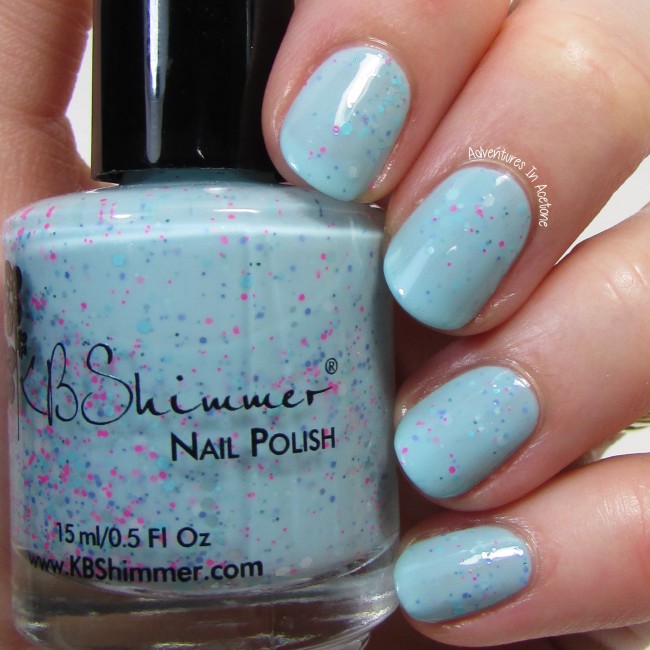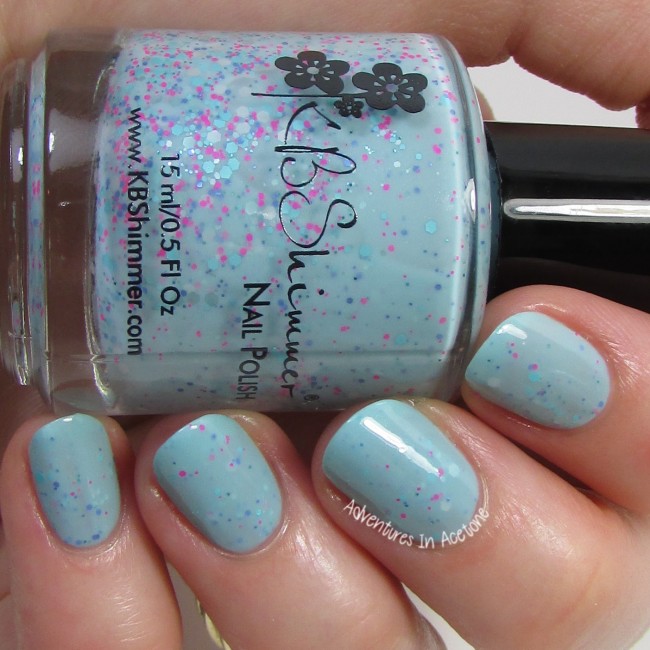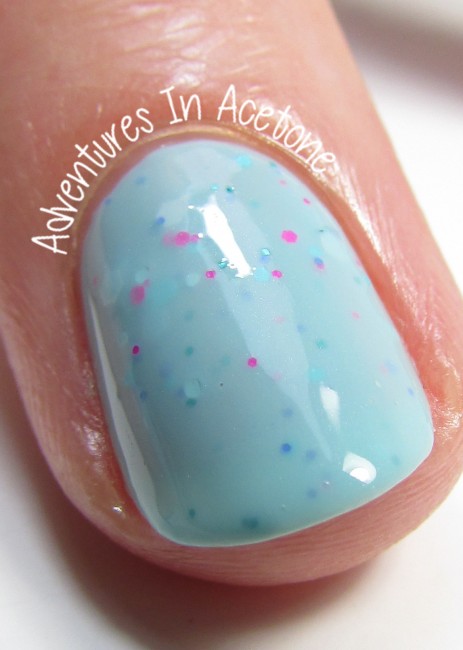 KBShimmer I Wet My Plants
This pastel periwinkle crelly features a garden full of colorful glitters in pink, sapphire, silver, and purple. Based on the Pantone Spring/Summer 2016 shade Serenity.
I'm showing three thin coats below with top coat.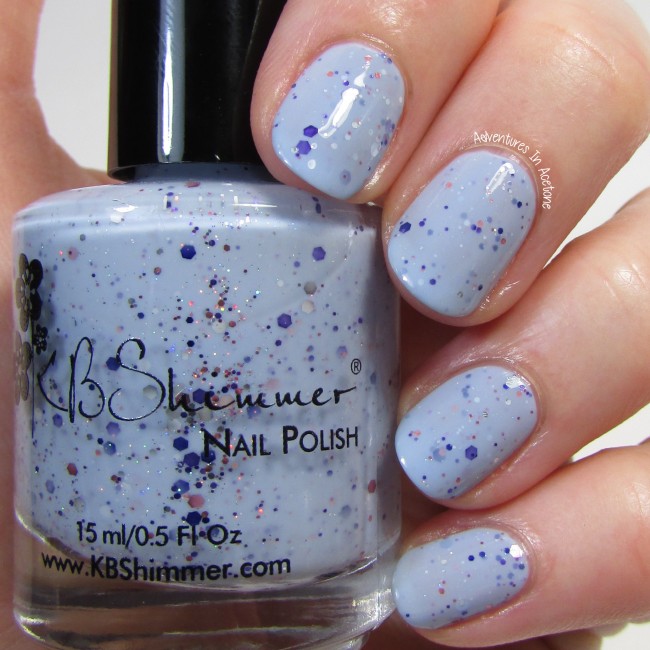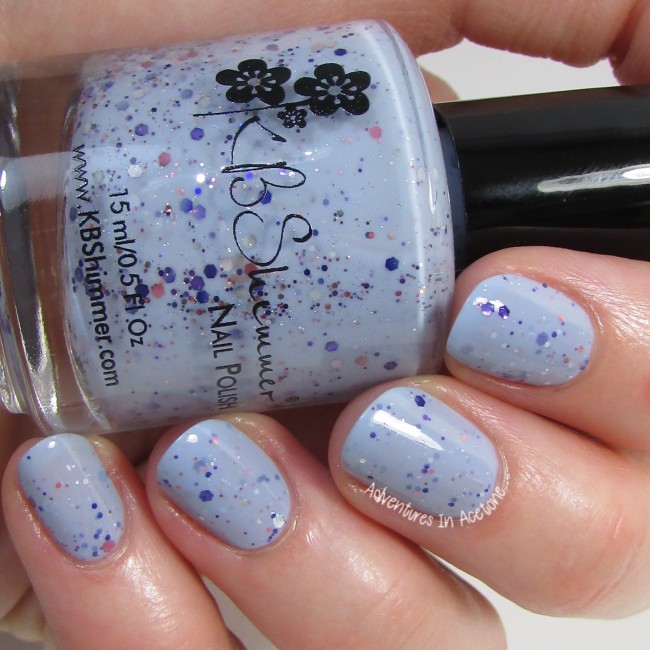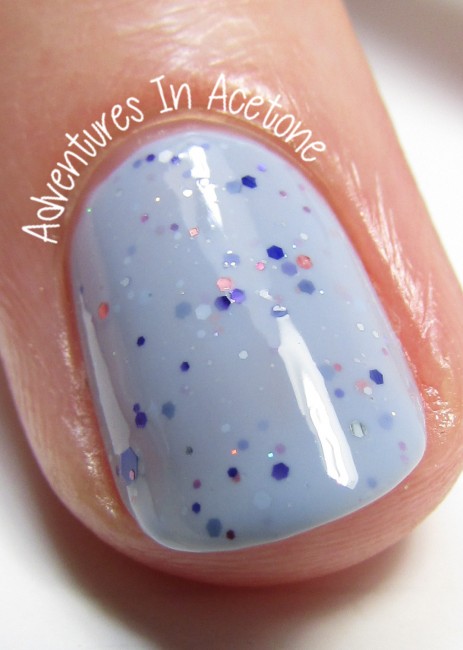 KBShimmer Purr-fectly Paw-some
A pastel moody blue linear holographic polish with steel grey and lavender undertones. A relaxing twist on a traditional periwinkle shade. Based on the Pantone 2016 Spring/Summer shade Serenity.
I'm showing two coats below with top coat.
This is a holographic polish and I recommend not manipulating too much once you get it onto the nail. It starts to dry and if you swipe back over it, you get pulling off of the nail and unevenness–you may see it on my index finger in the picture below.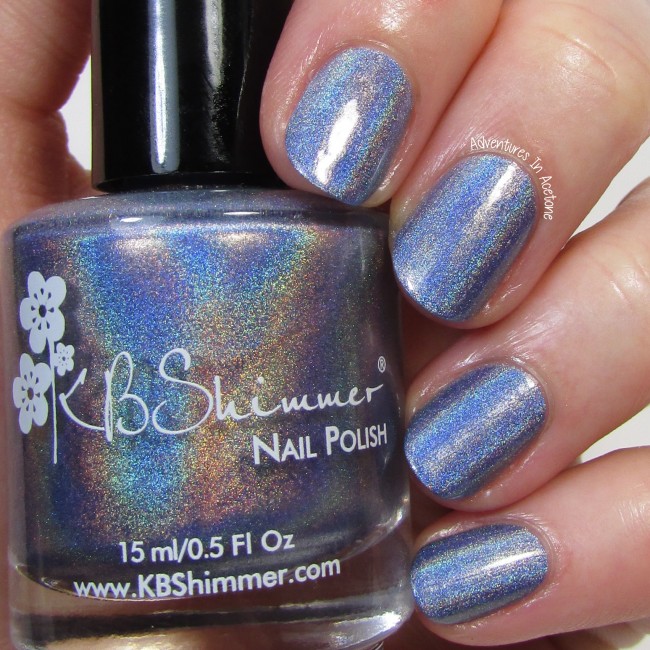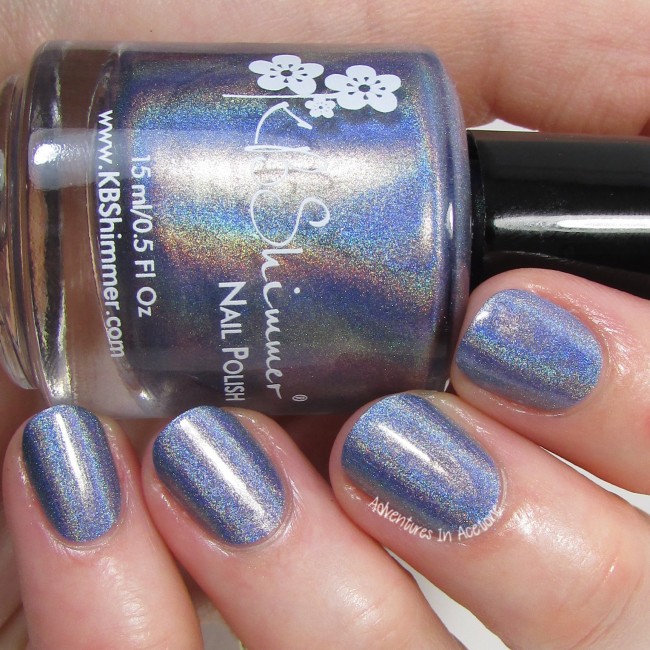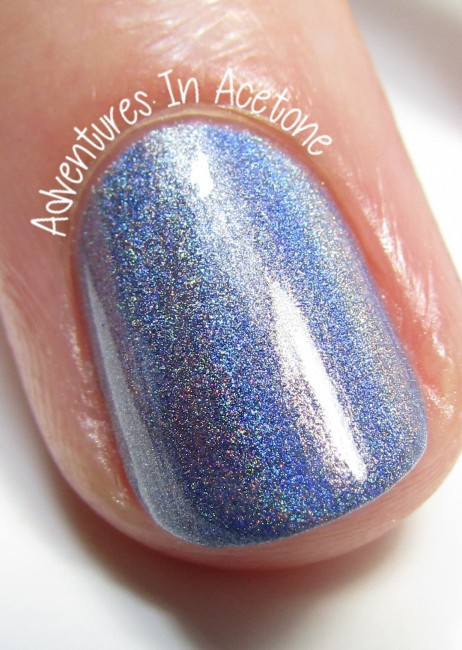 KBShimmer Peony Pincher
A pastel pink with lavender undertones, this floral linear holographic polish shines best in bright lights.
I'm showing two coats below with top coat.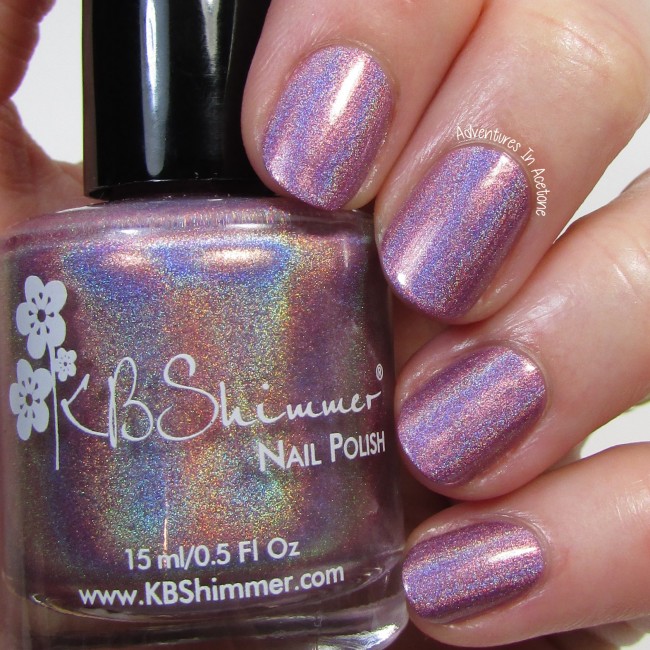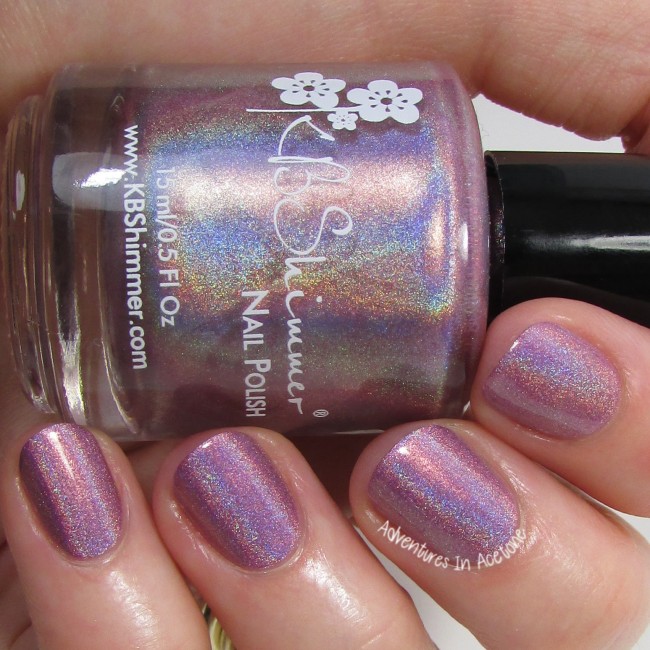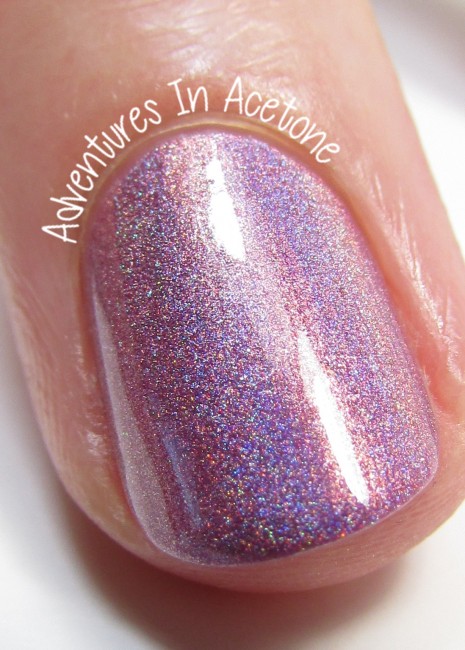 As I said in my intro, KBShimmer is also releasing new nail/hand care products and water slide decals. I will show you manis with the decals in future posts, but today I have some info on the other products.
The new nail care polishes adding to the KBShimmer line are: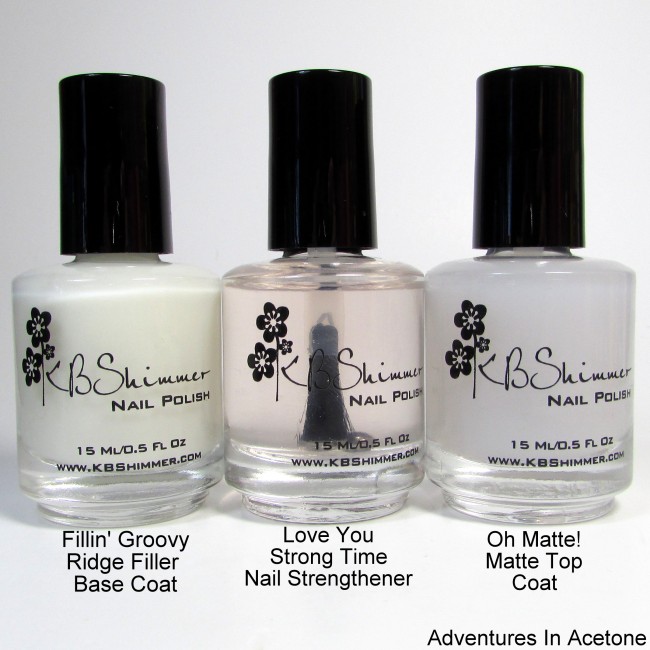 KBShimmer Fillin' Groovy (Ridge Filling Base Coat)
Fillin' Groovy is a base coat that acts like double sided sticky tape. It helps creates long lasting bond between the nail and polish while filling ridges for a smooth polish application.  It also helps prevent staining.
I've used Fillin' Groovy for all of the swatches above and am really happy with it so far! It is a thicker top coat but still dries quickly. I'm showing one coat below for my photos. The bottle looks white, but you can still see through one coat to my nail (and the staining, eek!) so don't worry about it being too opaque. Also, it dries kind of rubbery, so I'm hoping that's helping the polish stay on longer.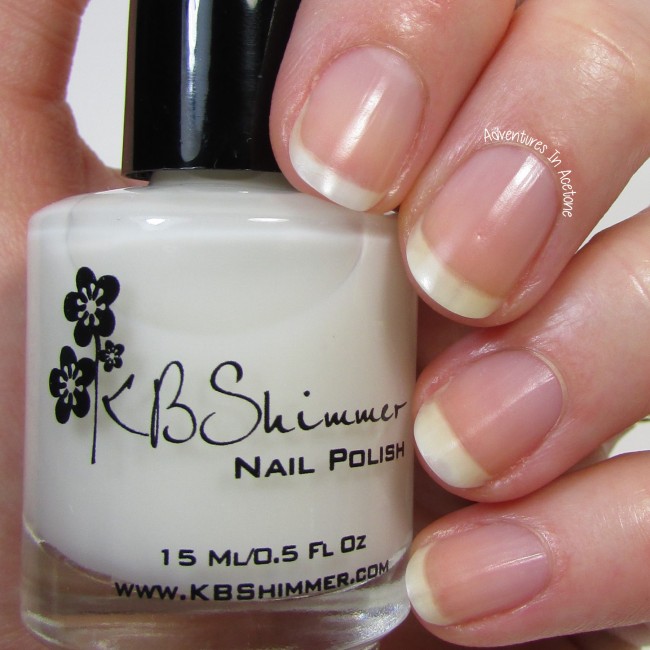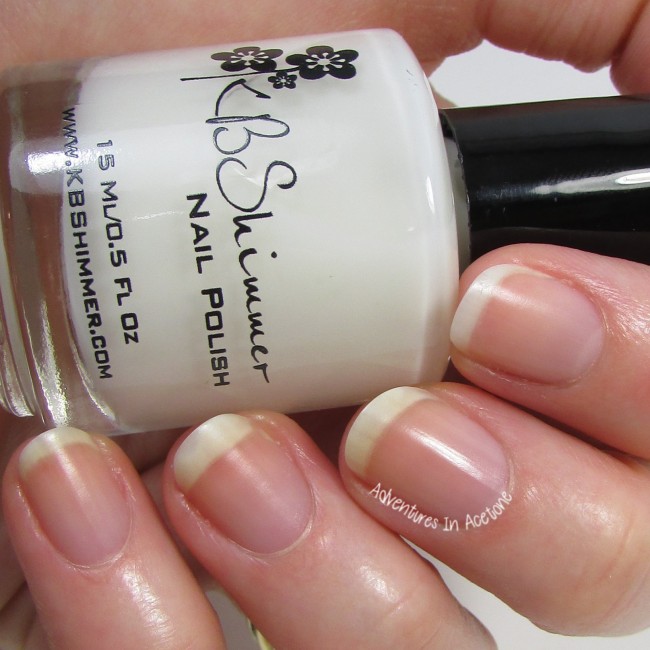 KBShimmer Love You Strong Time (Nail Strengthener)
This product contains calcium pantothenate and Vitamin A to help strengthen natural nails without the use of Formaldehyde. Weak, thin, splitting or peeling nails will benefit from the use of this product which is free from Toluene and DBP, as well as Formaldehyde.
I love nail strengtheners and am so excited to try this one! I've been wearing it alone on days I don't wear polish, as well as topped with a coat of Fillin' Groovy before colored polish. As you can see below, it has a shiny finish. The formula is very thin and dries quickly. I suppose you could wear it alone as a base coat before your colored polish, but I prefer to use a regular base coat over a strengthener mostly because I feel like strengtheners are soaking into the nails and it could possibly pull polish through to cause stains instead of creating a barrier against polish stains.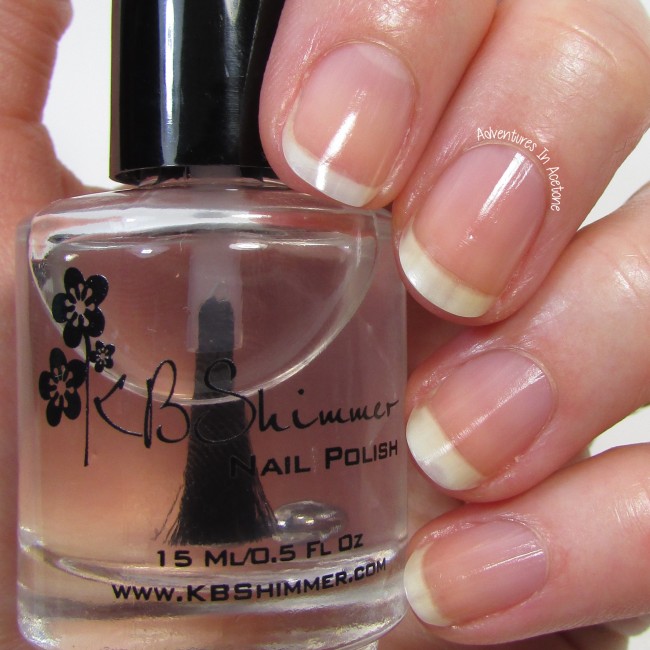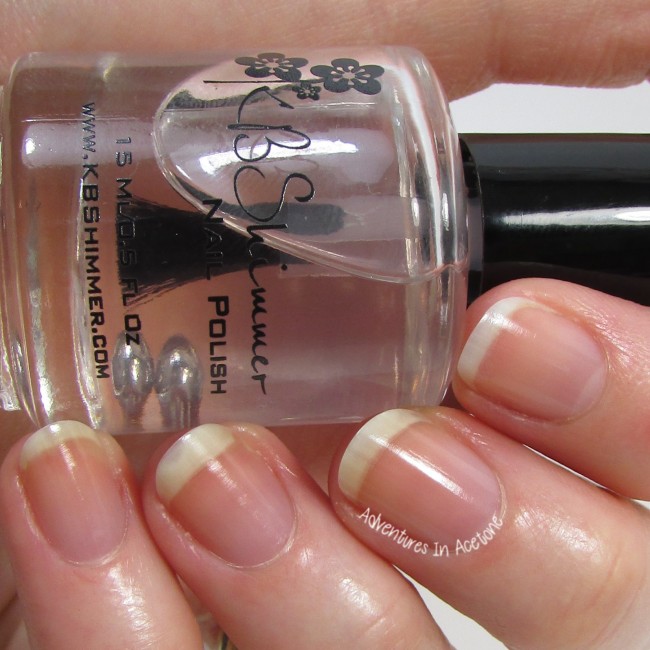 KBShimmer Oh Matte! (Matte top coat)
Apply this product over any nail polish color to create a matte finish!For best results, use over very dry polish, or a dry layer of quick dry top coat.  Apply a layer in as few strokes as possible, for a smooth, velvet look!  Avoid too think of coats to ensure the best matte look.
Oh my gosh. This is so awesomely matte that it makes my nail art-wearing heart happy. I love wearing matte top coats over nail art, they really let the details show without shine lines getting in the way. This is one of the best/most matte toppers I've used. I agree with the instructions I posted above, wear over dry polish or over a dry layer of quick dry top coat. I haven't tried it yet over nail art without that layer of shiny quick dry, but I would assume from the formula that it would streak through nail art. Try not to swipe in the same place over and over, because it dries really quickly and then you get an uneven look.
I'm showing one coat below over Ripe for the Pink-ing and then over Peony Pincher, two super holographic polishes and you can see that this mattifies them a LOT and prevents most of the holo to show, for completely different looks.
KBShimmer Mani Shots
I grabbed two of the new limited edition Mani Shots: Monkey Farts and April Showers. Mani Shots are so great for the health of your hands and nails. Loaded with cocoa and shea butter, jojoba oil and pure olive oil, just drop these into a bowl of warm water and let fizz for 30-60 seconds. Then, place your hands or feet into the water and soak for 10 minutes. I like to rub my hands around to distribute the oils and butter into the skin and nails. Dab dry with a towel.
Monkey Farts: If you can imagine the diet of monkeys, fresh banana and sweet, tart citrus fruits like grapefruit and mandarin orange.  Add in other tropical delights like kiwi and coconut cream, and finish with pink raspberries, strawberries and apples. Now imagine that blended into a tropical cocktail.  That is exactly what Monkey Farts smells like, a tropical treat!
This is definitely a super tropical scent, the banana being the strongest at first sniff. 
April Showers: A sweet, fresh scent that includes a blend of ozone and sweet flower house blooms.
This is a beautiful fresh and floral scent.
I am so excited about all of these fun new things from KBShimmer for Spring, aren't you? Which polishes are your favorites? The Spring Collections will be available on March 15th, while I am seeing the nail and hand care products on the site for purchase now! The nail care polishes are $6 each and the mani shots retail for $1.95 each.
KBShimmer's Spring 2016 Collection and Mega Flame Collection will retail for $8.75 each at 
KBShimmer.com
, Amazon.com and select salons & retailers. For sales outside the U.S., visit www.harlowandco.org.
*The products in this post were sent for me to review with my honest opinion.
If you enjoyed this post, please Sign Up for email updates and you will have the latest news, reviews, nail art, and tutorials delivered right to your inbox! Never miss a post from Adventures In Acetone again. Thank you so much for reading.
– Let's paint something amazing! –