Good morning, readers! I'm still playing catch up for Digit-al Dozen New & Improved Week. For Day 3, I've finally tried out the shattered glass nails trend we've been seeing for months! Although most of the manis I've seen are over black or dark bases to let the cellophane colors show, I was drawn more to the opal-inspired manis adding the cellophane pieces to lighter bases. This is not as easy as I expected it to be based on the videos I've seen, mostly the cutting of cellophane into TINY triangle shards. Maybe I shouldn't have used my regular craft scissors and some kind of small ones, but wow I found myself trying to cut pieces in half for them to fit on the nails. The little shards were sticking to my scissors with static as well. Ha! Let's take a look.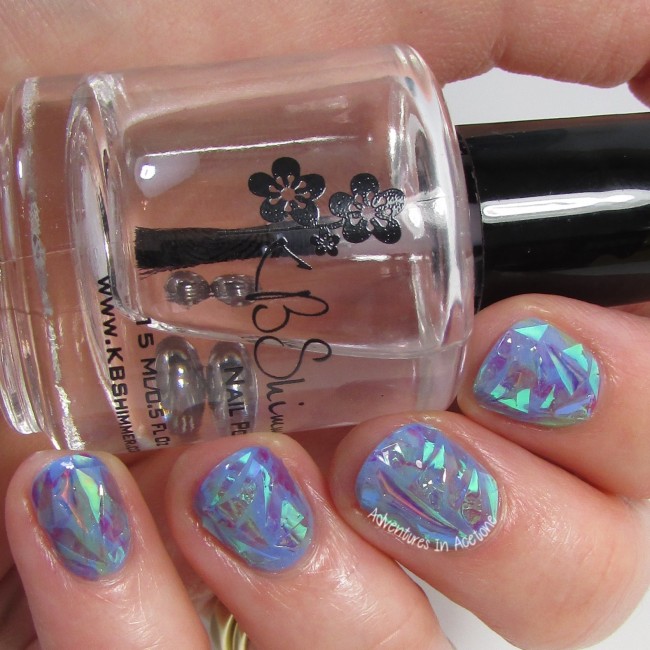 I began with a base of a light blue shimmer and let dry. (The polishes used in this mani are top secret from a future collection so I can't share the names just yet)
Once the base was dry, I used the dry brush technique to swipe random spots on the base with a lavender, coral, and yellow.
I cut up tons of tiny triangle "shards" out of a roll of iridescent cellophane from the party store.
I added a coat of top coat to the first nail and then started placing the shards onto the wet surface.
Once I was happy with the placement, I used my finger tip to gently press along the nail to encourage adhesion of the shards.
I used two coats of KBShimmer Clearly on Top top coat to seal in the shards.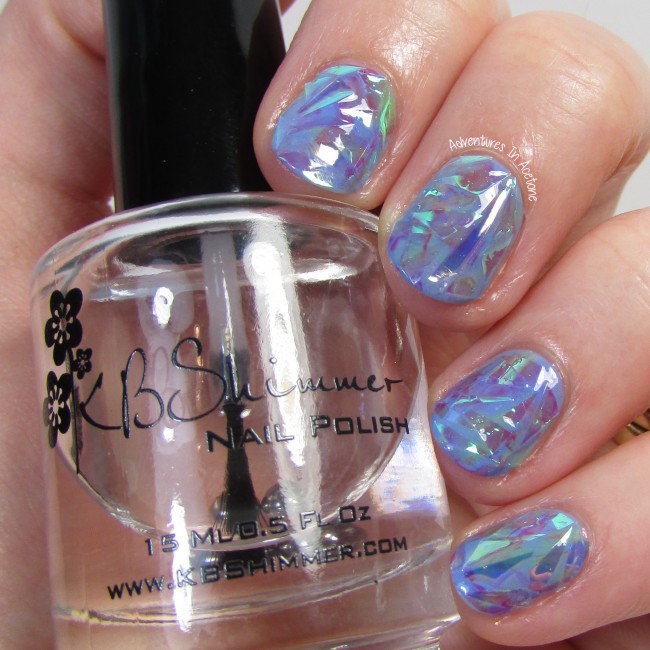 While I am happy with how these turned out,  there were still parts of the shards that wanted to poke through the top coat and I don't know how often I would be happy wearing a mani like this. Have you tried Shattered Glass nails yet? What was your experience?
Check out what the other Digit-al Dozen ladies did for Day 3 below:
Loading InLinkz ...
If you enjoyed this post, please Sign Up for email updates and you will have the latest news, reviews, nail art, and tutorials delivered right to your inbox! Never miss a post from Adventures In Acetone again. Thank you so much for reading.
– Let's paint something amazing! –