Press Sample
Good morning, readers! Are you in the mood to start Halloween nails yet? The Salon Perfect Bat Your Lashes Collection is an affordable set if you want to add some fun to your nails this season. I have shown you two nail art looks this past week featuring half of this collection and today I have full swatches for you. Salon Perfect is found at Walmart and these should be in a limited edition display this month. Let's take a look.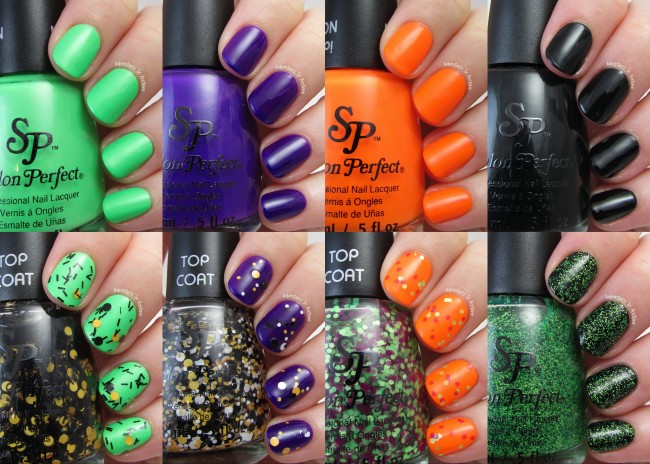 The green, purple, and orange all dry to a satin/matte finish. My swatches below are with added Salon Perfect Crystal Clear quick drying top coat.
Salon Perfect Loopy Lime
A neon green with tons of tone on tone shimmer.
I'm showing three coats below with top coat.
This was almost opaque enough at two coats, but there were a few lighter patches. I love the addition of the shimmer and you can see it better in the macro below with Spider Legs.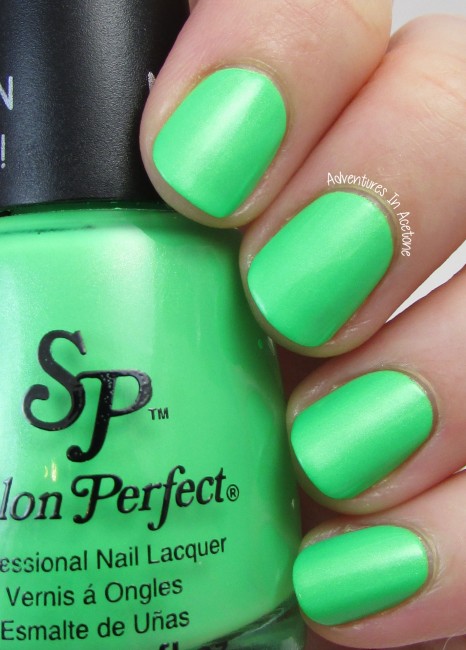 Salon Perfect Spider Legs
A clear based topper with black and orange large dots and black bar glitter.
I'm showing two coats below with top coat over Loopy Lime. It spread nicely with minimal glitter placement needed.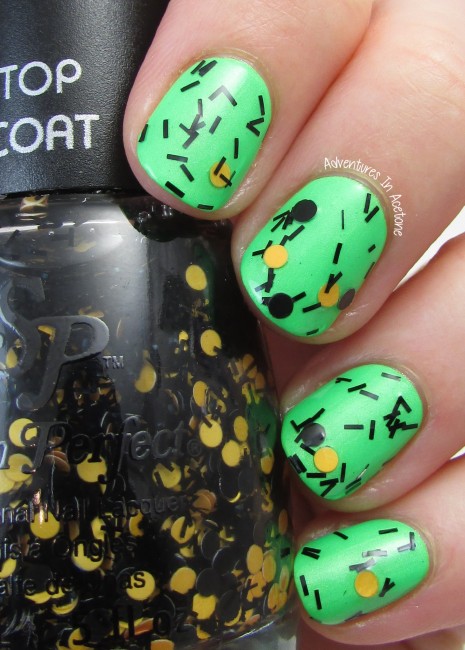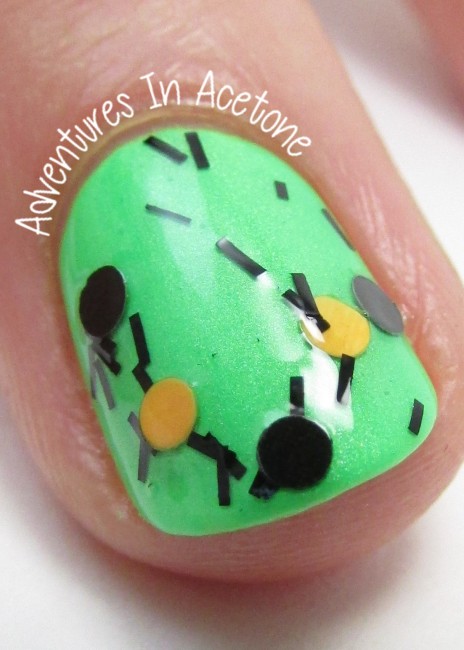 Salon Perfect A Royal Affair
A dark purple crelly.
This is leaning a bit more blue than it was in person but it was hard to capture on camera. I'm showing three squishy coats below with top coat. There are still some light patches and VNL at three coats.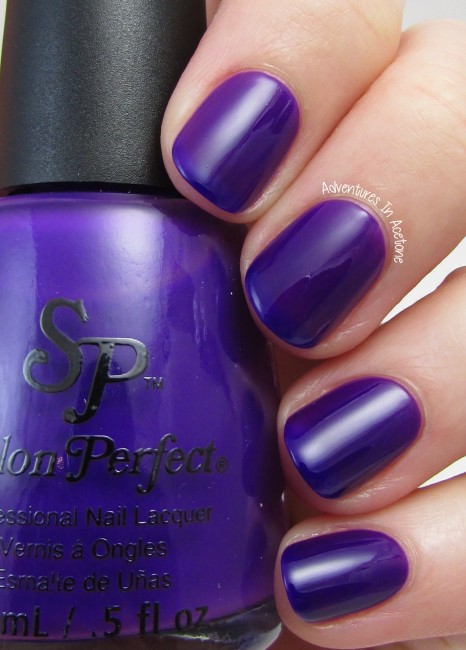 Salon Perfect Trick-or-Treat
A clear based glitter topper with white, black, and orange hexes and large dots.
I'm showing one dabbed coat over A Royal Affair with top coat.
This one needed dabbing and placement of glitter where I wanted it.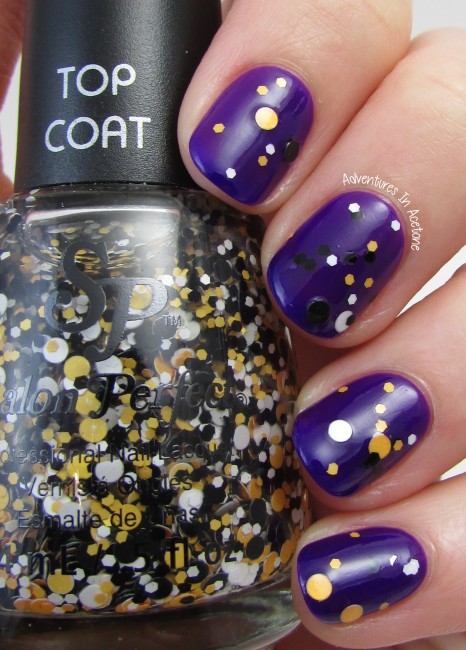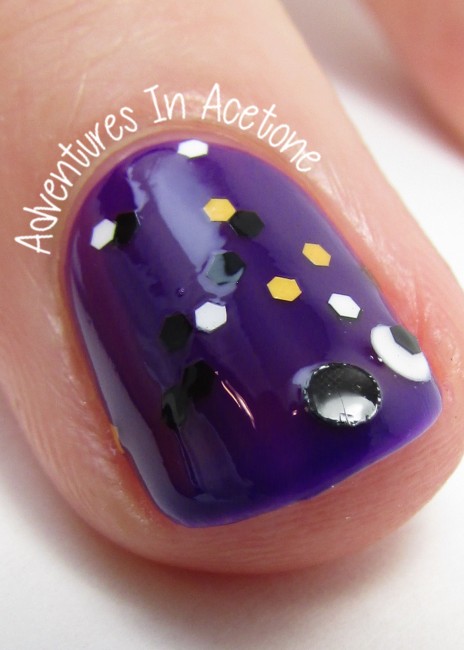 Salon Perfect Traffic Cone
A neon orange creme.
I'm showing three coats below with top coat. This is so super bright and in your face, much more than it is appearing in my pictures. Love it!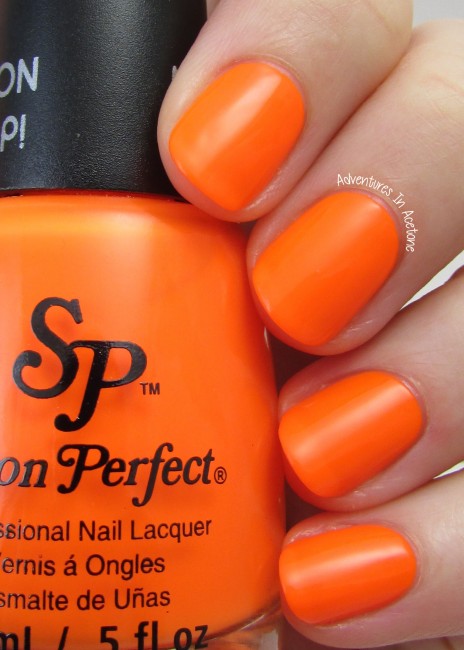 Salon Perfect Witches' Brew
A clear based topper with green and purple hex glitter.
I'm showing one coat over Traffic Cone below with top coat.
This had only minimal placement of glitter, it spread fairly well on it's own. The purple appears more pink over the bright orange but over a lighter color would appear more purple.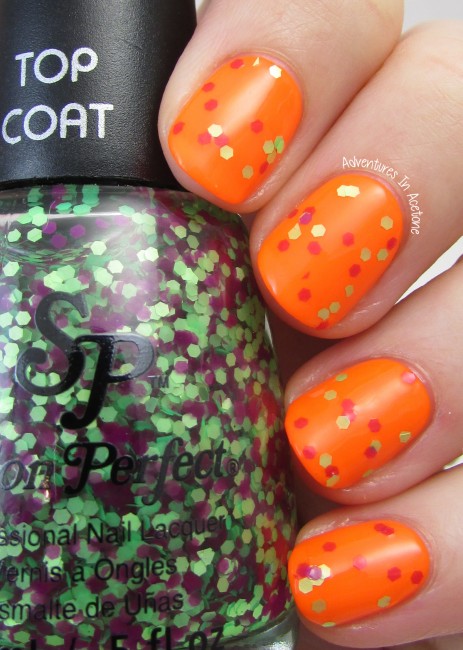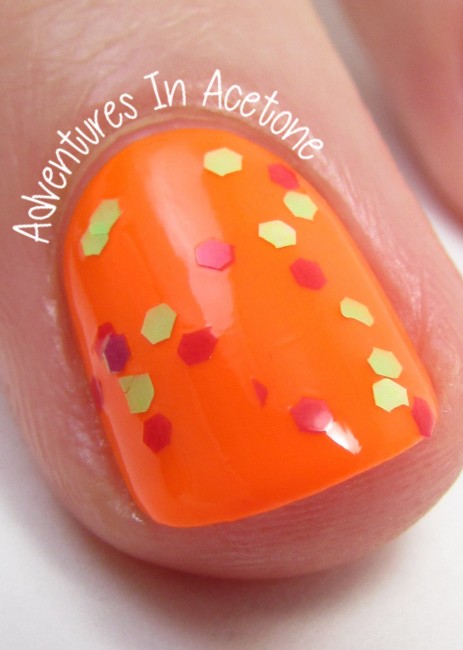 Salon Perfect Oil Slick
A black creme polish.
I'm showing two easy coats below with top coat.
Your typical black creme, not quite a one coater but applies easily enough.
Salon Perfect Wicked
A clear based topper with neon green and black micro hexes.
I'm showing one dense coat below over Oil Slick with top coat.
It wasn't until I was painting it on the nail that I realized there were black glitters with the green, so they aren't showing up over the black base. This applied easily and I can't wait to try it over different colors!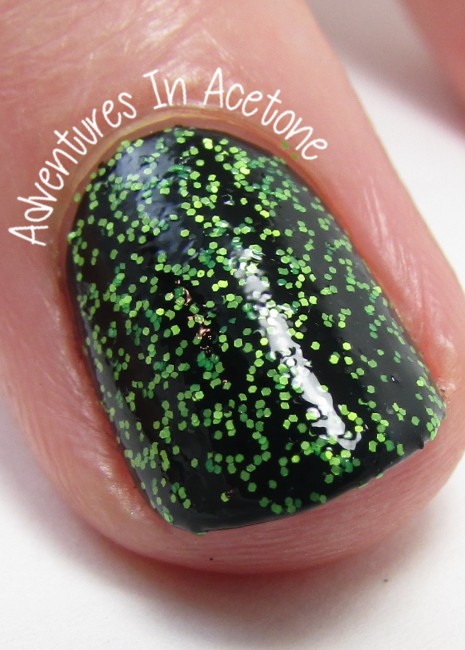 What do you think of this fun, Halloween themed collection from Salon Perfect? Have you seen the display at your local Walmart? I haven't gone to mine but plan to look around this weekend and will update on IG if I find the display.
The Salon Perfect Bat Your Lashes Collection will launch in October as part of a limited edition promotional display at Walmart stores nationwide. Nail lacquer retails for $3.98 each, temporary hair color sprays retail for $2.98 and lashes, adhesives and lash kit retail prices vary from $2.98-$4.98
From lashes and brow products, to nail color and beauty tools, Salon Perfect® has the products needed to look effortlessly beautiful at an affordable price. View the complete Salon Perfect® collection at www.SalonPerfect.com.
*The polishes in this post were sent for me to review with my honest opinion.
If you enjoyed this post, please Sign Up for email updates and you will have the latest news, reviews, nail art, and tutorials delivered right to your inbox! Never miss a post from Adventures In Acetone again. Thank you so much for reading.
– Let's paint something amazing! –