Press Sample
Good evening, readers! Zoya just released the new Matte Velvets for Winter 2015 and I know I'm not the only one who wondered how the red, green, and berry colored ones were going to compare to some of the older Matte Velvets once the promo shots were released. I just received them in the mail this week and decided that a quick comparison post would be helpful to you guys if you are deciding on ordering the new ones! I will have my swatches of the entire collection up by next weekend,  but here are the comparisons in the meantime.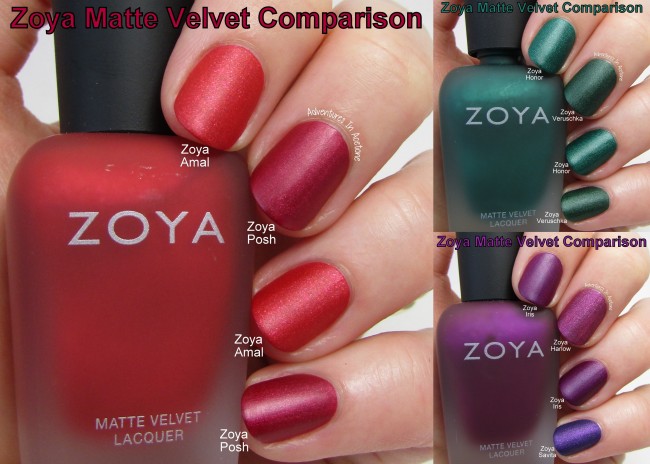 Before we begin, I wanted to mention that the older Matte Velvets that I am using to compare are the original formulas and not the re-released ones last winter.
First up, we have the reds! Zoya Posh (old) has been one of my favorite reds for years and I love it. Zoya Amal (new) is lighter, brighter, and leans more true red than Posh. Also, Amal is filled with chunkier flecks and is gorgeous! I am so glad it's a unique Matte Velvet shade to my collection and will be wearing them both! I'm showing two coats of each below without top coat.
Next, we move onto the greens. Zoya Veruschka (old) is a tad darker and has less shimmer than Zoya Honor (new). There is obviously not as much of a difference between these two as there were with the reds above, but I can see it and actually prefer the tone of Honor more. I'm showing two coats of each below without top coat.
Lastly, we move on to the berry purple Zoya Iris (new) and compare it to Zoya Harlow (old) and Zoya Savita (old). It is much closer to Harlow, although it's lacking the huge amount of silver sparkle. It has it's own tone on tone flecks and it's lovely with top coat! I think I would chose Iris out of this lineup if I had to choose, but I'm glad they are all different enough to keep! I'm showing two coats of each below, but Iris needed a third coat on my index because I did thinner coats compared to my ring finger. I guess it will just depend on how generous you are with your coats.
There you have them! Are you loving the new collection colors or do you prefer the older shades? I love the older ones, but am really happy with the new ones as well! YAY for more Matte Velvets! The new collection of Matte Velvets for Winter 2015 are available at Zoya.com now for $10 each. I will have swatches up next weekend of the whole collection so keep an eye out for them.
*The polishes in this post were sent for me to review with my honest opinion.
If you enjoyed this post, please Sign Up for email updates and you will have the latest news, reviews, nail art, and tutorials delivered right to your inbox! Never miss a post from Adventures In Acetone again. Thank you so much for reading.
– Let's paint something amazing! –