Press Sample
Good morning, readers! I have swatches of the OPI Infinite Shine SoftShades Collection to share with you today. These released in Spring but soft colors can work all year, right? Perfect for wearing to work if you have strict dress codes, great for wedding manis, or if you just prefer a more natural nail look. Let's take a look at the 6 colors that I believe aren't limited edition and should now be part of their core Infinite Shine line. Not familiar with Infinite Shine? It's a three-step process that is supposed to give you up to 10 days of shine and wear, without the hassle of curing with a lamp and removes like regular lacquer.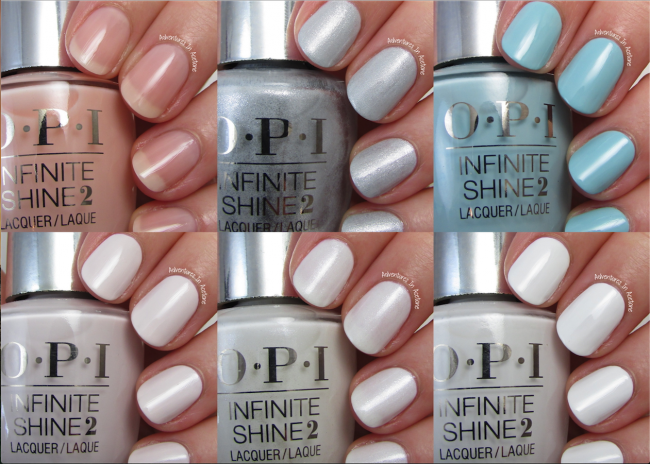 Before we begin, I want to link back to my original Infinite Shine Review and Wear Test. Please check those out for more info if you haven't already. To summarize:
I didn't have better wear with Infinite Shines than any other polishes, but that could be my nail chemistry and how hard I am on my nails.
 The top coat pulls color onto the brush so I know it would smear nail art if I tried to use it for that. If you are going to use this system as recommended, try nail art on one nail before all of your nails in case it does drag the art.
I was sent new primer and top coat bottles so those are what I used for this review. To me, the top coat seemed thinner than my previous experience so they could have reformulated it. However, thinner made for brush strokes visible in the top coat upon drying–which should be easy enough for you to see in the photos below.
These polishes were easy to apply, no too-thick formulas that I know some of you commented on while trying the first Infinite Shines.
OPI Go to Grayt Lengths
A chic, shimmering silvery gray.
I'm showing two coats below with the primer and top coat.
I really liked this color, it's a gray creme but then the added silver shimmer gives it a cool effect versus if it was a crelly formula. Definitely like this one a lot!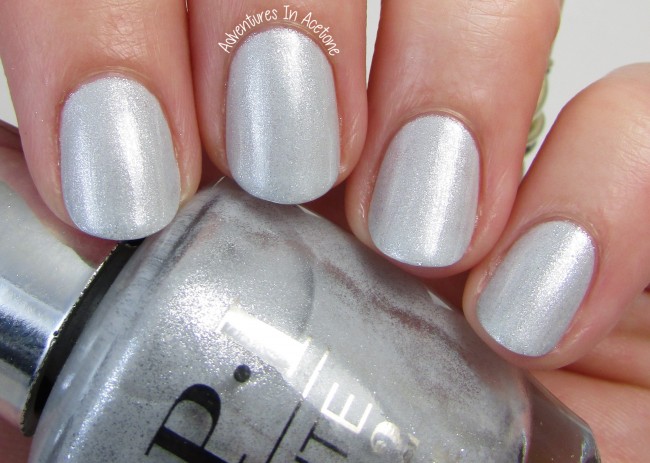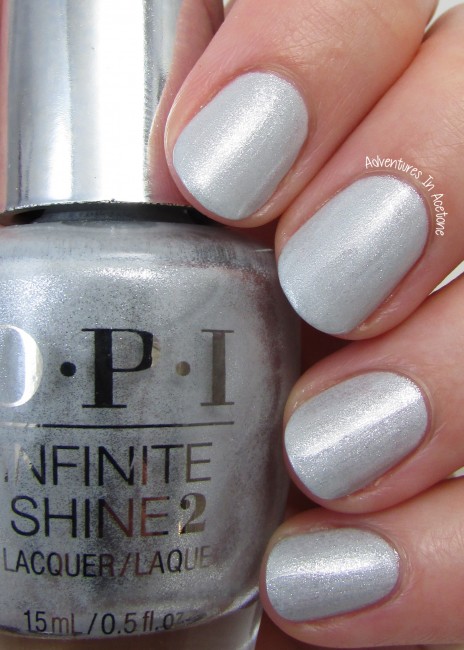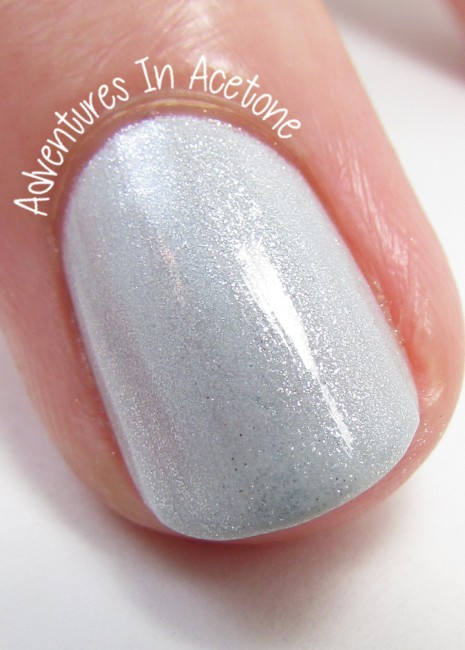 OPI Pearl of Wisdom
A lightly shimmering, mother-of-pearl shade.
I'm showing three coats below with the primer and top coat.
Even with three coats, I'm seeing some lighter patches in this one. However, the shimmer is really pretty and I'm so glad its not a frosty pearl effect like I expected by the description. This would also look pretty layered over a white base. Or even possibly another soft shade base.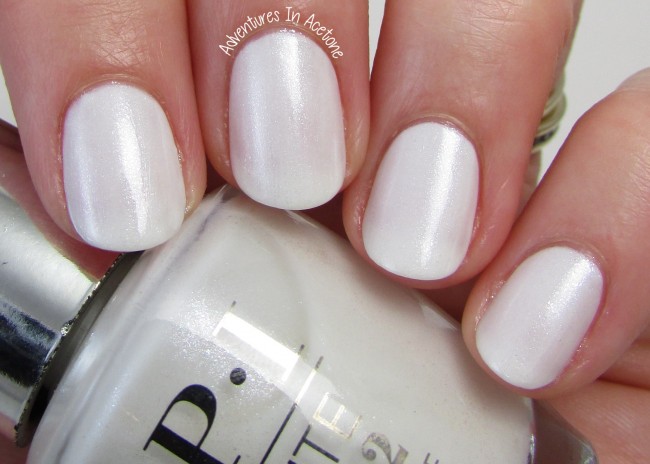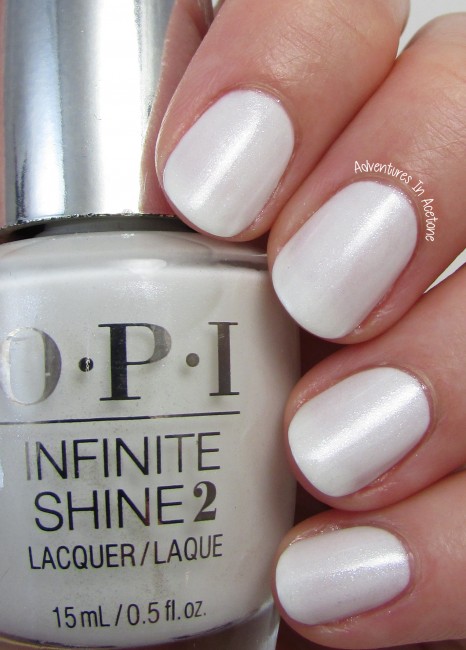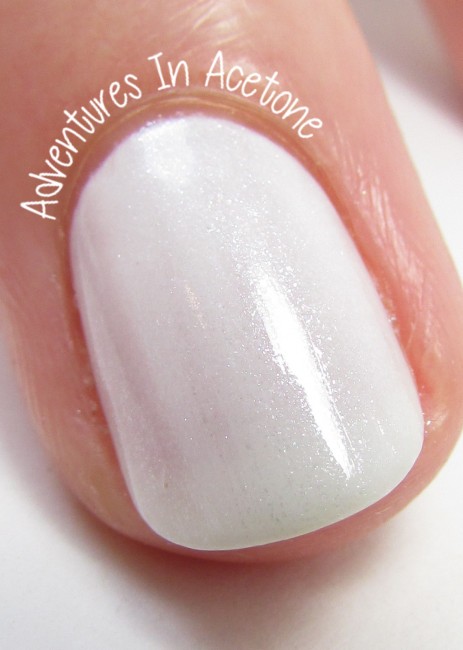 OPI Non-Stop White
A solid, opaque white creme.
I'm showing three coats below with primer and top coat.
A nice, opaque white shade.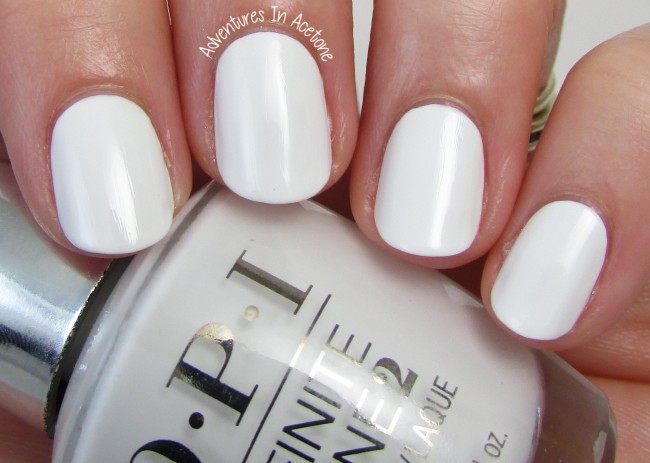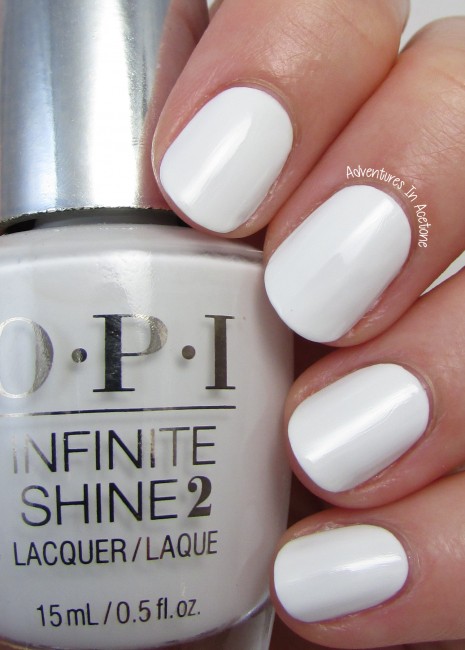 OPI Beyond the Pale Pink
A scandalously nude, barely there pale pink.
I'm showing three coats below with primer and top coat.
This is a nice soft pale creme, as opposed to the stark white of Non-Stop White.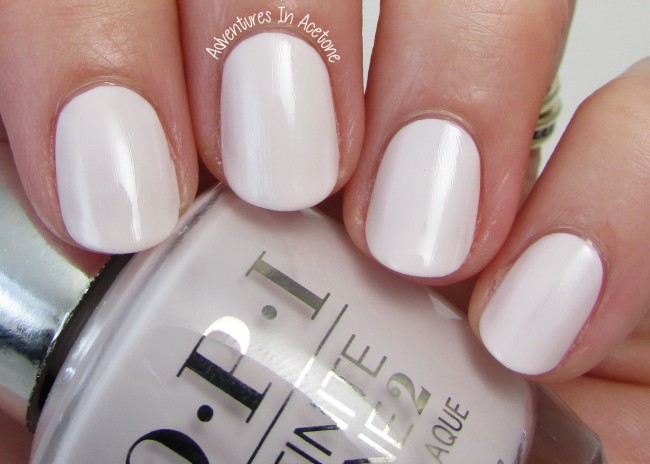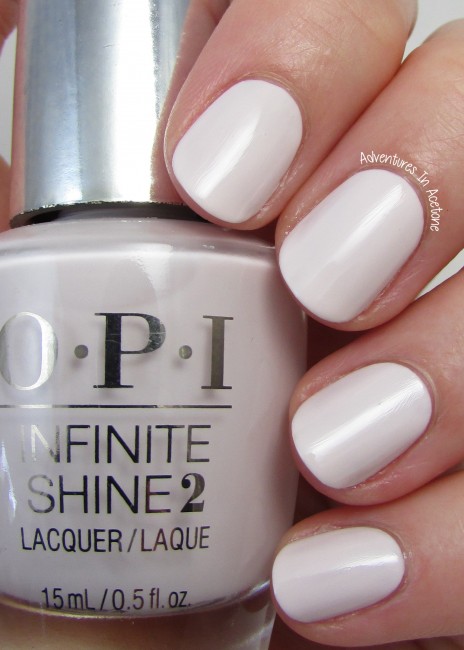 OPI The Beige of Reason
A sheer, rosy light beige.
I'm showing three coats below with primer and top coat.
This is a nice look if you want to go natural but don't like the look of your bare nails. You could pair this with white tips for an easy french look.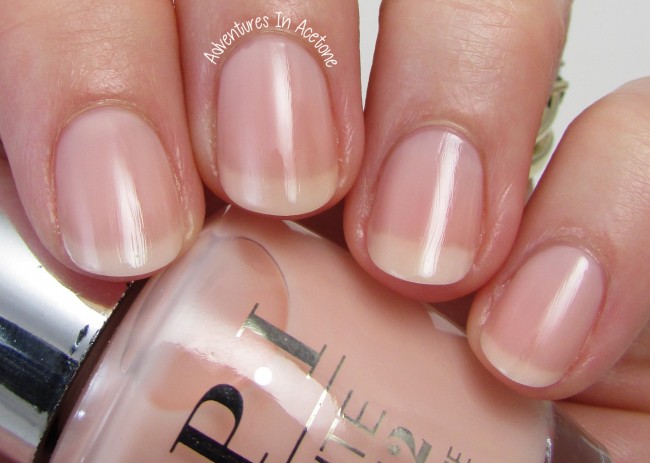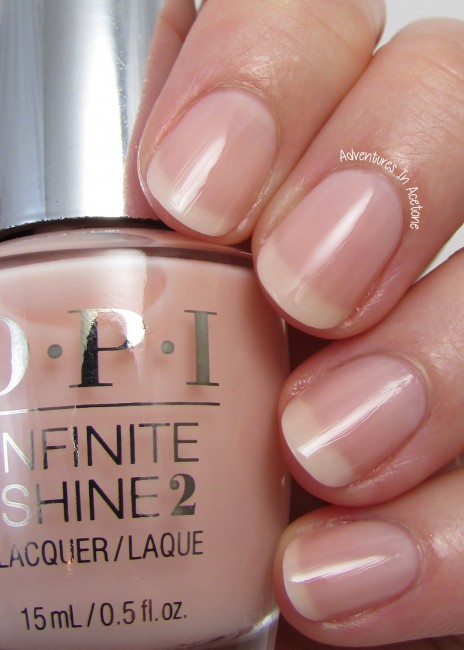 OPI Eternally Turquoise
A pale, green hued blue.
I'm showing three coats below with primer and top coat.
I had a few lighter patches at two coats so I did need the third. I'm quite happy with this color and am glad they threw it in with the softer shades.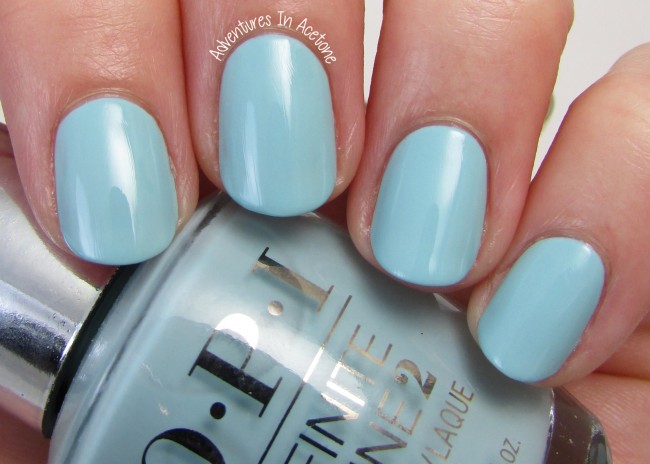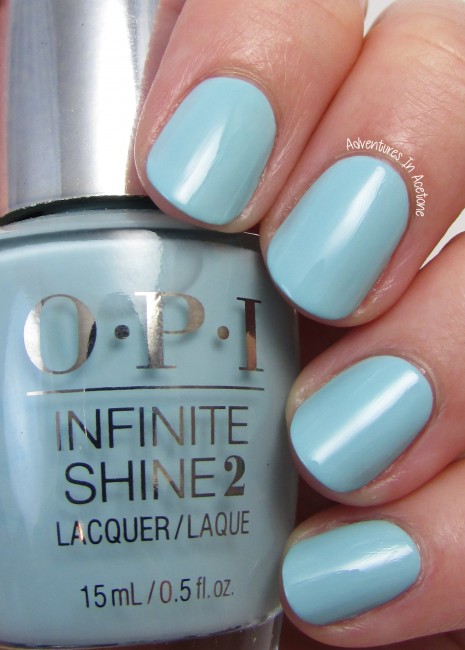 What do you think? Have you had luck with the Infinite Shine System? Let me know below!
Here is some more info on these Infinite Shine SoftShades:
WHAT THEY ARE: Six new spring-inspired soft shades to join the revolutionary Infinite Shine Gel Effects Lacquer System. Perfectly on-trend to complement Spring 2015 looks, the world's number one salon brand, OPI, introduces new at-the-moment shades to the Infinite Shine line. With fashion-forward nudes, pastels and blushes, you can enjoy rich, true-to-bottle color in even the lightest hues, plus 10 days of high-definition, gel-like shine thanks to this state-of-the-art hybrid lacquer system.
With the cutting-edge Infinite Shine Gel Effects Lacquer System, it's now possible to get the long-lasting, brilliant shine of a gel, with the ease of lacquer removal. The easy three-step process delivers the rich color, intense shine, and lasting wear of a gel with no light curing required and easy, soak-free removal. Simply Prime, to prep nails to innovatively grip color and prevent staining. Then add Lacquer for ultra-rich, vivid color. Finally Gloss with the state-of-the-art top coat featuring exclusive oligomers that cure to a hard film in natural light, yet remove easily with standard nail lacquer remover. Each Infinite Shine lacquer is a unique new addition to the OPI line so you can discover endless shine in the latest OPI shades.
• Soft Shades Hybrid Lacquers ($6.50 salon, $15.00 CAN salon) ($12.50 retail, $15.00 CAN retail)
WHERE TO FIND THEM: Discover the collection from May 2015 at Beauty Brands, beautybrands.com, Chatters, Dillard's, Regis, ULTA, ulta.com, and select professional salons.
ABOUT OPI
As the number one salon brand worldwide, OPI is committed to providing high-quality products and services to both salons and their customers, along with a focus on industry safety and innovation. Known for its exceptional formulas, fashionable colors, and iconic names, OPI's heavily-pigmented lacquers are super rich, long-lasting and chip-resistant – offering an affordable luxury to consumers. OPI Nail Lacquer is available in more than 200 shades. Each lacquer features OPI's exclusive ProWideTM Brush for the ultimate application. Currently, OPI is available in over 100 countries and retails a full line of professional items including OPI GelColor, which is available in more than 150 shades that match the iconic OPI colors that are known and loved, nail treatments, finishing products, lotions, manicure/pedicure products, files, tools, gels and acrylics. OPI is guaranteed only when purchased through authorized professional beauty outlets and prestige stores, not from a drugstore, supermarket, or mass outlet, or other unauthorized source. To learn more about OPI visit www.OPI.com.
*The polishes in this post were sent for me to review with my honest opinion.
If you enjoyed this post, please Sign Up for email updates and you will have the latest news, reviews, nail art, and tutorials delivered right to your inbox! Never miss a post from Adventures In Acetone again. Thank you so much for reading.
– Let's paint something amazing! –